Welcome to Royal Treatment Fly Fishing!
Login
Log in if you have an account
Dont have an account? Register
Trout Bum Road Trip ~ Part 2
08 Sep 2021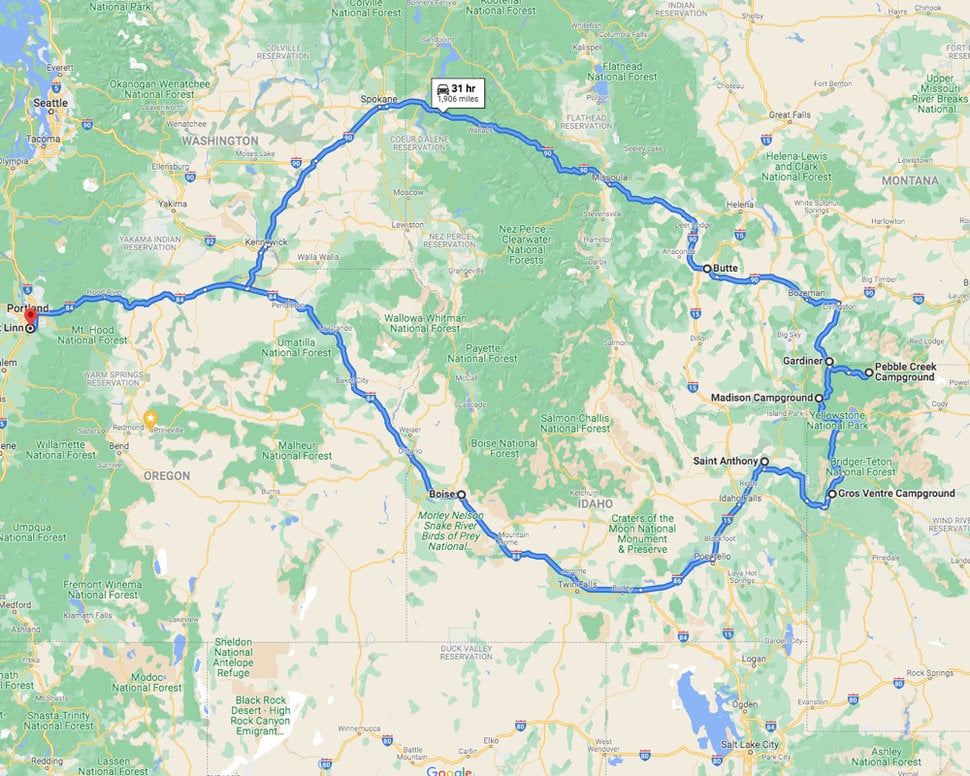 Preparation for any adventure maximizes the chance for success and minimizes disappointment when plans require adjustment on the fly. For example, we had no plan when we headed east to escape the smoke last September, just fishing gear, camping gear, and a refrigerator full of food. As a result, while the trip was memorable, we didn't have everything we could have used and couldn't take in all we wanted to. This wasn't necessarily a bad thing, but it inspired us to start planning early for this year; we made campground reservations on our way out of the park.
With a few nights reserved in Yellowstone Park near the Madison River for 2021 as the anchor, I started building the ultimate Trout Bum Road Trip. First, this required checking the shop calendar, seeing how long I could stretch the adventure, and then ensuring our Chicken/Puppy Sitter was available. Then, using Google Maps, I started laying out the route, monitoring driving time, places of interest, and of course, rivers we wanted to fish. This process underwent several modifications, and truth be told, it still may be adjusted before we depart, but we have 14 rivers marked to fish on this 12-day road trip.
Once I decided on a route, I switched to my satellite navigation system to get a sky view of the rivers and access points. Knowing where I wanted to fish helped me mark trails and sections of water that we knew, and some that we wanted to explore. Then came the hard part, trimming down the fishing destinations to fit into the schedule.
When target waters were identified, I started to look for viable camping/lodging options in the areas to minimize driving and maximize time. Since the focus of this road trip is Trout, we'll clear mornings and evenings for our angling efforts, doing our distance driving in the middle of the day. We learned from experience that staying on the water as late as possible is very productive, and in Yellowstone, sometimes far less crowded. In addition, it seems that the Look-e-loos seek wild beasties to photograph or pet in the evening hours, making for a much more peaceful angling experience. Finally, having camp close at hand makes fishing until dark more practical.
Since the 4Runner is relatively self-contained, rolling into camp in the dark and setting up our tent is simply a matter of popping four latches, unzipping the door, and tossing in some pillows. As mentioned last week, the roof-top tent is very comfortable and keeps us high above any creatures of the night. However, we have stories of bats and raccoons that still make us laugh as we drift off to sleep.
When it comes to travel partners, my lovely bride, Jennifer, has no equal. She loves to fish and explore new places as much as anyone I have ever met, and while neither of us requires fancy lodging, we are grateful for a hot shower every few days, so in planning our route, I keep that in mind. Camping saves us money, but a clean hotel and hot shower once in a while rejuvenates road-weary travelers. I have planned accordingly, making reservations along the way, and noting cancelation policies if our plans change. An essential part of road-tripping is being flexible.
To save fishing time, money and to avoid local populations, most of our meals will be out of the back of the 4Runner. Unfortunately, Covid is still a concern, even with being vaccinated, so we prefer to prepare our own meals to avoid unnecessary exposure. Thankfully, the kitchen in the 4Runner is functional and easy to deploy and use. In addition, the refrigerator holds enough food for several days, minimizing the need to restock. Jennifer is a fantastic cook, and she is comfortable cooking on a camp stove in her waders standing near the river, or willing to eat something from my limited culinary menu. As a result, we trade off kitchen duties depending on the skill required and who gets back to the rig first. So, if the forecast calls for hot soup and grilled panini sandwiches, I'd better call it a day before the light fades and fire up the kitchen.
So now, the plan is made, the route is marked, and our food box is full. I've been spending my free time packing and unpacking gear, adding important stuff and removing some, trying to find the right balance, and remembering what we missed last year. Jennifer humors me in this effort and knows it is just a personality flaw that wants everything perfect for the ultimate Trout Bum Road Trip.
Now, I need to pack the fishing gear... "Jennifer, have you seen my rubber-soled boots?"