Welcome to Royal Treatment Fly Fishing!
Login
Log in if you have an account
Dont have an account? Register
Message in a Bottle
10 Feb 2022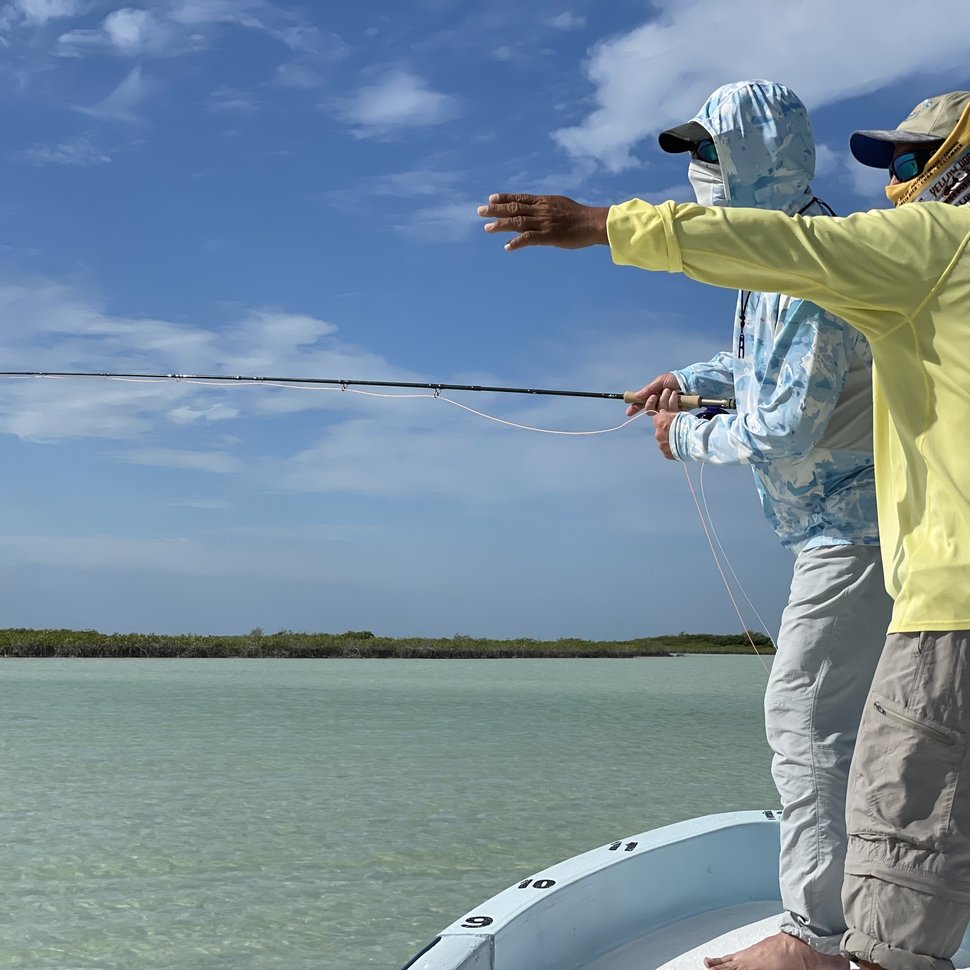 "Message in a bottle" direct to you from Punta Allen...
Travel in and about international boarders these last two Covid years has added challenges for everyone; being committed to breaking away from our normal routine and looking forward to a south of the border adventure at Grand Slam Lodge in the Yucatán has been an escape all of us have been looking forward to. A cameo voyage for several new anglers as well as seasoned participants, the allure of Vitamin D along with a mix of salty air and the hope of fishing in pristine turquoise waters had everyone more excited than not.
Air travel and ground transportation went fairly smoothly overall; it was interesting to see the hurricane damage that plagued the little village of Tulum back in August 2021. Clearly the owners of the charming little shop along the way worked diligently to rebuild each façades, but the road shows major wear & tear with potholes galore making for a slow go to meet up with our aquatic shuttles on Saturday afternoon. Certainly, highlight of the commuting adventure was unexpectedly sightseeing a family of coatimundi as they scampered across the road and into the shelter of adjacent trees.
Upon arrival we were all anxious and eager to set up our quiver and a few members of the group wet waded out to test the "camp waters". The fishing enthusiasm heightened after hearing one of our first time anglers land a Palamento right off the shore! Nice work, Mark! His roommate, Frank, had a bonefish to hand as well so come 5 o clock appetizers, everyone was wearing a smile.

2022 Valentines Day was a memorable treat for the La Follette's as the talented and ever thoughtful lodge staff lined our room's entry with fresh pink flowers, leading to a giant heart and exquisitely crafted swan towels illuminated with candlelight~ we are much obliged!
The weather has been faithful at turning out more than a few challenges with cooler temps, stronger than normal wind and a bit of rain in the mornings, thus lowering our odds at Permit and Tarpon, yet so far, several lucky anglers have prevailed with prize fish the boat! A huge Congratulations Brian on your first Permit and to Duncan, John and Kurt on Baby Tarpon! In the Snook department the honors go to Erv, AKA, Nacho Libre. Well done, Team!

As avid anglers, several of us love to bird, and keeping a list of migratory winged wonders on a trip such as this is always a special treat when south of the boarder during the winter months. We also witnessed a little brown fox perusing along the shoreline, and a single dolphin skillfully target and eat a bonefish! Most certainly NOT our regular Clackamas/Sandy River sightseeing when angling.
Finicky weather in the morning usually turns to brighter days if you give it a chance; a good reminder to persevere, and remember to pack rain pants on the return voyage… We look forward to what the rest of our days are here at Grand Slam Lodge will reveal; one thing for certain, more good times with friends and a big fiesta for Joel come Friday IS order! ¡Óle!