Welcome to Royal Treatment Fly Fishing!
Login
Log in if you have an account
Dont have an account? Register
Island Time With The Big Guy (Part 2)
19 Apr 2023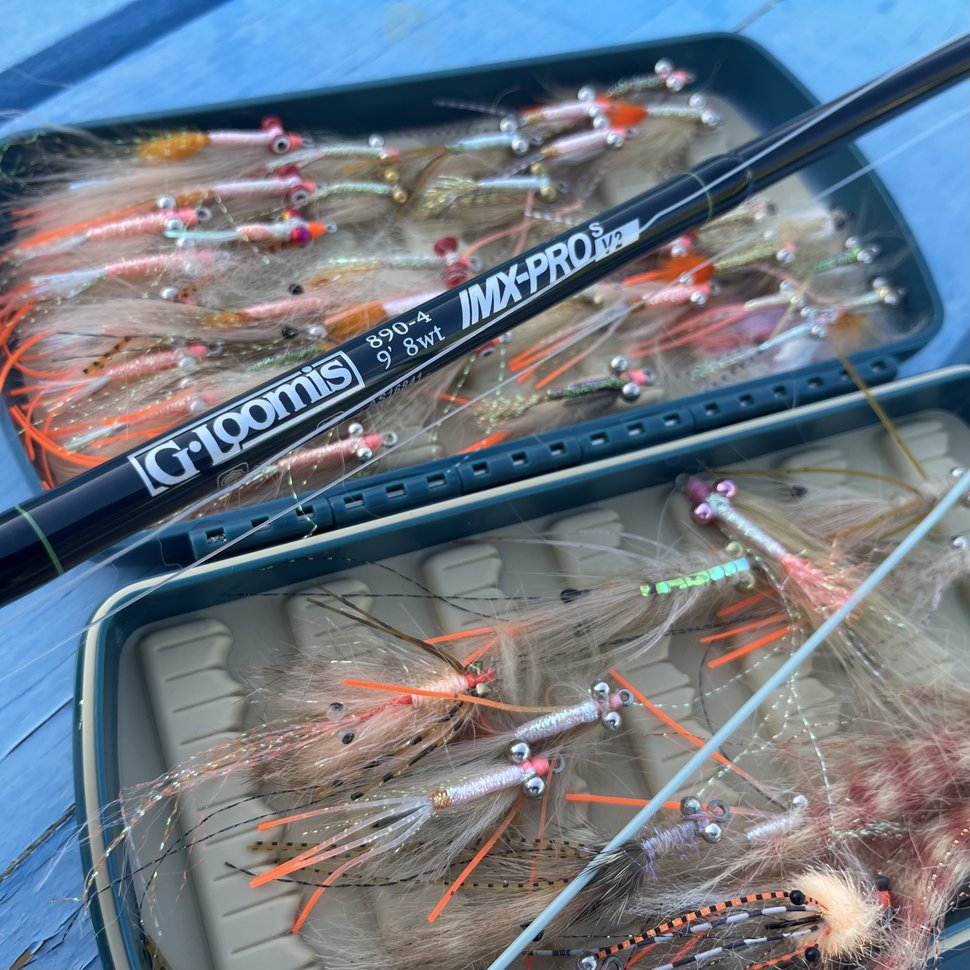 Since I hadn't been bonefishing in a while, I was scrambling to get equipped: boots, rods, lines, leaders, and whatever else I might need. Fortunately, I work at a fly shop, and I have access to tackle. I made a few calls and got sent a pile of new rods and lines to demo. The rods I was most excited about were the new 9' 8wt Sage R8 Salt and the new 9' 8wt G Loomis IMX V2 Salt. I matched the Sage R8 with the new Sage Enforcer reel with a RIO Flats Pro, and the Loomis I matched with a Nautilus NV and the SA Infinity Amplitude Smooth Salt. 
The weather was windy and overcast for most of the week, blowing 15-25 every day and the 8wt's were the right choice. In our boat, both rods got a lot of play, and I don't think there was a decisive winner. They both were able to cast far and could easily overcome the stiff winds. The sage was a little stronger and a little more accurate, and that's to be expected with the higher-end rod. But for a price point rod, the Loomis did everything it needed to do and felt good doing it. 
I rigged up all the rods with RIO 20lb Fluorocarbon Bonefish Leaders and added the Trouthunter .013 Big Game Tippet when needed. The 20lb is a good idea there because you never know how big of a fish you might see. There were quite a few anglers that broke off big fish on 12lb and 16lb tippet and I didn't want to be that guy. Plus, the 20lb gives you the advantage of being able to crank down the drag and pull hard, especially when there are sharks around. And there are plenty of sharks. Did I mention the sharks? On two separate occasions, we saw Tiger sharks that were around 10' long and countless lemon sharks. 
Looking back, my fly selection was pretty good. I took a minimal two boxes, one that I thought would be my primary and the other with all the mix-match stuff. Easily the top 4 flies were Mantis Shrimp, Peterson's Spawning Shrimp, Bonefish Buttah, and some kind of Gotcha style fly. Make sure you have them in sizes 2, 4, and 6, with 4 being the primary, followed by 6, and then 2. The nice thing about this selection is that there are weighted and unweighted flies and a range of different sizes. Depending on the water type you are fishing and the tide, you might be fishing a skinny tidal creek that requires a light fly or a deeper tidal flat that requires a heavier fly. It's important to have a selection that covers all conditions. 
As the week progressed and we started to fish with all the different guides and got to become a little more familiar with their personalities. 
Charlie was one of the older guides he had been guiding there for around 30 years he was great to fish with, he was always on the prowl for big fish. Charlie was talkative and easy to get along with. 
Ellie the cop, Ellie was also a long-time guide and had been there for around 30 years as well. Most of the guides have a second job for the off-season, and Ellie was a local police officer. Ellie wasn't a big talker, but he was a fish hawk. Always paying attention and hunting for fish.
Stormin Norman, Norman was the most senior guide, with 40 years under his belt. Norman was easy to get along with, always smiling and definitely knew where the fish were. He had the kind of experience that he could smell the fish and knew when and where to be.
Prince was the youngest guide of the group, and he was hungry. Just like all the other guides, Prince was always looking for big fish. Recently Sage had done a short film about him being an up-and-comer. 
The last guide, Philip was also a newer guide, and he had a lot of experience on the water running boats and targeting fish. Both Philip and Prince had been trained by one of the best guides on the Island, Josie Sands. When I first met Philip, he was wearing a Royal Treatment hat and was adamant that in his boat, you'd get the "Royal Treatment". The great thing about young hungry guides is that they run farther and fish longer, always on the hunt for "That one fish" and Philip was no exception. 
When we first fished with Prince, we immediately hit it off. The weather continued to be tough with clouds and winds. I had one of my most memorable fish with him that day. We were in Grass Cay polling the bank, the sun was off to our right, at our backs. We were going down the bank, and Prince could see three big fish moving from the middle of the flat toward the bank. The sun was at their back, and when he called them out, 80 feet at 3 o'clock, I could immediately see them. They were heading straight for us. Prince asks me if I see them, and I tell him I do. I don't cast as they are coming toward us, and I want them to get a little closer. A moment later, he says 60 feet do you see them. And I assure him that I do. He had spun the boat so it would be a straight cast at 12 o'clock.  I make a good cast straight into the wind leading the fish by about 5 or 6 feet. The fly lands and I wait a send for it to sink. I make a long slow strip and then another. These fish all look to be 6 or 7 pounds. One of them turns off, and the other two look interested and follow. I strip again, and you can see the fish get a little more excited. They speed up, and get closer to the fly. I make another strip, and they are on it. One more strip, and one of them eats it. Prince is coaching me, and his excitement level is ramping up. I set the hook and see the fish rush my fly. I feel the pressure and a pluck, and the fish turns away. My first reaction is ugh, what happened and then I immediately knew. It was a Barracuda, but we couldn't see the black on its tail because of the sun angle. It doesn't matter as that was one of the best exchanges with a fish that we'd had all week. 
We end up fishing with Prince again later in the week. We end up running around exploring some spots further out. We have a great afternoon wading some small flats offshore, casting to tons of cruising bonefish. Andy got to see one of his familiar haunts and was excited to fish out there. Being so tall, Andy definitely has an advantage when wading the flats couple that with his casting ability, and he's deadly on the flats. We invited Prince to fish with us, and at one point, we had a triple. 
On our last day, we fished with Philip, he was so excited and was ready to give us "the Royal Treatment"! We had great tides that day, and the wind had finally calmed down, and there were very few clouds in the sky. We fished some tidal creeks and lagoons as the tide was changing from high slack and starting g to drop. I had a couple of shots at fish that were coming out of the mangroves. I hooked one that was 5 or 6 pounds. It was cruising the edges and moving in and out of the mangroves. I made a good cast, and it ate it and tried to run back into the trees. I stopped it and pulled it back out, it headed for the lagoon and deeper water. We started to push the boat towards the deeper water, and as soon as we did that, it ran back into the trees and broke me off. 
As the tide turned, we made a run out to Water Cay. There is an abandoned lodge out there and an interesting story to go with it. Here's a link to the podcast
https://www.downthepathpodcast.com/seasonthree
Every place we fished was more amazing than the one before. We found plenty of fish and had a lot of laughs.
We had a great day with Philip, and we certainly did get "the Royal Treatment." Actually we got "the Royal Treatment" for the whole trip. I'm still thinking about that trip and can't wait to go back. I know if you go to Andros South, you'll get "the Royal Treatment" too!
Pack list for the Bahamas 
Passport
Cash
Wading boots/Socks
Rods, reels, line 7/8/9
Leader/tippet 16-20 lb, wire bite, maybe a tarpon leader
Flies, boxes
Pants, shirts, underwear, flip flops, boat shoes
Rain gear
Lumbar pack
Backpack/ boat bag for the boat
Water bottle
Pliers file, nippers, forceps, and fish release tool
Belt
Glasses, contacts, sunglasses
Sunscreen
Bug spray
Power charging cube and cables

 

Battery pack
Line cleaner
Hat

 

Buff, gloves
DOP kit, toothbrush, toothpaste, deodorant, mirror
Special things for the lodge, guides, staff