Welcome to Royal Treatment Fly Fishing!
Login
Log in if you have an account
Dont have an account? Register
Expanding Your Horizons
18 Feb 2020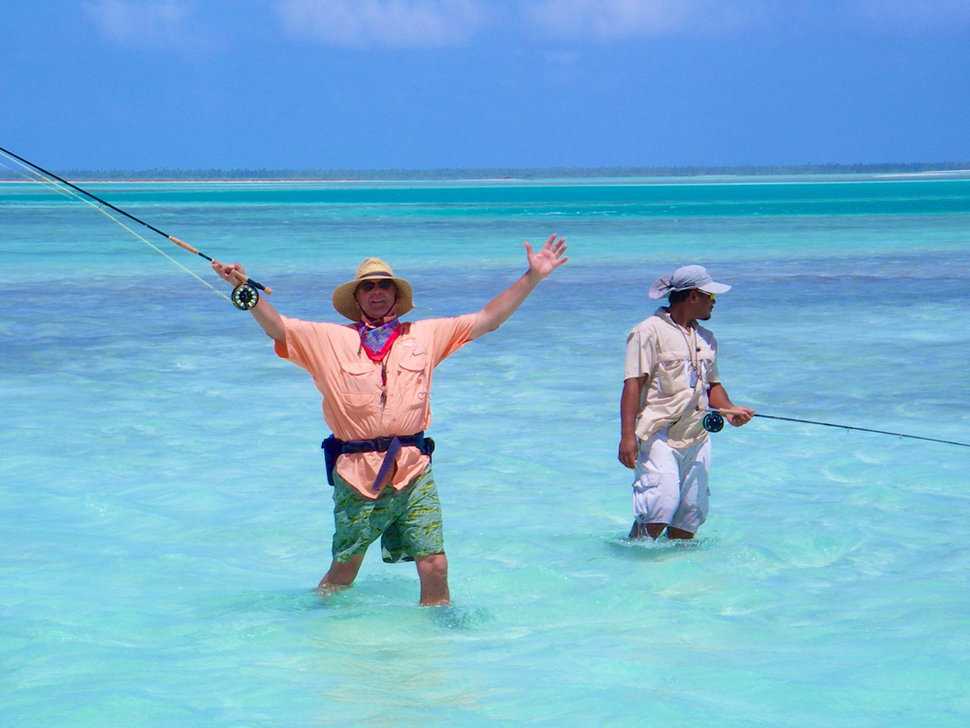 Fly fishing is a challenging sport; the art of fooling one's prey with bits of feather and fluff intrigues those who have taken up this game. Most of us started with Trout and eventually tested ourselves against other species residing in the waters close at hand. We continued to seek more challenges, pitting our skills against the wary or largest with the lightest of tackle, all the while looking at magazines featuring photographs of palm trees and turquoise blue waters teeming with silvery fish.
For some anglers, saltwater fishing was simply the natural progression of their passion for the sport. For others, these tropical waters remain a dream that keeps them warm when ice forms in the guides as they ply winter waters. Those of us living here in the Great Northwet understand the attraction of a mid-winter break, eventually falling victim to the Sirens call of the salt.
Choosing your first adventure in itself can be challenging unless you have a special place that speaks to you. Then figuring out when to go and what to bring becomes the challenge that fills your daydream moments as rain beats against the window. Be warned, the path leading to the bonefish flats of the world is a slippery slope that once visited is hard to ignore. Warm waters and silver fish will become an obsession.
I first tested the salt 20-odd years ago in Mexico, in the little village of Punta Allen which is why it remains a favorite destination. The accommodations were primitive, a far cry from the 5-star lodge my group recently returned from. Hiding under mosquito netting listening to the gecko's chirp is quaint, but I've moved beyond that.
Now, I prefer more comfortable accommodations, with the emphasis placed on fishing and not personal survival skills. To help you avoid some of the pitfalls and to encourage you to expand your angling horizons I thought I'd share a primer on how to plan your first Bonefishing trip.
First, where to go? Indeed, this question is mostly answered with your bank account, but flats fishing can be combined with other family vacation plans. Finding bonefish on a budget is not easy, but it can be done. Especially if you have some guidance. Your success will depend on location, personal skill, and preparation. Let's look at some easy options first.
Ascension Bay Mexico was my first trip and it remains a great place to test the waters for first-timers. Travel to Cancun is relatively easy and lodging/guided fishing packages remain somewhat affordable. The waters of the Sian Ka'an Biosphere Reserve are a target-rich environment, teeming with Bonefish, Permit, and Tarpon. Single-day trips can be arranged with pick-up from your Cancun hotel, but a multi-day adventure is the way to go. You'll just be able to start spotting fish on your own by the time you have to fly home. If you want to try saltwater fishing, this is a great option. The best time to go is when you can, but spring and fall are the most productive and comfortable.
Hawaii has Bonefish on several of the islands, but it's not considered a Bonefish destination. Hire a guide on Oahu while the family dines on fish tacos at Duke's on Waikiki. Once hooked up to a Hawaiian Bonefish you'll be wanting more. Book a week on Christmas Island since you're already in the area.
Christmas Island is a coral atoll that sits near the equator south of Hawaii. Once used as a supply depot during WWII and a base for nuclear tests, the island is now part of the Republic of Kiribati, formerly the Gilbert Islands. Christmas is teeming with Bonefish, several species of Trevally, and a large collection of other saltwater fishes. While the island is not known for its food or accommodations, it is the perfect place for the new saltwater angler to hone their skills on large schools of Bonefish and the chance at a Giant Trevally. With its location near the Equator, Christmas is a year-round destination.
Belize is next on my list of Bonefish destinations that cater to first-time saltwater anglers. It's also a wonderful location for families with water-based interests with diving, sailboarding, and other activities available in addition to flats fishing. Turneffe Atoll is one of the more popular locations in this diminutive country formally known as British Honduras and it offers more than a fair chance at encountering the holy grail of flats fishing, the Permit.
I've just scratched the surface, and we haven't even mentioned the Bahamas. Long Island, Andros, and Abaco are all favorites and offer some reasonable packages. Much of Abaco is in the rebuilding stage after the hurricane this past year, but parts of the island are still intact. I love the Sandy Point area and many operations there are back up and running. It would be a good place to share the love and some dollars.
Next week, in my final look at saltwater adventures, we'll look at the tackle needed to venture out. You probably already have most of what you need.