Welcome to Royal Treatment Fly Fishing!
Login
Log in if you have an account
Dont have an account? Register
A Streamer Junkie Goes Euro Nymphing
10 May 2023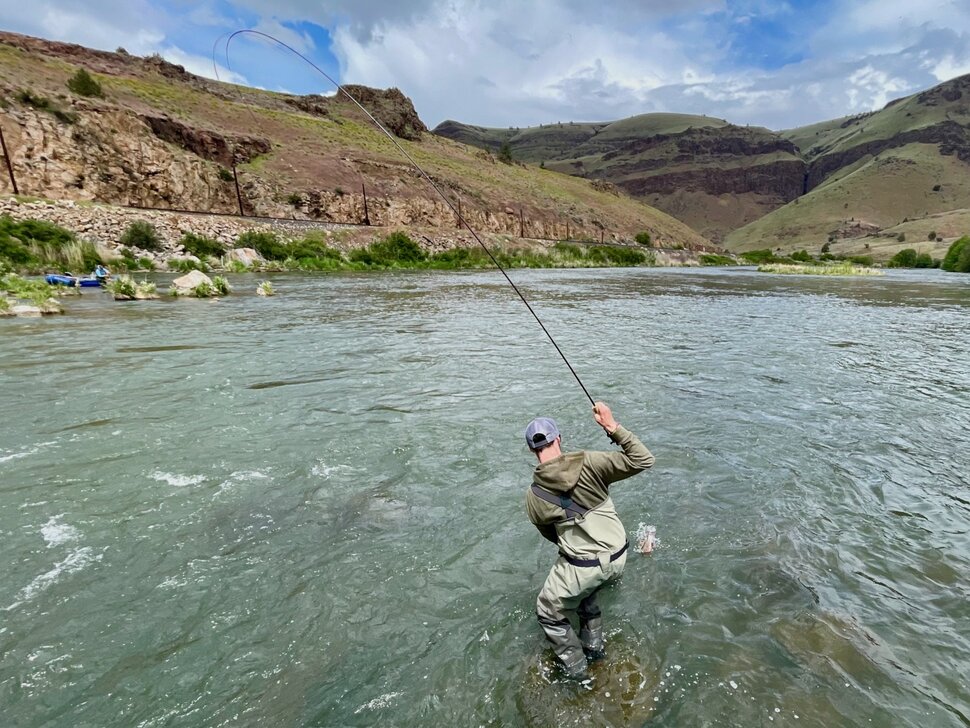 The shop is closed for the weekend, the boat is loaded and strapped down, and we are finally Deschutes bound! This will be my first time floating and camping on the river and I have one of the most talented and knowledgeable sources to show me the ropes. When I got the text from The Oracle himself asking if I wanted to go for our weekend, there was no question if I wanted to go, but how soon could we go?
We arrived at our put-in with plenty of daylight making the trip to our first camp a quick and easy row. Though it was still light, we managed to get caught up in some decent rain the first night. We conveniently had a good friend waiting at the first site, so there was no question about having a place to stay. After securing the boats and getting camp set up we took shelter under Josh's pop-up wing so we could cook dinner and tell stories and jokes until bed.
The next morning we are greeted with a beautiful day ahead, no rain and light wind, but nothing to impact the ability to get some good fishing in. The water was high and slightly off-color. Temps were still a little cold for any significant hatches to happen, so the plan was to Euro nymph mostly. I should probably include the fact I've never done the euro nymph stuff, nor had I ever had any interest in it - before this trip.
We start our morning in front of camp getting a little rundown on how to cast, present, and essentially, "do" the euro nymph technique. After a little practice, I finally started to get the cast down and was able to get the flies where I wanted consistently enough to get good presentations to the fish. I got comfortable with the line management, the feeling of the flies hitting structure, and what a take felt like. Then the fish catching started and I couldn't put the rod down.
Catching never stopped unless flies weren't in the water. It was a rinse-and-repeat kind of process as we came into a new run. Josh would pull into a spot, I'd hop out and catch a handful of nice fish while I worked up the run. I'd get back in the boat, we'd row down to another run and do it all again until we ran out of water and the trip had to end… I wish it never did!
We fished Cohen's Doorstop and Rib Roast flies for the heavy point fly and TNT jigs as well as Perdigon jigs for the lighter flies. The effectiveness of this technique had me sold and I came home from the trip and instantly got myself set up with a Euro rig and am itching to get back on the river with it. If you have any questions on this definitely come by the shop and ask!
I'm not saying I'm amazing at Euro nymphing after only one trip, because really I was spoiled by having Josh there to teach me; but I will say a couple of things… If you really want to expedite your learning curve on any fishing technique or skill, find a mentor, take a lesson, or hire a guide. Next, when you're learning something new and it's frustrating you, be patient with yourself and ask for help if you need it. It's supposed to be difficult at first, you've never done this before! Lastly, when the "A-HA" moment happens (regardless of technique) you will start having more success on the water. Pay attention to what you're doing and make notes when it all comes together.