Welcome to Royal Treatment Fly Fishing!
Login
Log in if you have an account
Dont have an account? Register
Virtual Cookies
16 Mar 2020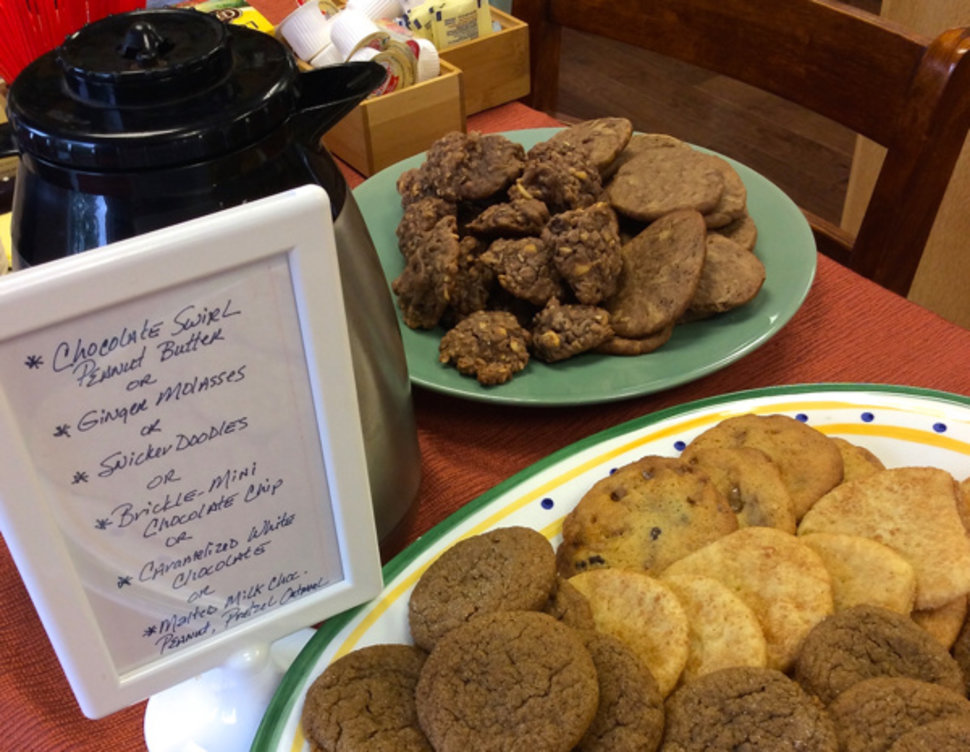 Chocolate-Dipped Peanut Butter Cookies
1 Cup firmly packed brown sugar 1/2 Cup butter, room temperature 1/2 Cup Creamy peanut butter
1 Egg
1 tsp Vanilla
1 1/2 Cups All purpose flour 1/2 tsp Baking powder
1/2 tsp Baking soda
1/2 tsp salt
Granulated Sugar, will be used to roll the cookie dough in prior to baking
Chocolate Coating
1 Cup Dark chocolate baking chips 1 tsp Shortening
1/3 Cup chopped Spanish peanuts
Heat oven to 350 degrees
Combined brown sugar, butter and peanut butter in a bowl. Beat at medium speed until well mixed. Add egg, and vanilla, continue beating until well mixed .
Add the flour, baking powder, baking soda and salt. Beat at low speed until well mixed.
Place white sugar in a bowl. Shape the cookie dough into 1 1/2 balls, roll in sugar and place on cookie sheet lined with parchment paper. Flatten dough in crisscross pattern with fork dipped in sugar.
Bake for 10-12 minutes or until the edges are slightly browned. Remove to cooling rack and cool completely.
Microwave the dark chocolate chips and shortening in a bowl and stir every 20-30 seconds until smooth.
Dip the cooled cookies halfway into the melted chocolate, place on a parchment lined sheet and sprinkle with chopped peanuts. Refrigerate to set.
Marge's Sugar Cookies
1/2 cup butter - room temperature
1 egg- room temperature
1/2 canola oil
1 tsp vanilla
1/2 cup powder sugar
1/2 cup granulated sugar
1/2 tsp cream of tartar
1/2 tsp soda
1/4 tsp salt
2 cups flour
Measure and mix your dry ingredients together - set aside
Cream the butter and both sugars together until fluffy
Add egg, oil and mix well
Add vanilla
Add dry ingredients 1 cup at a time mixing until well blended.
Refrigerate the dough for at least 30 minutes
Scoop and drop 1 tablespoon of dough onto a parchment lined pan
Bake @350 10-12 minutes
Velma's Peanut Butter Chocolate Chip Cookies
1 cup sugar
1 cup brown sugar
1 cup butter
1 cup peanut butter, crunchy
2 eggs
2 teaspoons vanilla
2 cups flour
1 cup oatmeal
1/2 tsp. salt
2 teaspoons baking soda
2 cups chocolate chips
Mix and bake at 350° for 10 to 12 minutes
Cool slightly and eat
Brown Butter Bourbon Pecan Chocolate Chunk Cookies
prep 20 mins cook 10 mins inactive 2 hours total 2 hours, 30 mins
yield 2 dozen
Brown Butter Bourbon Pecan Chocolate Chunk Cookies! Such an incredible flavor combination!
Ingredients
For the Buttered Pecans:
1 and 1/2 cups pecan halves, finely chopped

1 and 1/2 tablespoons unsalted butter
For the Brown Butter Bourbon Pecan Chocolate Chunk Cookies:
2 sticks (8 ounces) unsalted butter, melted until browned

2 and 1/3 cups all-purpose flour (don't pack the flour into the measuring cup!)

1 teaspoon salt

1 teaspoon ground cinnamon

1 teaspoon baking soda

1 cup dark brown sugar, packed

1/2 cup granulated sugar

2 teaspoons vanilla extract

2 Tablespoons bourbon

2 large eggs, at room temperature

12 ounces semi-sweet OR dark chocolate, roughly chopped into chunks 

24 pecan halves, for decoration, optional
Instructions
For the Buttered Pecans:
Melt butter in a large skillet over medium heat. Add in chopped pecans and cook, stirring occasionally, for 4 to 5 minutes, or until lightly toasted. Set aside until needed.
For the Brown Butter:
Place the butter in a small saucepan over medium-high heat and cook for about 3 minutes – stirring almost constantly – until the butter has browned. Pour the brown butter into a heatproof bowl, being sure to scrape all of the "toasted" bits into the bowl as well. Place the bowl in the refrigerator for 2 hours, or until the butter is at room temperature. You'll know the butter is at room temperature when you press a finger into the top and it makes a slight indentation. 

It should not be liquid at all.

Once the butter is at room temperature, you're ready to get baking!
For the Brown Butter Bourbon Pecan Chocolate Chunk Cookies:
Preheat oven to 375 degrees (F). Line two large baking sheets with parchment paper; set aside until needed. 

In a large bowl combine flour, salt, cinnamon, and baking soda; whisk well to combine then set aside until needed.

In a large bowl using a handheld electric mixer, or in the bowl of a stand mixer fitted with the paddle attachment, combine browned butter and both sugars and beat on medium speed until light and fluffy; about 2 minutes. Add in the vanilla and bourbon and beat until combined. Add in the eggs, one at a time, beating for 15 seconds after each addition. Turn mixer off. Using a wooden spoon or sturdy rubber spatula, gently fold in the flour, stirring only until the flour begins to disappear. Fold in the chocolate chunks and buttered pecans. 

Roll 3 tablespoon-sized scoops of dough between your palms to form a ball (they should be big; almost a 1/4 cup), then place on prepared sheets (make sure to leave enough room in between each cookie for inevitable spreading). Continue this process until all the dough has been rolled. Press a pecan on the top of each cookie dough mound, if desired. 

Place baking sheets in a preheated oven, one at a time, and bake for 9 to 10 minutes, or until golden at the edges but still soft in the middle. Repeat with all cookie dough. Sprinkle cookies with sea salt right when they come out of the oven. Let cookies cool for 10 minutes on the baking sheet before transferring to a wire rack to cool completely.
Chewy Brown Sugar Cookies
2 cups (250g) 

all-purpose flour

 (

spool and level

)

1 teaspoon 

baking soda

1 and 1/2 teaspoons 

cornstarch

1/2 teaspoon 

ground cinnamon

 (use 1 teaspoon if you love cinnamon)

1/4 teaspoon 

salt

3/4 cup (170g) 

unsalted butter

, melted and slightly cooled*

1 and 1/4 cups (250g) packed light or dark 

brown sugar

1 large 

egg

, room temperature

2 teaspoons 

pure vanilla extract

1/3 cup (67g) 

granulated sugar

, for rolling
Instructions
Pour a glass of wine or make yourself a margarita. Take a sip. 

Toss together the flour, baking soda, cornstarch, cinnamon, and salt in a large bowl. Set aside.

In a medium-size bowl, whisk the melted butter and brown sugar together until no brown sugar lumps remain. Whisk in the egg. Finally, whisk in the vanilla. Pour the wet ingredients into the dry ingredients and mix together with a large spoon or rubber spatula. The dough will be very soft, yet thick. Cover the dough and chill for 2 hours, or up to 3 days. Chilling is mandatory. Scooping out a spool-full and eating it is also mandatory.


Take the dough out of the refrigerator and allow to slightly soften at room temperature for 10 minutes if you had it chilling for more than 2 hours.

Preheat the oven to 325°F (163°C). Line two large baking sheets with parchment paper or silicone baking mats. Set aside. Make another margarita or pour a glass of wine. Take a sip.


Pour the granulated sugar into a bowl. Take 2 scant Tablespoons of dough and roll into a ball, then roll into the sugar. Place 3 inches apart on the baking sheets.

Bake for 8-9 minutes. Remove from the oven and gently press the top of the cookie down with the back of a utensil or even use your fingers. You're trying to obtain a crinkly top. Place back into the oven for 2-4 more minutes. The total time these cookies are in the oven is 10-13 minutes. The cookies will be puffy and still appear very soft in the middle. Remove from the oven and allow to cool on the baking sheet for ten minutes before transferring to a wire rack to cool completely. They will continue to cook in the center on the baking sheet after being removed from the oven.

 Cookies will stay fresh covered at room temperature for 1 week.
CHOCOLATE-DIPPED COCONUT MACAROONS

1 14oz package sweetened shredded coconut (About 5 cups). Use Bakers brand for best results
4 Large egg whites
2/3 cup sugar
1/3 cup all-purpose flour, spooned and leveled
1/4 tsp kosher salt
1/2 tsp pure vanilla extract
6 oz bittersweet or semisweet chocolate, melted and cooled to room temperature

DIRECTIONS
Heat oven to 325 degrees
In a medium bowl, combined the coconut, egg whites, sugar, flour, salt and vanilla
Drop packed tablespoons of the mixture onto parchment-lined baking sheets, spacing them 1 inch apart.
Bake, rotating the baking sheets halfway through, until lightly golden, 25 to 30 minutes. Cool slightly on the baking sheets, then transfer to wire racks to cool completely.
When cool, dip the bottom of each macaroon in the chocolate and place on a parchment-lined baking sheet.
Refrigerate until firm, 20-30 minutes. Store the macaroons in an airtight container at room temperature for up to 7 days.
Mmmmm Good, Mmmmm Good, Almond Joy Cookies Quality: 5 Dozen

Ingredients:
1 Cup Butter- room temperature 1.5 Cup White Sugar
1.5 cup Packed Brown Sugar
4 Large Eggs 4 Tsp Vanilla
4.5 Cups Flour 2 Tsp Soda
1 Tsp Salt
1.5 Cups Chocolate Chips
2 Cups Flaked Coconut
2 Cups Chopped Lightly Toasted Almonds

Preheat oven to 375 degrees
Measure and mix dry ingredients, set aside
Mix butter and both sugars until fluffy. Add eggs one at a time
Add Vanilla
Add dry ingredients one cup at a time, do not over mix
Stir in the chocolate chips, coconut, and almonds
Bake at 375 for 9-12 minutes depending on the oven.
Cool on the pan for 3 minutes and then transfer to a cooling rack Eat warm or cooled....whatever your preference...
Butterscotch Cookies
Ingredients:
1/2 cup butter
One and a half cups brown sugar
Two eggs
Tuna half cups flour
1/2 tsp. salt
1 teaspoon soda
1 cup sour cream
1 teaspoon vanilla
Three-quarter cup chopped nuts
Cream butter and sugar. Add eggs and blend. Shift dry ingredients together and add alternately with sour cream. Blend in vanilla and nuts. Chill until dough is firm and drop by teaspoon on a highly greased cookie sheet 2 inches apart. Bake at 400° for 10 to 15 minutes. When cool, ice.
Burnt Butter Icing
Three-quarter cup butter
3 cups sifted powdered sugar
2 teaspoons vanilla
Hot water

Melt butter, keeping over heat until it is golden brown. Blend in powdered sugar. Add vanilla. Stir in the hot water to make facing the right consistency to spread smoothly, about 8 tablespoons. This will frost about 60 cookies. Recipe makes five dozen cookies.