Posted on
By Joel La Follette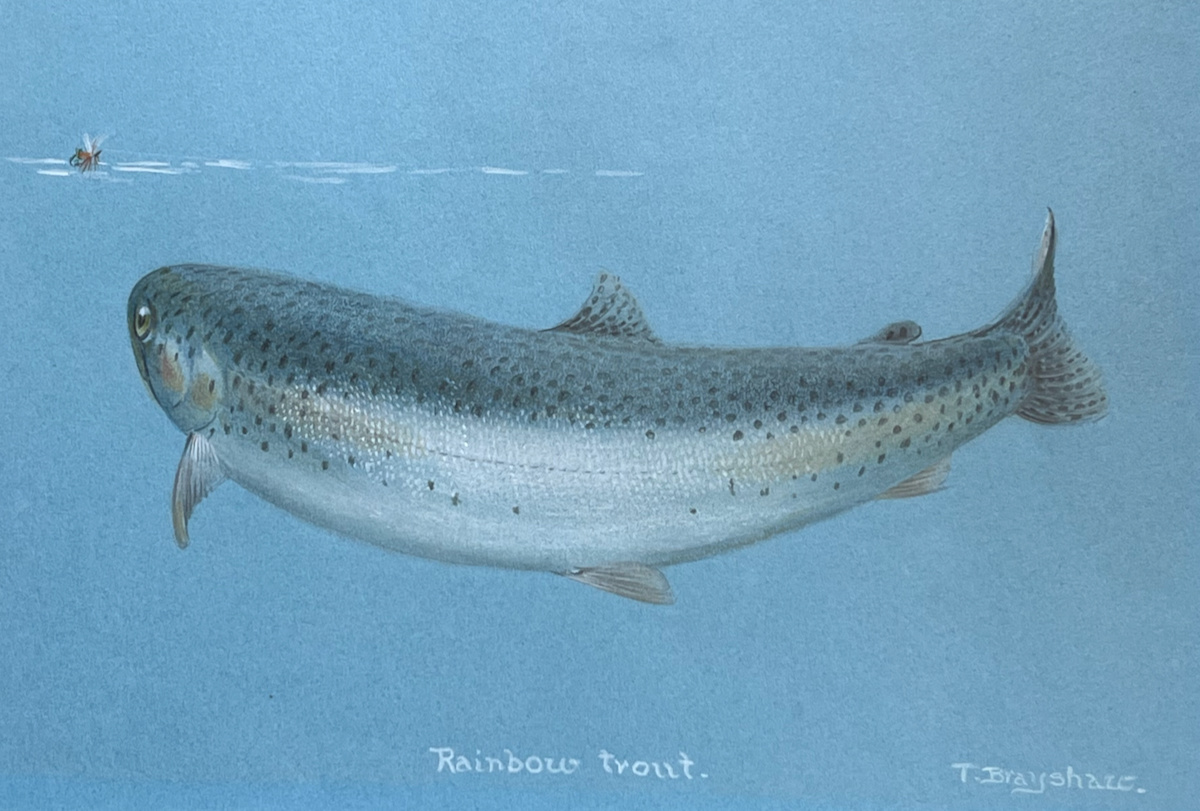 Another look at angling's past...
The Trout seemed to float on the living room wall of my grandparent's small cottage on the slopes of Mt. Tabor. The simplicity of the image balanced by the natural detail of the rising Rainbow brought to life by the artist's hand. I had only recently discovered the magic of angling with a fly, and the Trout held my gaze longer than before.
In time, a dusty shelf of memories held this treasure until one fateful afternoon, as I attempted to clean up what had become my fly tying room, it was rediscovered. Next to the brittle plastic boxes that held feathers, fur, hooks, spools of tinsel, and silk, hidden under old copies of Field & Stream, the framed Trout lay sleeping. An envelope taped to the back slipped to the floor as I dusted off the frame and wiped the grime from the glass.
Inside the hand-addressed envelope posted from Vancouver, BC, was a neatly typed letter and a collection of flies mounted on a piece of card stock. I set the flies on the tying bench and unfolded the letter.
The date read January 23rd, 1965, and below the properly placed addresses of the sender and recipient, the letter began simply, Dear Dale: I turned the page to find the letter signed, Tommy, just above the typed T. Brayshaw.
Tommy Brayshaw was born in England's Yorkshire District in 1886, and started fishing at a very early age. By age 9 he was already tying his own flies, learning to do so without the aid of a vise. Tommy was fortunate for a time to be under the general tutelage of Sir Edward Gray, a renowned angler.
In 1910, Tommy immigrated to Vancouver BC, and worked for a financial firm, but returned to England to join the Yorkshire Regiment at the outbreak of World War I. At war's end, he had been wounded more than once and promoted to captain. He married his wife, Becky, in England and return to British Columbia to teach mathematics at a boys' school. During World War II he was a recruiting officer, and later an army counselor, retiring as a Major from the Canadian Army. 
After the war, Tommy moved to Hope, British Columbia, and focused on his three related passions; art, wood carving, and fishing. His illustrations appeared in Rodrick Haig-Browns "The Western Angler" and a number of British Columbia travel posters. His second passion involved making wood carvings of Canadian Gamefish and they were perfect to the most minute detail, one of which can be found on display in The Fly Fishing Museum in Manchester, VT.
Near his home, a small tributary of the Fraser River, the Coquihalla became his home water for the next twenty years and would inspire his "Coquihalla Series" of Steelhead flies. A collection of which now lay on my fly bench. I picked up the letter and started to read.
"Dear Dale:
Here are the flies for the Flyfisher's Club, and I am also sending you a card with six of my proved steelhead flies, no I don't claim that they are any better than almost any other six, but all us fellows who tie their own flies are trifle crazy! Just look at Ray Bergman's "Trout" and try to pick out the fly which best resembles the one you see on the water.
The two which I have put on a separate card, the "nameless" and the "Alevin" are really the only ones I think may be of interest – and the latter doesn't represent a fly, nor, of course, do any of the usual steelhead or Atlantic salmon flies.
An Irish friend of mine, when I first came to the Pacific coast, once said to me "Tom, these rainbow trout  in BC are so unsophisticated that out here they only tie flies to represent a lump of fat with a streak of lean in it!" He was referring to the "Parmachine Bell." I have very seldom seen any real hatch of flies in our streams to compare with those we used to find in the brown trout streams in Britain, and which, I believe, occur in the streams of in the eastern US fished by Theodore Gordon. I only know of two which are comparable, one is the hatch of stoneflies (locally called Salmonflies) in the Thompson River and the hatches of sedges in many lakes in BC.
I cannot vouch for how many anglers have used it successfully but I have given away many of them over the years and I do know that some of them have dressed them for themselves.
In the six steelhead flies, I have just shown the usual range of sizes in which I fish them myself. I use the heavy hook on number six sometimes for winter fish, but numbers six and four pretty well see me through the summer runs. I think I would be quite content to fish with only numbers one and six in several sizes.
You will see some of the old Kelson influence in the tags and butts, they will, of course, kill just as well without them! The tails of numbers three and five are "collarette magnifique" which Kelson used on his "Little Inky boy" and which I used to buy from a feather merchant in Paris 60 years ago!!! - who's address I have long since lost, but which G.M.K. gave me. I believe the Indian crow used in "Alevin" is no longer procurable and I am down to my last two or three feathers, so will have to find some substitute just to represent the yolk sac.
Just for your amusement, I am enclosing a tandem hook fly which I use with great effect off the mouths of streams when the yearling sockeye fry are going down to the sea. It is only 2 1/2 inches long and quite a bit less than many of the parr. Some fly!
I think you must have had about enough of this letter by now, but if there is any other question just let me know. It just struck me that I mentioned tying the "Nameless" on the bank of the river. You may know that I don't use a vise, just hold the hook in my clumsy fingers, and I used to carry a small cigarette box, a "Twenty" size, with a few feathers, hooks, silk, and a piece of "cobblers wax" and now I can't even get this wax now. What is the modern world coming to? 
All the best to you all. 
Yours always,
 T Brayshaw
P.S. Don't bother to send any of these back. If they're not suitable for the Flyfisher's auction. give them to someone who collects junk."
I smiled at the "junk" reference, knowing that this collection of flies, tyed and mounted by the artist, was priceless and something that needed to be saved and shared with the angling world. In the years to come, anglers like Tommy would be forgotten if not for little bits of history tucked away on dusty shelves just waiting for discovery. And so it goes.
Ref: Steelhead Fly Fishing and Flies by Trey Combs; Tommy Brayshaw The Ardent Angler-Artist by Stanley F. Read; The Contemplative Man's Recreation, The University of British Columbia