Welcome to Royal Treatment Fly Fishing!
Login
Log in if you have an account
Dont have an account? Register
The Wild Bunch
16 Sep 2022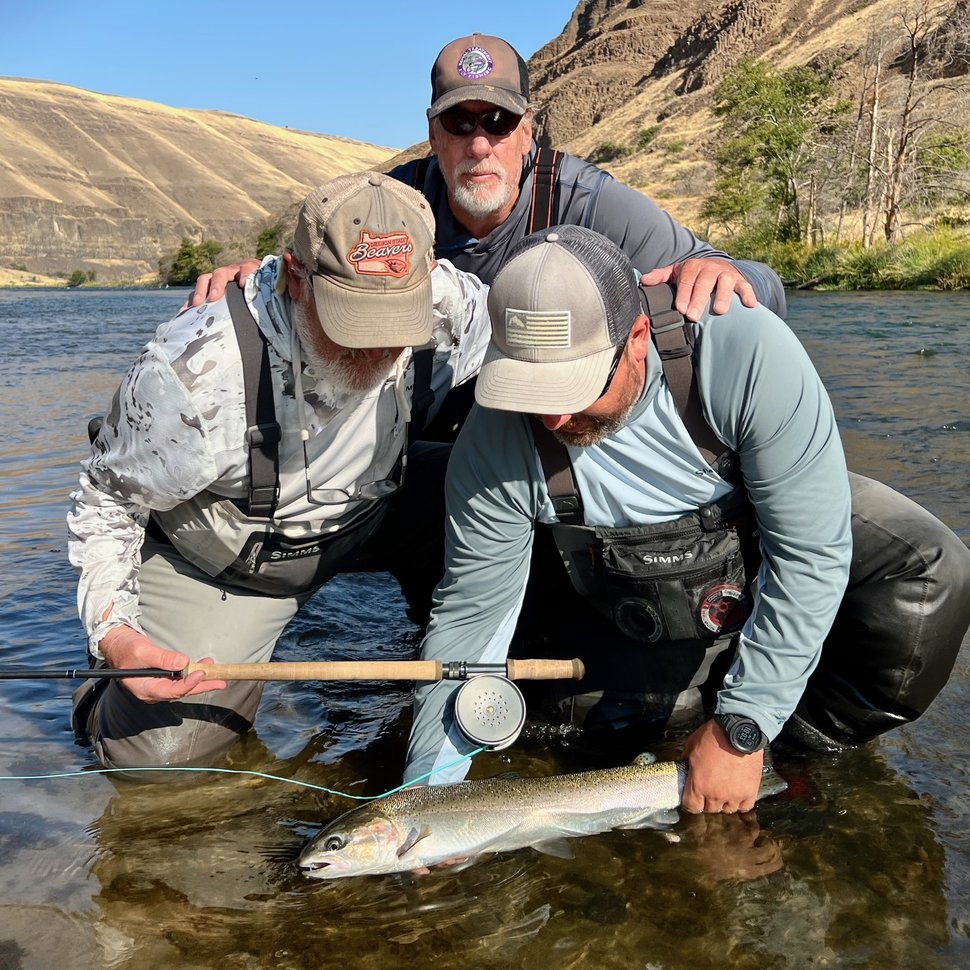 Even though Andy was the new guy in the group he has a way of fitting right in. Larry and Big Andy were fishing Saturday before Randy and I were going to meet up with them. I'm sure Andy was craving some human interaction after being camped at beaver tail all week.
We hit the boat launch around 6:00 and pushed for camp, where Larry and Big Andy were waiting for us with cocktails in hand. We quickly set up our half of the camp including a couple of wings, as the weatherman had forecast some rain this evening. Quite often when it rains on the Deschutes this time of year it's a quick shower and doesn't amount to much. Apparently, this was going to be different, and Andy kept reminding me "oh it never rains on the Deschutes" as we all huddled under the wing drinking cocktails and laughing it up.
We woke early to a dark cloudy sky and no rain. Andy and I left the camp in the dark to make for a run downriver and left Randy and Larry to fish the camp water.
We rolled into our first spot I started at the top and Big Andy started in the middle. About halfway down the run I hooked one and lost it as it was coming to me. I caught up to Andy and could see he was exhausted from his week plus of fishing. He pulled out to rest his weary body and I kept going and hooked a second one when I was standing in front of him. This trip was off to a good start.
Larry and Randy caught up to us and we pushed down river to fish a couple more spots and find a camp. As we pushed down looking for camp we started to run into a lot of traffic. It was much busier than it had seemed. We pushed by our 1st, 2nd, and 3rd camp choices. We made the decision to push towards the lower river so we could camp on some good camp water.
We pulled into one of my favorite runs and set up camp and drank a cocktail as we waited for the sun to go down.
We fished the run that evening with no luck. We stayed up late drinking cocktails and listening to stories of days gone by. We were up again early to a clear sky and cloudy brains. Again we left Larry and Randy to fish camp water as we pushed down to our first run in the dark.
We pulled into Upper Music, Andy sat in the boat and made coffee as I quickly fished the run. The other boys caught up to us when I was almost done. I finished up without any fish and caught up to them in the next run. We floated down together looking for an open run.
We stopped in a little bucket and Larry hopped out to fish. As soon as I walked away to chat up the boys I could hear Larry's reel scream and knew he had a fish on.  I made my way back to where he was and helped him land his fish.
We made our way down the river and found a few more fish. We were having a great morning. With lots of laughs and smiles on our faces, we pushed out. Running the big rapids and enjoying every minute of it.