Welcome to Royal Treatment Fly Fishing!
Login
Log in if you have an account
Dont have an account? Register
The Hardy St. George
26 Apr 2022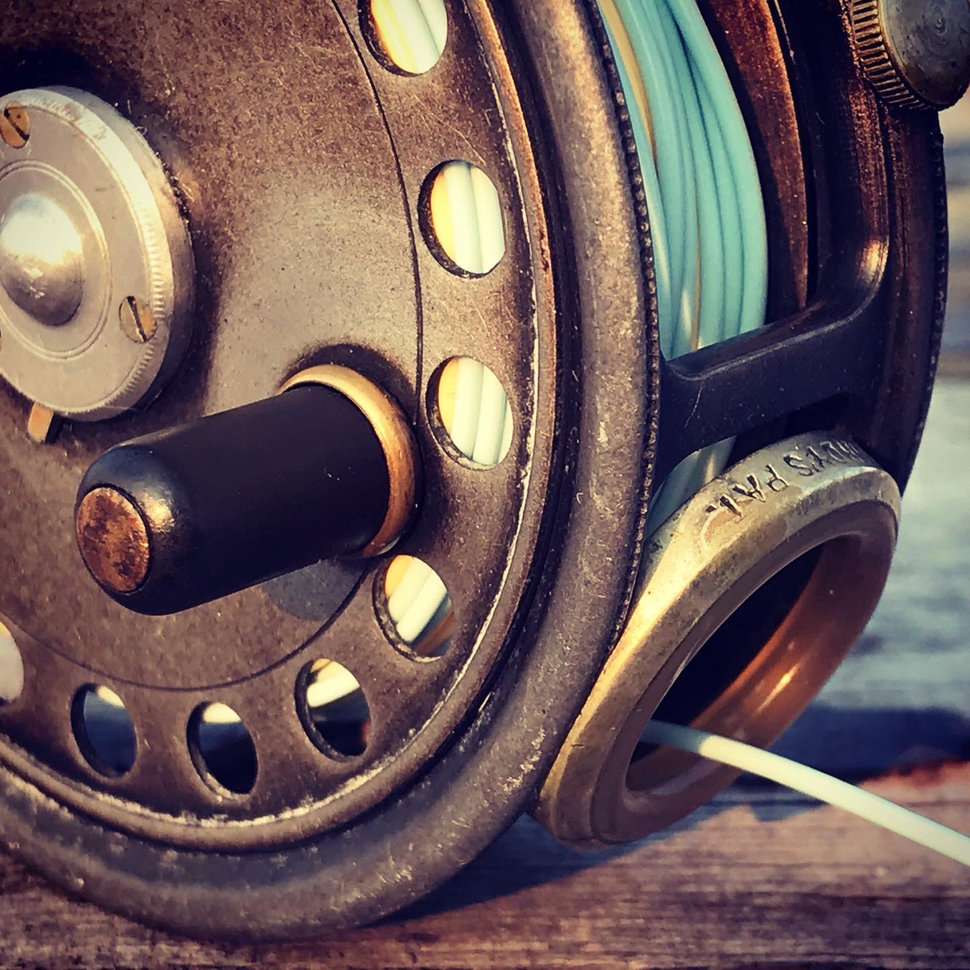 My first Hardy was a 3 3/4" Saint George purchased in the late '70s. Beauty and function paired with an agate line guide, how could one resist. Capacity was generous, holding a DT7F line and 100 yards of backing. Matched with my new J.K. Fisher fiberglass 9 foot 7 weight rod, summer steelhead beware. This outfit proved its metal by fishing the rivers of Southwest Washington, Washougal, East Fork, Kalama, Wind, and Klickitat. As graphite became more available, I purchased a Scott PowR-Ply G series 9 foot 6 Weight. Matched with my St. George and a DT6F line, I had the perfect combination for presenting dries and Muddlers in these famed steelhead waters. Find steelhead we did; many unforgettable memories were made thru the '80s and '90s, with fish of every size falling to this reel's guiles.
As with most Hardy reels, the "check" mechanism is of a click and pawl design. Not considered a fish-stopping drag, but designed to keep the spool from over spinning under a quick load or ultrafast run. This style of check gives Hardy their own unique sound, with each series sporting a slightly different tone. In my opinion, the St. George's song is the best, not the loud, boisterous bark of the St. John or other larger framed reels. Instead, it hums joyously as the line is pealed via hand or fish, with just enough audible purr on a powerful run to exude excitement but not wake the entire river. A sound that imprints itself deep in your soul.
With many seasons behind us, one experience epitomizes the joy of a St George. An early morning hike deep into the Wind River Canyon in late August. The water here is tumultuous, flowing strongly among small car-sized boulders and dropping quickly from a high mountain start, and ending at the Columbia. My fly choice when hunting this kind of pocket water is Muddlers, Bombers, or Bakke's DragonFly. All are fished on the surface, and more of a hung, then swung presentation. Grabs were quick and powerful, and the ensuing run was explosively electric. The St. George, with its ratcheting hum, was just audible enough to be heard above the roar of the river, barely resonating off the canyon walls. A sound that pulls at me deeply and will never forget.
Jennifer adds a bit of background on the Saint George...
Several models of Hardy reels we have looked at over the past few weeks are somewhat unknown or even readily attainable; however, this is not the case for iconic and beloved St. George. With a long-standing history worthy of being named after the Patron Saint of England, the popular line of hard-working but classy reels was offered in various styles, with a line guard in agate, offered in several sizes, and spanned over seven decades.
George was a humble Saint and notable crusader "in plate armor or mail, often bearing a lance tipped by a cross, riding a white horse, often slaying a dragon" (Websters). He is shown in the Greek East and Latin West with St George's Cross emblazoned on his armor, shield, or banner. As for iconic fly reels, The Hardy St George is one of the best-loved of all Hardy vintage reels, right alongside the Perfect model.
Initially introduced in 1911/12, the early model drum was secured to the spindle using a round, brass locking nut making them very easy to identify and incredibly rare to find; I've never seen one in person. In just two years, The St George check was slightly altered in 1913-1916, and the latching mechanism was changed to what is still known today as a "3 screw" latch. The MK I check came in from 1917 to 1920, and the introduction of the MKII in 1921 to 1983.
The early Saint George reel was only available in a 3 3/4" size. In 1913, Hardy added the additional size of 3 3/8", and after the war in Europe was over, 1920 ushered in a 3 inch St. George with a silent check mechanism attainable in all three sizes. For a short time, Hardy brought about the Saint George Junior, measuring in at 2 9/16"; it's a gem of a reel that came about in 1928 and was discontinued at the end of '63. It should be noted that this petite little reel featured a nickel silver line guard as opposed to agate.
As with everything Hardy, from time to time, we find unique examples of early-year productions that are either more pleasing to the eye or presumably made to order. Following the fashion of the time, St. George was finished in various patinas; my favorite is the bronzed. It is common to be seen in black leaded and lacquer finish and various paint changes used after 1940.
The 1912 St. George in a 3" is the chosen model to be reintroduced this spring of 2022 by @hardyfishing to commentate the Brother's 150th Anniversary and boldly displays a brilliant, ruby red agate. Only lacking time-honored patina, this exquisite 3" St George is chock-full of distinctive details to make any collector pause and possibly, bite their lip.