Welcome to Royal Treatment Fly Fishing!
Login
Log in if you have an account
Dont have an account? Register
The Challenge of the Dry Fly
05 Oct 2022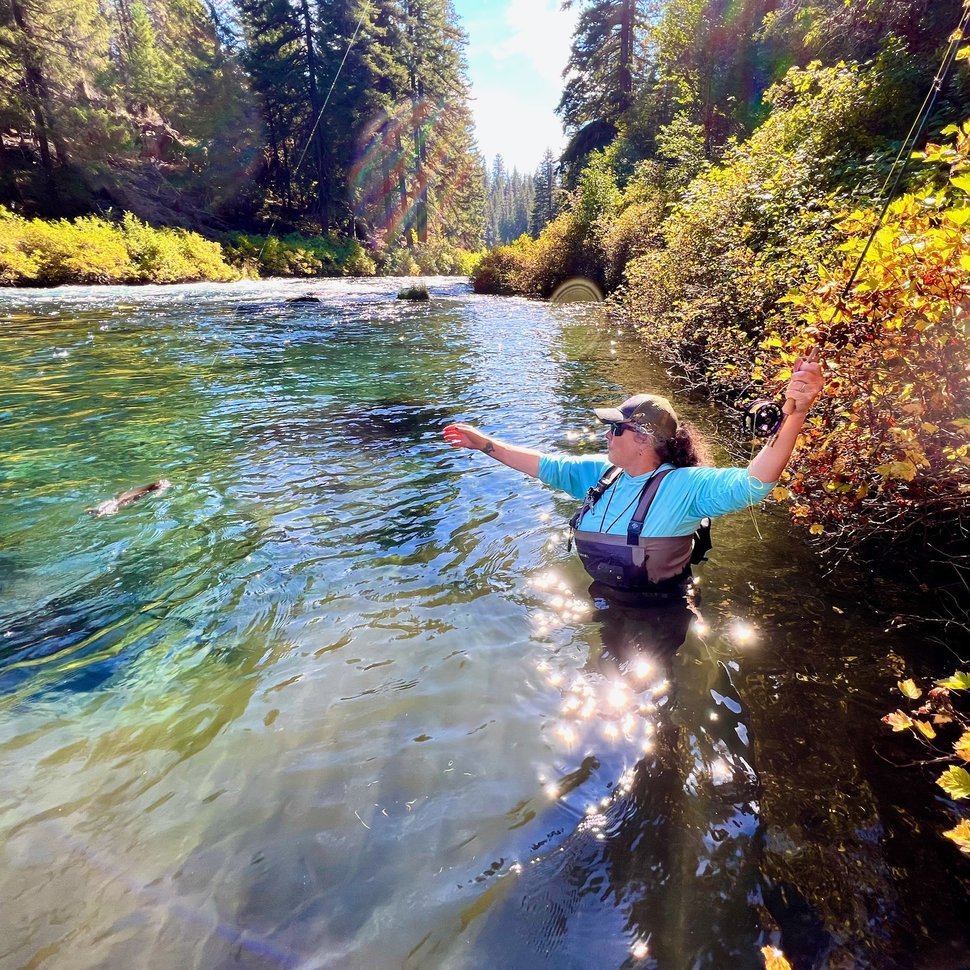 For most Anglers living in Oregon, the Metolius River holds unparalleled mystique, timeless allure and is most certainly a bucket list destination for those outside the PNW. A "fly fishing" only river, guarded more so with strict regulations set in place to help preserve and protect this iconic fishery for good reasons. In a fishery full of challenges, the majority choose a nymph under an indicator or Euro set up as most fish hold up in channels, deeper pools, or out in the middle behind lava outcrops. For the 1% of anglers like myself who live and breathe to swing flies or fish floating lines with dry flies, the word "challenge," or sickness perhaps, takes on a whole new meaning here surrounded by gin clear, turquoise waters. 
The Metolius River is a spring-dominated tributary named for the Warm Springs Sahaptin word meaning "white fish," referring to light-colored chinook salmon.  As I walk the trails along this tributary of the Deschutes River located outside of Sisters in Camp Sherman, I can't help but think of those of the Confederated Tribes who have fished the river for thousands of years before me, hunted in her pristine forests and gathered necessities for a much-forgotten space in time. I am humbled and full of gratitude to be here today and find a more profound passion and respect for the land each time I visit. Maybe it is this deep-seated reverence for the land and fish that I choose to wet a line in the most difficult of methods. I don't need to eat what I may or may not catch; I always pinch my barbs and have taken the pledge to advocate to
keepfishwet.org
, so committing to the dry fly for Red Band Trout equally excites and infuriates, sometimes at the same time frame.
I am thankful that fish live in beautiful places; I love how at the beginning of a fishing adventure, I find that my mind bounces between the busyness and practical concerns of everyday life only to slow down with the melodic sweetness of the river's constant flow and all-consuming wonderment of a season changing before our eyes. Perspective is found in reflection and by simply slowing down. 
Getting off the grid with a chance to dry camp goes hand-in-hand with our passion to dry fly fish, and we always rise to the opportunity. Fishing regular spots around Bridge 99 and hiking to new locations to look for risers were futile on the afternoon of day one. A few big bugs were up, making fly selection simple, but nary a boil, refusal, or miss were found by Joel or myself. By late evening, my three-wt bamboo rod and 3' Saint George had encountered three fish, amusingly the length of my middle finger, all fooled with first piercings, I'd guess, by a rust-colored winged ant in a size 18. "These are not the droids you are looking for" went through my mind, and took solace knowing that tomorrow was another day. I'm always amused how the very act of Fishing holds so much life perspective and good humor. 
A crystal clear sky with temperatures at 43° made for excellent stargazing and perfect sleep after a dinner stop at Hola near the Camp Sherman general store. We woke in the morning to enjoy hot coffee and chai with our pastries, then headed off in cold, wet waders to hike into a location I had not been to before. PB&J's packed for a day's journey, and our ever faithful
Grayl water purification filter
I've learned to never be without; my hopes of rising trout and big splashes were realized after a good hour plus of trekking up and down steep trails to find accessible pools. 
Along the walk, I thought about many things; how my boots felt heavy with aggressive studs but how I wouldn't have it any other way for the trade-off of security when wading, that I loved the comfortable long periods of silence Joel and shared when walking in the woods taking in the fresh air while being surrounded by Ponderosa Pines, what memories I'd made with loved ones past that are no longer on Earth and good dogs running beside me over the years. A few tears flowed as I recalled what once was and how much time is a healer of pains. I felt better than the day before, refreshed, and quieter in my mind; a reminder of a favorite John Muir quote 'I only went out for a walk and finally concluded to stay out till sundown, for going out, I found, was really going in.'.
And suddenly, we had arrived at a spot full of promise where super long roll casts were the name of the game, our
Winston Air 2 rods
were the golden tickets to delicately present 5 and 6x tippets with heavily dressed single dry flies. Not 5 minutes in, our October Caddis' we're being followed, refused, and finally, crushed with a big tail splashes like they are in the most vivid of angler's dreams. Bugs were in "abugdance" as I like to say, and several times both Joel and I cried out at nearly the same time, "did you see that take!?" Or "ohhhh man, the color on that big fish!" and "I got him! Ohhh dang it! He's off!". Sharing a camera to capture wild fish in the water and their beautiful releases that, for the Metolius on dry flies, were damn near trophy trout for us both! High fives and hugs broke into laughter, and for a time, all was right in the world. 
Ahhhh, Autumn, in all her splendor!! 
The sunlight danced like diamonds on the icy clear waters. With bent fly rods and even bigger smiles with the love of life. THIS is what dreams are made of and exactly WHY I fish the way I do. 
The next few weeks are going to be gorgeous on the Metolius River Trail as Nature prepares to show us that we are all at our most beautiful when we let go. I highly recommend that you grab someone you enjoy being with and go take a hike, literally. Get past the areas where people usually fish. Be patient & obsessively observant. Commit to hard stops and really get that leader to unroll. Single Hand trout Spey casts are powerful moneymakers with long leaders when there is zero backcast room. 
Fish the way that makes you happy but never rule out a good challenge; dry flies on the Metolius just might be "eggzactly" what the Doctor ordered to get you back in alignment with keeping it simple and upping your game.