Welcome to Royal Treatment Fly Fishing!
Login
Log in if you have an account
Dont have an account? Register
The Bonefishing Rabbit Hole
25 Jan 2023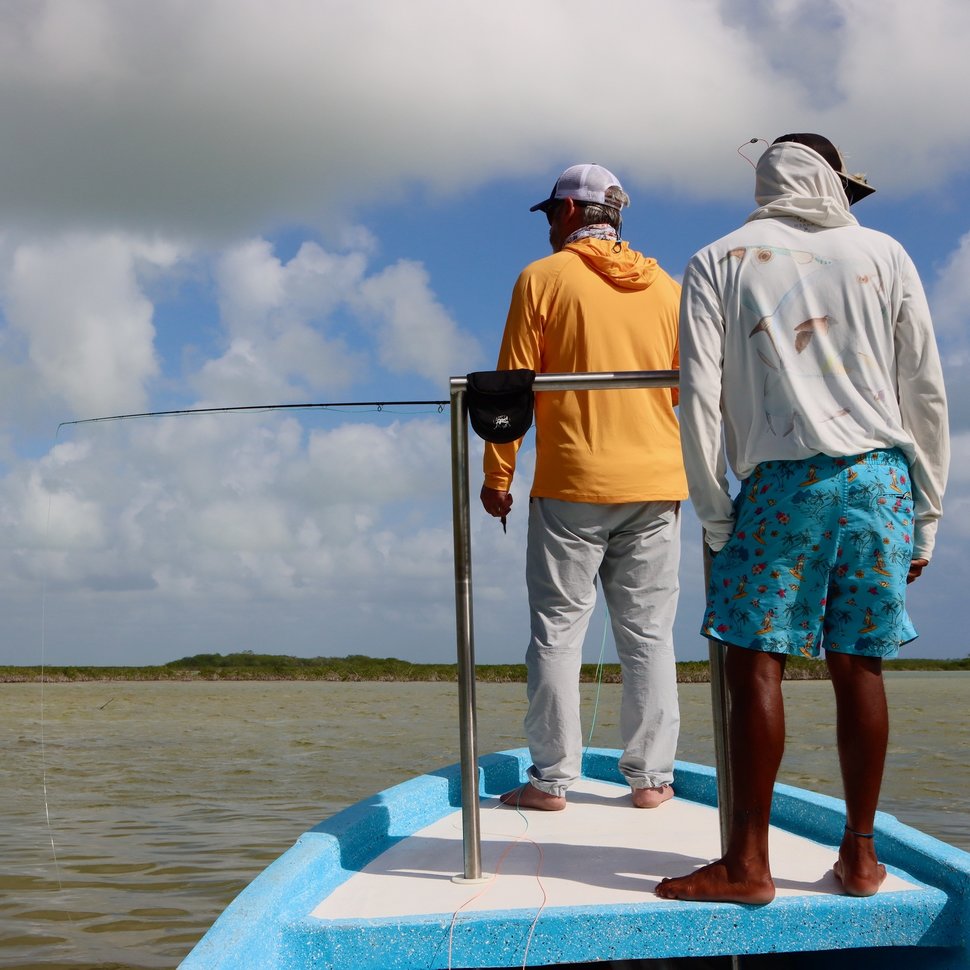 Winters seem to be a little darker and much cooler than we remember, stimulating thoughts of warm tropical waters and the reel-screaming runs of Bonefish, Permit, Tarpon, or other creatures of the salt. Even if you have never experienced this type of angling adventure, you might have thought about it while standing in icy waters with leaky waders. Be warned; this form of daydreaming can lead you down a rabbit hole from which there is no escape.
Bonefishing, or flats fishing as it is better described, is like opening a bag of your favorite snack food and announcing you'll only eat "a few." Then, after cleaning the Cheeto dust off the furniture, you grab the car keys and head to the Piggly Wiggly to restock. In other words, one trip is not enough.
Of course, this type of addiction can be expensive, as most are, but it doesn't need to be. There are locations where Bonefish flats can be reached without traveling halfway around the world. Add the fact that some positive side effects of the sport will enhance your life and likely improve your overall health, making the financial cost and travel effort worth it. The trick is fitting it into your lifestyle and budget.
When matching first-time salt anglers to a location, it is essential to take into consideration the skill level of the angler and their personal goals for the adventure. Christmas Island is a good option if it's all about lots of fish. Variety? Mexico's Yucatan is the place to hunt that Super Slam. Permit? Belize can check that box if you missed your shot in Mexico or you like that island vibe. Big fish? Pick an island in the Bahamas that begins with A, and you should be fine. Of course, if money is no object, the Seychelles can be a nice place to spend a few weeks chasing all sorts of salty creatures. I suggest joining a hosted trip or tacking on a few days of fishing to a family vacation. Hawaii, Mexico, and Florida all have fishing and non-fishing attractions to keep everyone happy.
Now we get to the fun part, tackle. Depending on the location, an 8wt. fly rod is the cornerstone of a "flats fishing quiver." Just like a 9' 5wt. is the SUV of Trout fishing rods, a 9' 8wt. is the one stick you'll be using the most, so make sure you love it. Next, match it up to a well-built reel, and add a good saltwater line, a few flies, and sunscreen. You're now a Bonefisher. Then, depending on where the Cheetos take you, add a 10 wt. to the quiver to handle that Permit that spooled you or those baby Tarpon that were bigger than anything you've ever seen swimming in a freezing river. Then you'll need a 12 wt. for GTs and Giant Tarpon and fill in the collection with a 9 wt. just because sometimes you need a 9. Yes, this rabbit hole goes deep.
Nevertheless, it's well worth the trip, and you have probably never fished the Deschutes with only one rod, have you? As mentioned, you don't need a full quiver for your first sampling of this salty fishery, but as you explore new locations, you'll be adding to your kit until you have a rod for most of the species you will encounter. Four sticks with matching reels are hardly noticeable when acquired over a period of a few years.
The good news is, you may already have some of the tackle required. Single-hand 8, 9, and 10 wt. rods are fairly common with Salmon anglers, and there are some great new offerings that won't break the bank. Scott's new Wave goes home with you for $675 and is an incredible Saltwater rod.
So, tie a few flies, grab your gear, and plan a Bonefishing trip, even if it's only for a day between tours and shopping sprees. Once you've felt the power of a speeding Bonefish, you are forever changed. The rest of your winter vacation will be spent wanting more. You'll most likely be planning your next adventure before the plane arrives back at PDX. So please don't say I didn't warn you.