Welcome to Royal Treatment Fly Fishing!
Login
Log in if you have an account
Dont have an account? Register
The Big Chill
25 Jan 2023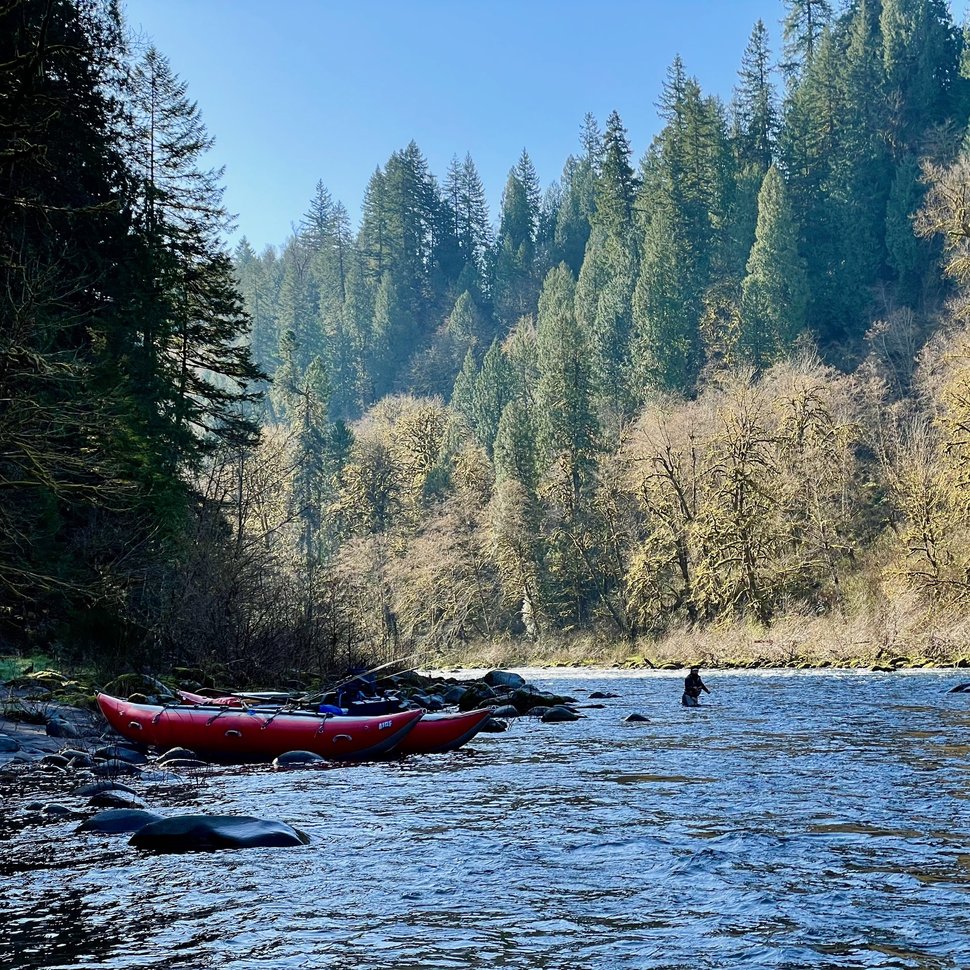 For those of you unfamiliar with Oregon's winter weather patterns, don't pack your sweaters and parkas away just yet. While this last week was unseasonably warm and relatively dry, next week looks like it will be making up for it with temps well below freezing but only a hint of needed moisture in the forecast. We could really use some rain to freshen up our local rivers and jump-start our returning Steelhead.
Both the Clackamas and Sandy are running cold and fairly clear, adding challenges for those plying those rivers searching for Steelhead. Debriefing with the Fly Czar after the weekend was telling as his customary enthusiasm has waned somewhat. A warm rain would spark his outlook, boost the success rate, and restore his witty banter. We should get a little precipitation on Friday into Saturday, but if Sunday lives up to its name with clear skies and down-right cold temps, we could be right back to low and clear. Look for the Eastwind to start blowing on Sunday. If you get out, try fishing the deeper holding areas with fast-sinking tips and heavier flies. Cold water pushes Steelhead deep and not in a hurry to chase anything. Make it easy for them by getting your fly a little closer in the cold water.
On the coast, low water and spooky fish is the word from our friend Gil Muhleman of Away Outfitters. Gil reports tough fishing, but some very big bright fish brought to hand. Things should improve with the dampish weather moving in on Friday.
With Steelheading in the local waters currently a hit-and-miss proposition, one would think Trout fishing might be a good option. Well, if you leave now, you could enjoy the warm weather and quite possibly some epic dry fly fishing as temps are forecast to reach into the 60s today in Maupin before plummeting into the teens over the weekend. BWOs would be a great starting game plan, but nymphing or swinging streamers will be required to fill your dance card. This is also the time of year when wild Steelhead start to pair up and move into spawning areas. Watch your step and avoid spawning fish while fishing subsurface. If you do hook up on a Steelhead, break them off and minimize the stress on these precious fish.
Be careful navigating the mountain passes, especially this weekend, as cold air and moisture push onshore driving might get a little dicey. Carry extra food, water, and warm gear. Always tell someone where you are going and when you expect to be back. Be safe, and we'll see you soon!