Welcome to Royal Treatment Fly Fishing!
Login
Log in if you have an account
Dont have an account? Register
Ten Thousand Casts Pays Off
24 Feb 2021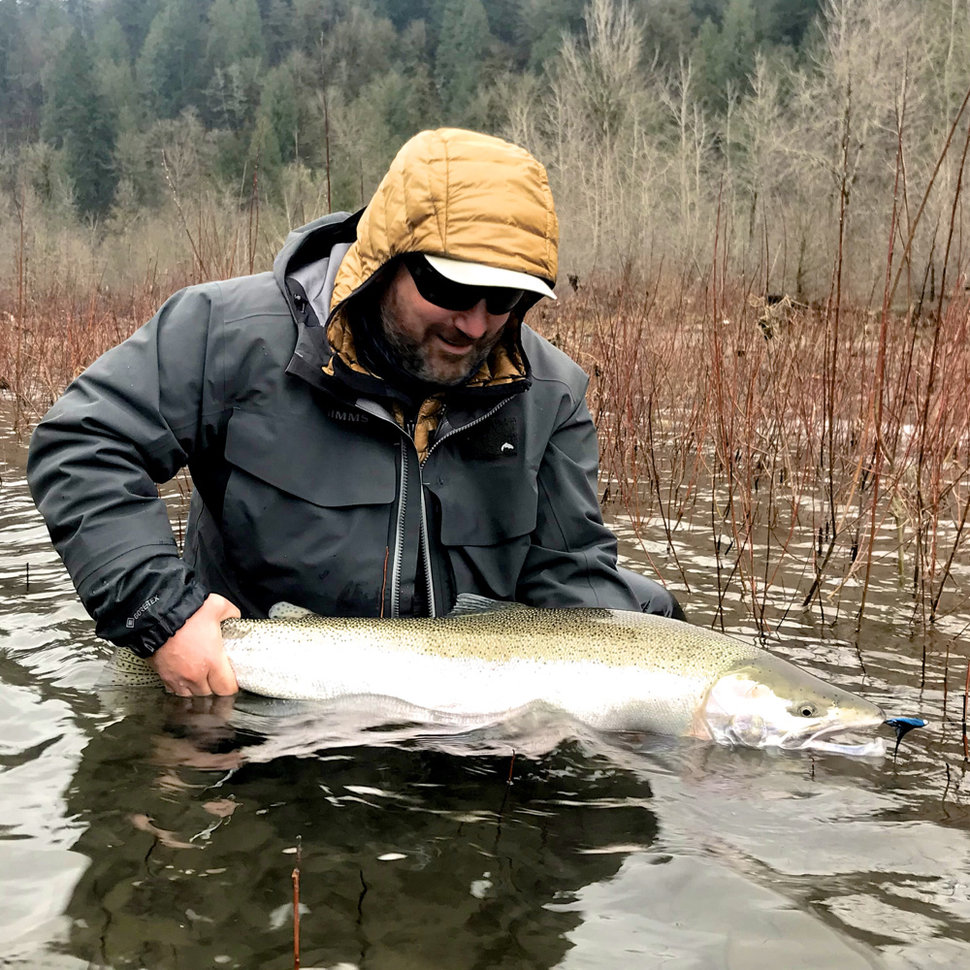 Hey everyone, it's been a while since I've written a fishing report. Fishing has been tough, to say the least. I have been out guiding and fishing many days this season. Each day has been incredible, but sometimes the catch rate has been low. By low, I mean most days, we've been getting blanked.
We don't winter steelhead fish because it's easy; if we were going for easy, we'd be bass fishing or something. Swinging flies for winter steelhead is the most fruitless thing you can do. Our scale goes down to "I had a grab," and that equals a good day. When I started steelhead fishing, it wasn't uncommon for anglers to say they had been steelhead fishing for 6, 8, or 10 years and never caught one. Actually, when I started steelhead fishing, we were at the upturn of a downtrend similar to what we have now. It was a significant crash and decline of Steelhead runs all across the PNW. But to be a Steelheaders means fishing many, many days without catching one. Steelheading isn't about instant gratification. It's about endurance and perseverance. Keep going, and sooner or later, you will be rewarded.
River conditions have been typical this year, with lots of ups and downs. One day the river will be at the lowest low, and the next, it will be at flood level. But if you hit it when it's in between, you will be rewarded. And when it fluctuates so much, you have to be able to adapt. As I write this, we have falling rivers, but it will probably change tomorrow or the next day as another winter storm moves in. This is the type of weather the Winter Steelheader lives for!
Yes, this is less of a fishing report and more of a sermon. Now that being said, there are fish around, not a lot of them, but the ones you do catch are beefy. Every river in our territory has fish in them. But if you don't go, you don't have a chance at catching them.
So here's the fishing report part. Most rivers are dropping and will be I. Shape by the time you read this. There is a winter storm coming that will be bringing low elevation snow, so rivers should continue to drop. Today the Clackamas and Sandy are at excellent levels. If you go, plan on spending the day, don't just make one pass and go home. Everyone says Steelhead are a fish of a thousand casts; this year, they might be the fish of ten thousand casts.

I was out on Sunday, there were a couple of other guides out, and we were all jockeying for the same water. Hop-scotching with each other and all are having the same results. Towards the end of the day, Marty Sheppard and I pulled into two of the last best runs on our float. My guy fished though in front of me; he was casting great and fishing well. I rigged up a rod with a deeper fishing setup and fished in behind him. About halfway down the run, I felt that unmistakable feeling. The line stopped; there was a tap and a light pull, then another tug, tug. I knew it was a fish; I swept my rod towards the bank and was rewarded with violent head shakes and some short runs and jumps. I let out a howl of excitement. After a few minutes, I slid the wild hen into my hand. She was glorious, chrome bright with loose scales that were falling off. All the fins were still translucent.
As soon as I released the fish, I heard Marty and his client let out a yell. They had one on too. I saw a fish roll below us and told Kevin to get back in there. Some fish were moving right now. Kevin fished down, and I thought to myself, I better step back in. I sat in the boat and soaked up the experience I had just had. Kevin worked down the run, and I thought to myself, I probably should get back in there. I started back down the run and got to where I had hooked my fish and felt that same unmistakable feeling. The line stopped, tug, tug, pull. I set the hook and knew I had won the lottery. Immediately I knew this fish was much heavier and probably a buck. It just held mid-river, not wanting to budge, possibly unaware that it was hooked. Finally, it started to fight; it ran and dogged me all the way. I didn't want to lose this one, but it wasn't up to me. A few minutes later, I finally got it up close, and my jaw dropped. It was a beast! I got it close and grabbed the tail; I could barely get my hand around the wrist. Another beautiful wild specimen. I let him go and reveled in my good fortune, just thinking to myself how lucky I was that I had finally won the lottery.
The moral of the story is: never give up and fish the last run like it's your first run because it's not over till you get in your truck and drive away.