Welcome to Royal Treatment Fly Fishing!
Login
Log in if you have an account
Dont have an account? Register
Tall Randy, Big Andy
16 Mar 2022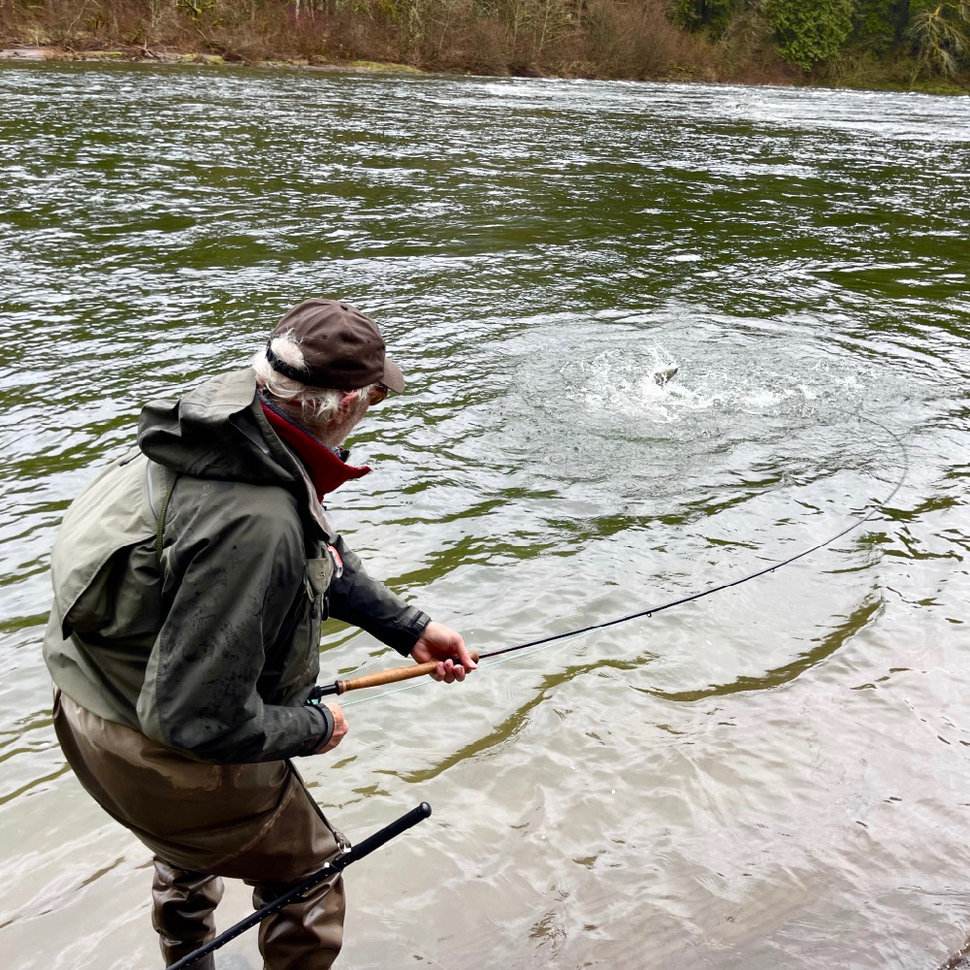 For the past few weeks, I've been getting a lot of calls from "The Big Guy" my good friend Big Andy. He and I have fished a lot together over the past few years, from Northern BC to Los Roques Venezuela, and he was coming out for a week of winter steelheading.  Big Andy is called Big Andy because he is tall. Standing around 6'8" he can easily wade where no man has gone before. His fishing partner for the week, his buddy Randy, stands around 6'6". Both guys are experienced Steelheaders who can cast a Spey rod well. The forecast was for the rain and the rivers to bump up. To say I had high hopes for the upcoming week would be a "Tall" understatement. At the very least the deck was stacked in our favor, well, as stacked as possible. 
For the first two days surprisingly we got blanked. But the conditions weren't in our favor. The rivers were low and the sun was shining. But the one rule in steelheading is to keep going till you get one, and then keep going. So we kept going. Monday the weather started to change. It's finally raining and the rivers are slowly coming up.  It finally felt like winter steelheading. You needed a jacket, it was cold and rainy. 
We met early and headed to the river. We got to the river in time to meet the rest of the players, Marty and Sam. We all made a plan as to where we were going to start. It's easy to fish around people that you know and have a relationship with. 
We push away from the boat launch, with our hopes high. As an experienced steelhead angler, you know that the next cast is the one that catches a fish. Your excitement never wains, you never lose faith, this isn't trout fishing this is bigger. Steelheading is high anticipation with a lot of letdowns. 
We pulled into our first run, no fish, second run no fish. We kept going. The river was visibly coming up and was getting a little color. 
Randy and Andy both really can wade deep and cast far. They cover water and fish every cast like it's the one. They know the drill, cast, mend, swing, step, repeat. 
We stop for lunch and hunker down in the rain. It definitely feels like a winter steelhead day, it's raining hard and the wind is blowing. I start in on them with a speech about not giving up and Big Andy tells me "it's all good baby, we're gonna get one" I know I've got the right team for the job. 
We move on down the river, it's getting late and we have time for one more spot. We pull into one of my favorite runs and have produced quite a few fish this season. Andy is taking a rest and we are watching Randy fish. I point out where I think the bucket is and we watch Randy rhythmically fish his way downriver. Covering the water and moving through it like a ballerina, stepping, casting, swinging, working his way through the bucket. Big Andy shouts out to Randy you're done. I yell out to keep going and shoot Andy a sideways glance. Two casts later Randy sends out the best cast he's made all day. Andy and I give each other a knowing glance, and at that moment he gets grabbed and he's hooked up to a hot fish. 
Randy battles the fish for a few minutes and like a pro quickly has it beat. I snatch the fish by the tail and hand it to Randy for a quick pick. I remove the fly and give it a loving glance as I send it on its way. Andy and I are slapping Randy on the back and celebrating with him. 
In winter steelheading you are never done till you have made every cast possible. Keep fishing till there's nothing left. You don't win every time but sooner or later you will.