Welcome to Royal Treatment Fly Fishing!
Login
Log in if you have an account
Dont have an account? Register
Steelhead Odyssey
10 Nov 2019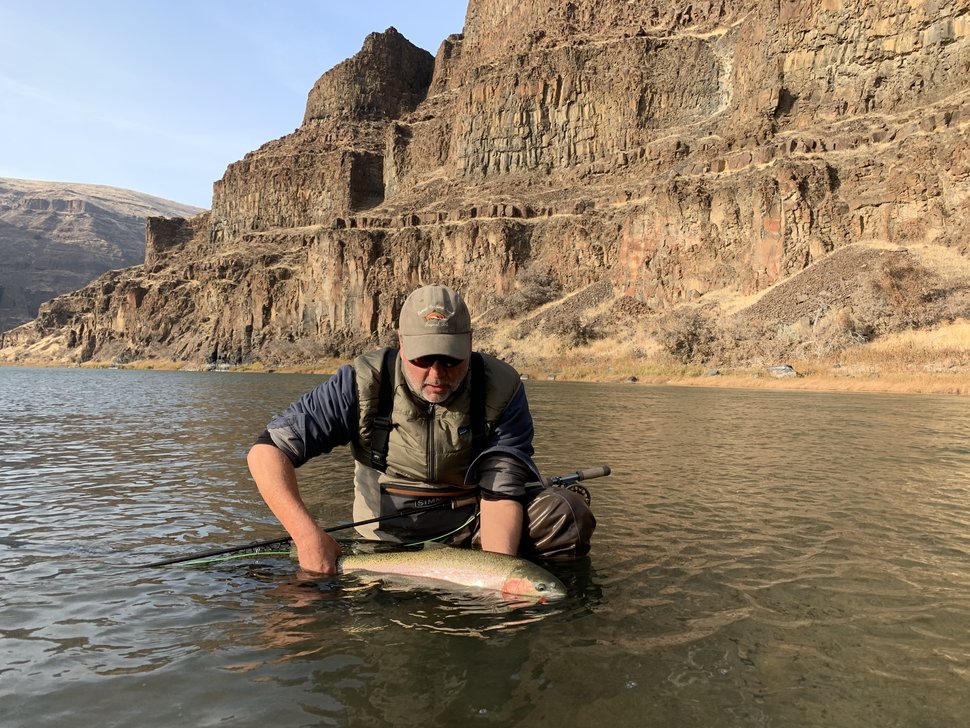 I've been off for almost the past two weeks. Guiding and fishing throughout the Columbia river basin.

Rob Crandall of Water Time Outfitters invited me to guide on the upper Deschutes and I couldn't turn that down. My guide days started at the beginning of the cold snap we had. The forecast was for cold temps. The first day was a low of 9 and a high of 19 and not getting a lot warmer throughout the week. Everybody was in good spirits and we managed a few fish. I love rowing boats and trying to help anglers get into fish.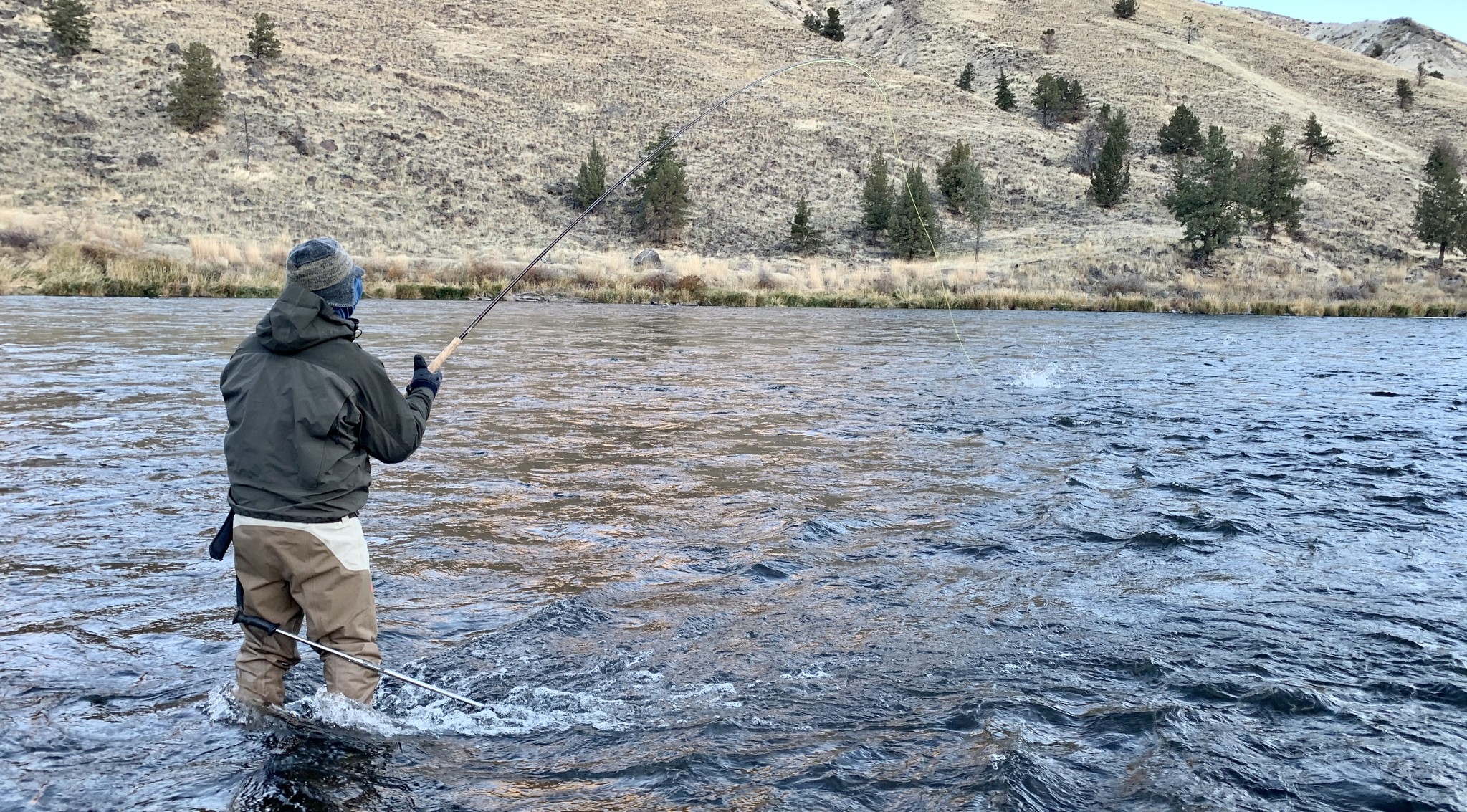 After guiding I was back in the shop on Saturday for a short guest appearance before my week off for some personal fishing.

I had been waffling on where to go do a multi-day wilderness float. My usual destination is the upper Grande Ronde but the fish counts have been poor. Maybe I would go do the snake or some other desert river. Doing these long multi-day trips this time of year is a great way to reset. Early mornings, long nights, campfires, lots of wildlife, what could be better?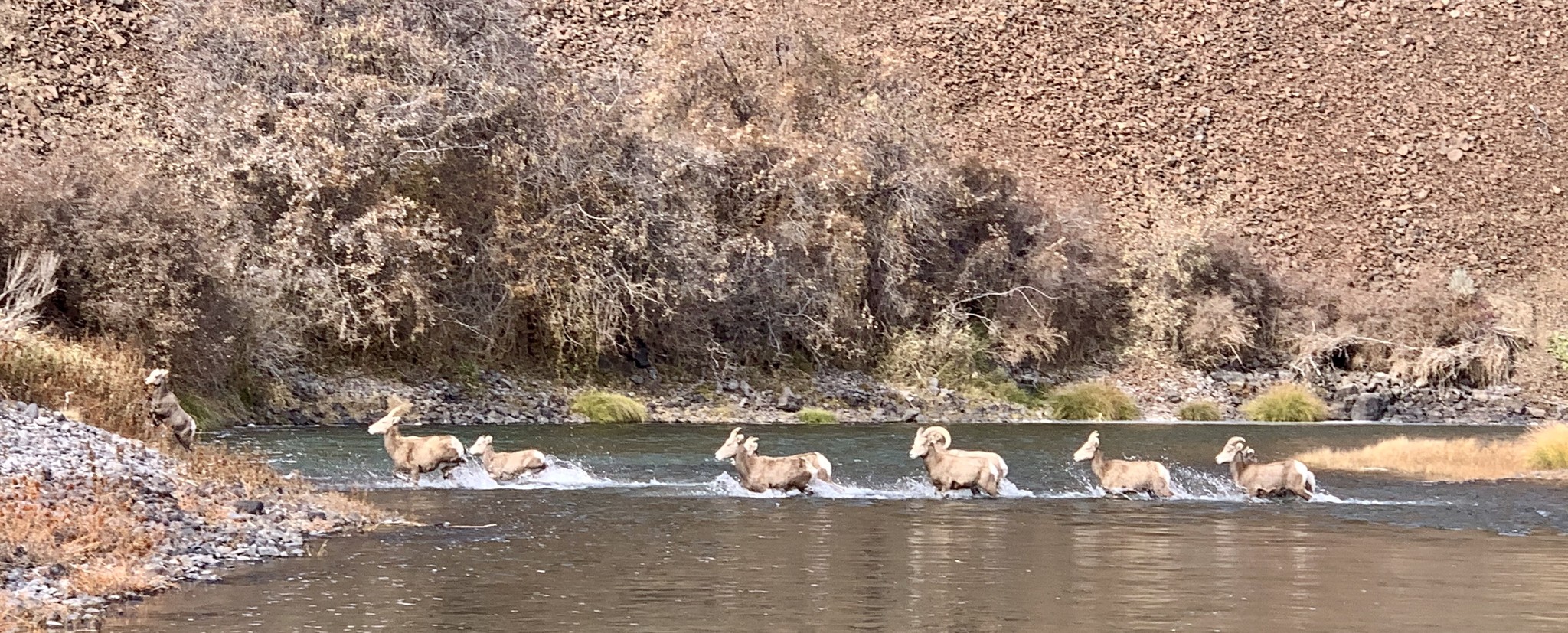 Monday morning Eric and I rolled out early, we had a long drive to the put in. We pushed away from the boat launch around 10:00 am and had the first fish in the net by noon. For this being the worst Steelhead return on record the fishing has been pretty good. We floated and camped for four days and saw more sheep, deer, and eagles than people. It's refreshing to be somewhere so wild and untouched.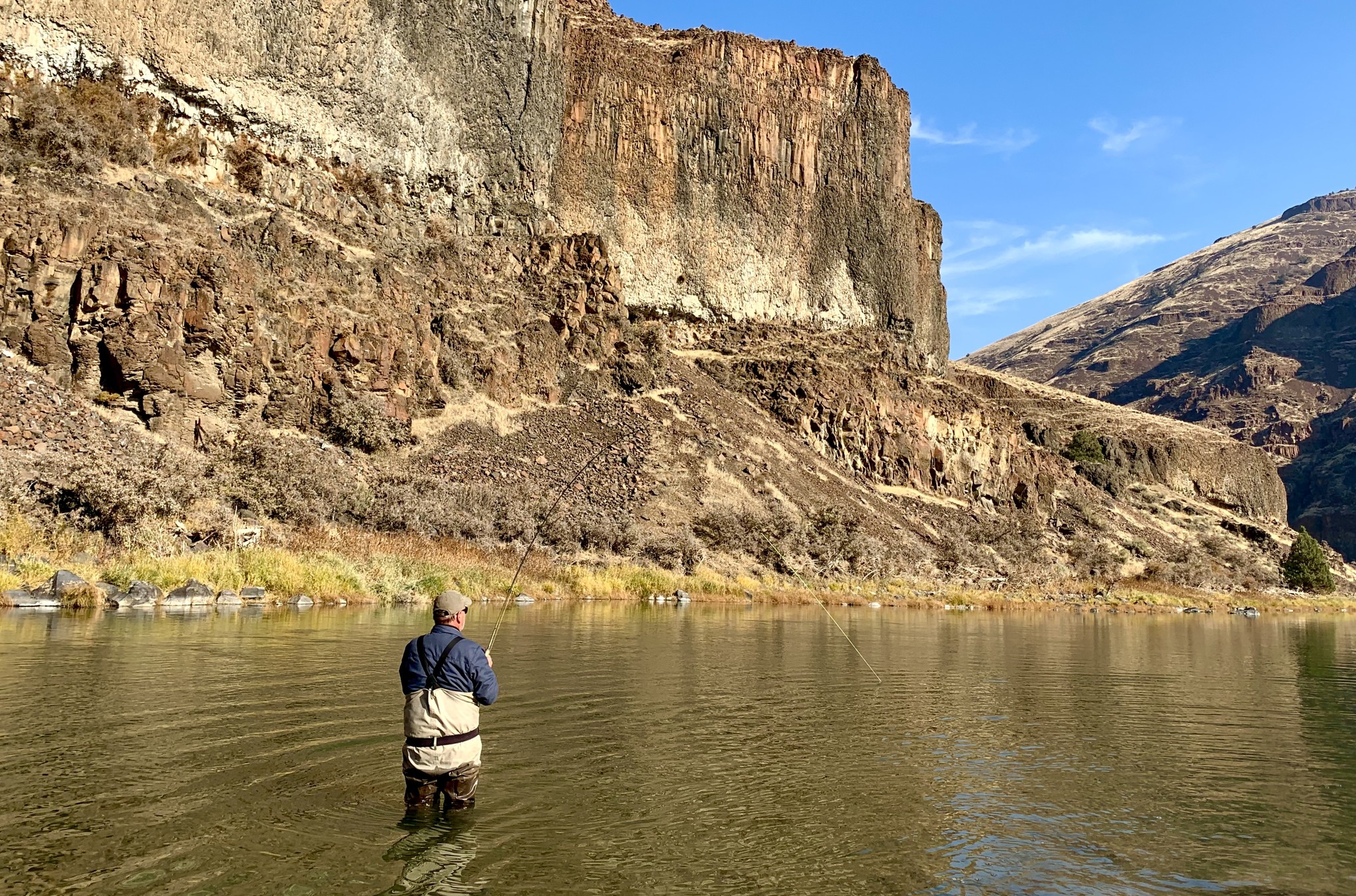 Over the years we have refined our camp down to more of an ultra-lite situation. This allows us to spend more time enjoying camping and fishing and less time setting and breaking camp and doing dishes. It's not luxurious but it's comfortable and relaxing. And fortunately, the weather was very nice and we found fish every day. Sadly the trip was over way too soon.

We got home on Friday and I was scheduled to be back on the river on Sunday. I had some friends coming in from out of town and I had promised them a Steelhead trip. Saturday I cleaned up and got ready to head back into the desert. I met the boys early Sunday morning. We had winter Steelhead fished together earlier in the year and were blanked. I had high hopes for redemption on this trip.

I had been doing pretty well in the past weeks on this stretch of river. I was a little concerned with this being a holiday weekend that it would be busy. Fortunately, I was wrong and we had the river all to ourselves.

We stopped in all of our usual spots and nothing. It was getting late in the day and I was getting a little worried. We pulled into our second to last stop for the day. I told the boys we had two stops left. The first was about a 65% spot and the last was a 95% spot. Brad said he'd take the 65%'er. He stepped in and started casting. As he moved down I was getting a little antsy because I was worried about is running out of light for the last spot. He started to get into what I believe is the bucket and told him so. I was chatting his cousin Doug up and I heard it. I knew what it was before I looked up. The long fast rip of line off the reel. By the time I looked up the fish was off. I told Brad not to give up and to keep fishing. He fished all the way to the end and was in his last casting spot and had another grab that didn't connect.

We pushed down to the last spot. I told them this run was my money maker and it was time to produce. Doug stepped in first. There wasn't a lot of time left so I started him close to the bucket. Doug was getting close to the bucket and I was walking down to check on him. I walked by Brad and nonchalantly told him this run has saved my bacon on more than on occasion. No sooner had I said that than Doug was hooked up. I saw the whole thing happen. A poor cast that didn't turn over all the way, he is holding the three or four feet of shooting line that didn't go and the fish just takes it. I'm not sure who was more excited me, Doug, or the Steelhead. After a long hard battle, Doug landed his first swing Steelhead. Congratulations Doug!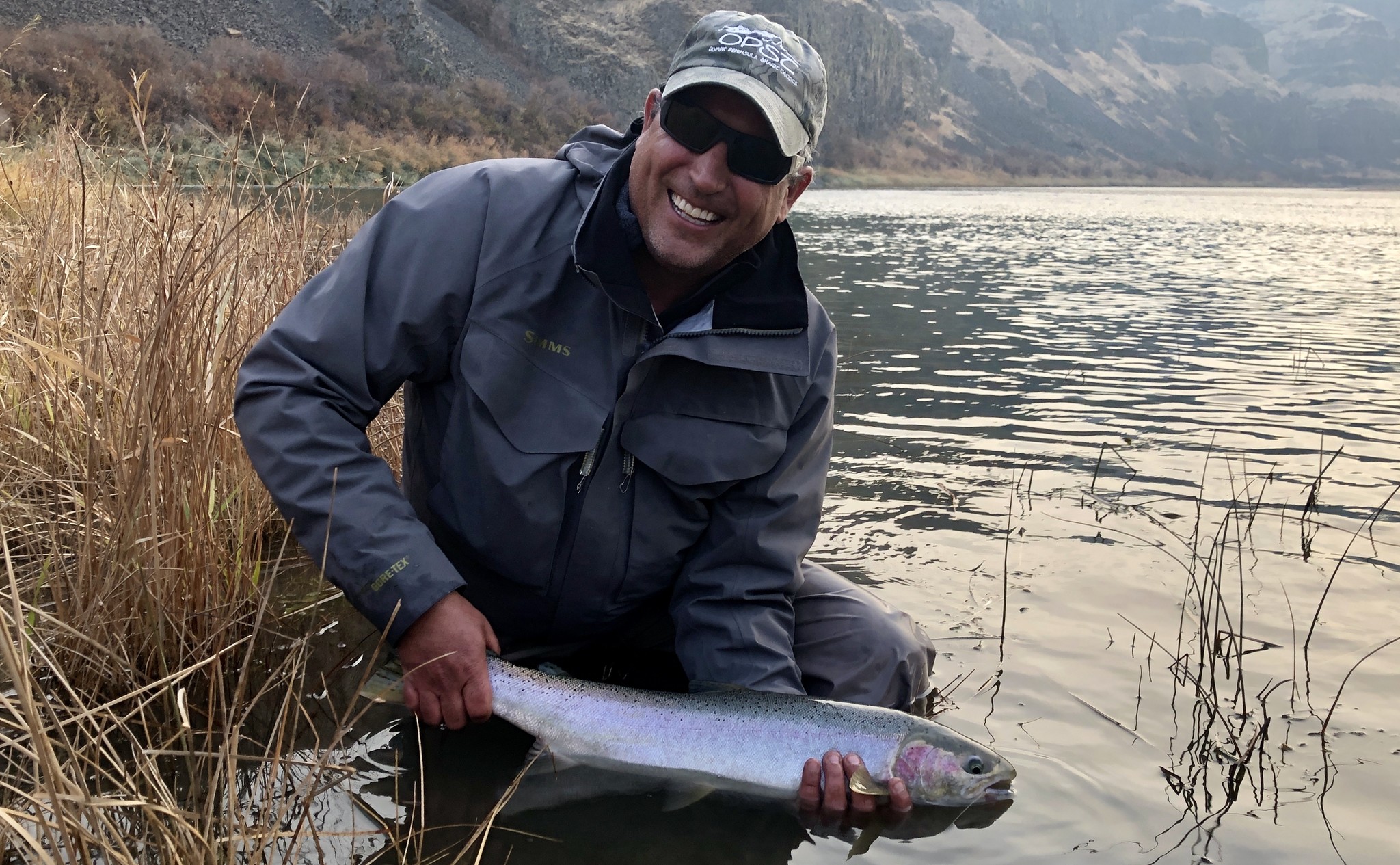 I was home late and had told one of our Royal Treatment Ambassadors of Fun, Jeremy, that I would take him trout fishing. I didn't really have a desire to go trout fishing, but I haven't fished with him in a while so I made the sacrifice. We were going to float from Warm Springs to Trout-Creek. Fortunately for me, this wasn't going to be an early start. We got to the river around 8:00. The boat launch was surprisingly busy but it was a holiday.

Don't judge me but I had a plan in place. I was planning on fishing mediocre trout spots and better Steelhead spots, so we might happen into a Steelhead.

We had pretty ok fishing, definitely not as good as I had thought it was going to be. We did get some really nice trout and quite a few big whitefish. We pulled into our last stop for the day, one of my favorites. Jeremy took the top and I took the bottom. I started working my way down the run and hooked a whitefish and a trout. I moved down a little further and there was a subtle take. I set the hook and it was heavy. Immediately I knew it was a Steelhead. Jeremy came running and grabbed the net. The fish was big. Fortunately, I was in a spot in the river that was small and the current was relatively soft. I was pretty confident that we would land this fish. As the battle was winding down Jeremy asked me if we could keep the fish if it was a hatchery. I told him of course and then followed up with let's not count our chickens before they've hatched. Internally I was thinking that question was the kiss of death!! Just moments after he said that I was getting ready to slide the fish into the net, lifting it to the surface, and it popped off. "Oh well," I said and shrugged my shoulders. Actually what I said was a lot worse but I can't put that in this story as it wouldn't be PG. I reel up and start to hook the fly to the guide and the hook broke. I was devastated, but what can you do. Easy come, easy go I guess.

The fishing is still good east of the Cascades and you can bet that I'll be heading back to the desert next weekend for some redemption.