Welcome to Royal Treatment Fly Fishing!
Login
Log in if you have an account
Dont have an account? Register
Road Trip Update
23 Sep 2020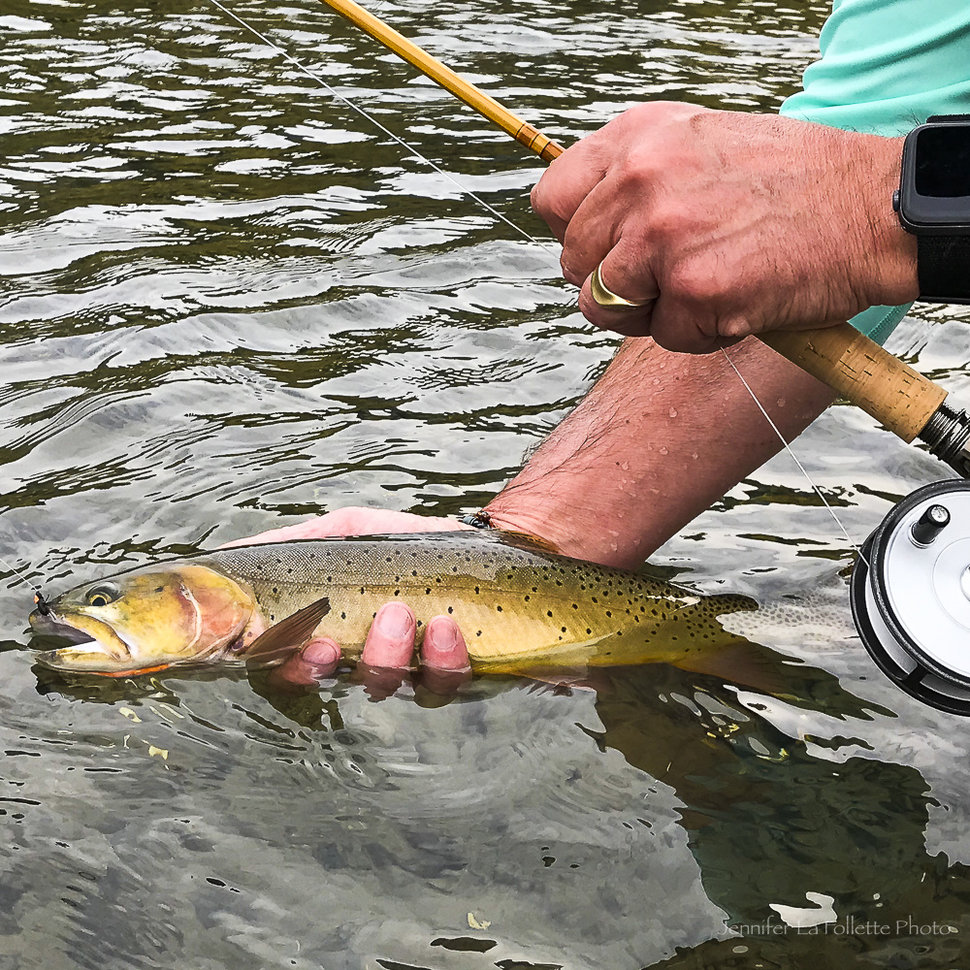 Jennifer and I departed the shop around noon last Wednesday and headed east, looking for breathable air, blue sky, and fresh adventure. Somewhere east of Bigg's Junction, our plans changed dramatically, and we decided our original destination offered little improvement over our current situation. We altered course, but it took us all the way to Rattlesnake Springs, just shy of the OR/ID border before we glimpsed a sliver of blue sky and fill our lungs with something others than "hazardous" air. Pressing onward into Idaho, the smoke thickened up again, prompting us to drive well into the night, traveling as far to the southeast as possible to shorten the following days' journey. Navigating only by our onboard satellite system, we selected a primitive BLM location and crossed our fingers.
After turning off HWY20, we trekked 13 miles over an uninhabited desolate plain, looking for the promised camp. The 4Runner's high beams and bank of auxiliary lights lit up the night to reveal all sorts of wildlife darting across our path. We successfully dodged six Pheasant hens, five scurrying mice, four slithering snakes, three stray cats, two Wiley coyotes, one Mule Deer, and a fluffy Jackrabbit. All safely scampering out of our way as we blasted into the night.
The long dirt road amongst a sea of Sagebrush had been well maintained and was less traveled as we met no other traffic. Finally, at the end of the road, we came upon a like-new, concrete palapa complete with a picnic table, firepit, custom barbeque, and a level camping pad just waiting for our arrival. We parked the Runner, popped the tent, and crawled in to sleep. The ambient temperatures had dropped into the low 50's; we knew with zero light or smoke pollution, a crystal clear night sky would welcome us to dreamland and prepare us for an adventure in Yellowstone the following day.
Our last-minute changeover from Steelhead to Trout left us wondering what necessities we lacked in our overstuffed steed. We took a mental inventory as the miles rolled on, noting that my felt-soled boots would not be welcome in Yellowstone, requiring a call to my good friend and Simms rep, Eric Neufeld. Eric was awaiting a plane in Seattle to whisk him and his new bride, Heather, off to Alaska for their honeymoon fly fishing get-a-way. I was lucky to have caught him still in cell range and not already off the grid. When he called back a few minutes later, he had secured a pair of loaner boots from the great guys at Big Sky Anglers in West Yellowstone. Problem solved. We popped in when we hit town, grabbed the boots, a can of bear spray, and a few flies, before tracking down a pizza to satisfy our hunger.
Fishing in America's First National Park is always inspiring. The natural beauty, combined with this magical place's fiery history, gives one the impression of fishing in another time. Steam vents dot the landscape, and streams flow over the cast-offs of mountains and petrified forests. One always keeps a watchful eye out for the Park's full-time residents, especially when pushing deeper into the less-traveled areas.
Over the next few days, we focused on the smaller streams and were rewarded nicely for our efforts. Feisty Yellowstone Cutthroat made up most of our encounters, but a few plump Browns were also fooled by the Beetles and Hoppers tossed by our bamboo rods. We had chosen light tackle, making each battle exciting, with the outcome unknown. Cut-banks and the deeper pockets near logs or boulders held most of the fish, making pin-point casting a vital skillset.
Time passed far too quickly, and soon we needed to point the 4Runner towards home. The storm that had helped clear the air and dampened the fires was pushing into the Tetons as we headed to Jackson. With the weather not conducive to angling pleasures, we pushed on, seeking shelter, a hot shower, and Mexican food in Boise.
Detouring through Eastern Oregon took us through farming towns, the Painted Hills, and finally to one of the original La Follette homesteads on Ochoco Creek near Prineville. From there, we headed up the Crooked River to camp and pester some Oregonian Trout before sunset.
Dining streamside in the fading light of day, we toasted new memories made, friends we've lost along the way, and adventures yet to come. Our meal interrupted briefly by a resident raccoon who brazenly inspected dry bags and food boxes both inside and outside of our vehicle before being asked to kindly depart. His return in the middle of the night to visit our rooftop abode will bring a smile to our faces for many years to come.