Welcome to Royal Treatment Fly Fishing!
Login
Log in if you have an account
Dont have an account? Register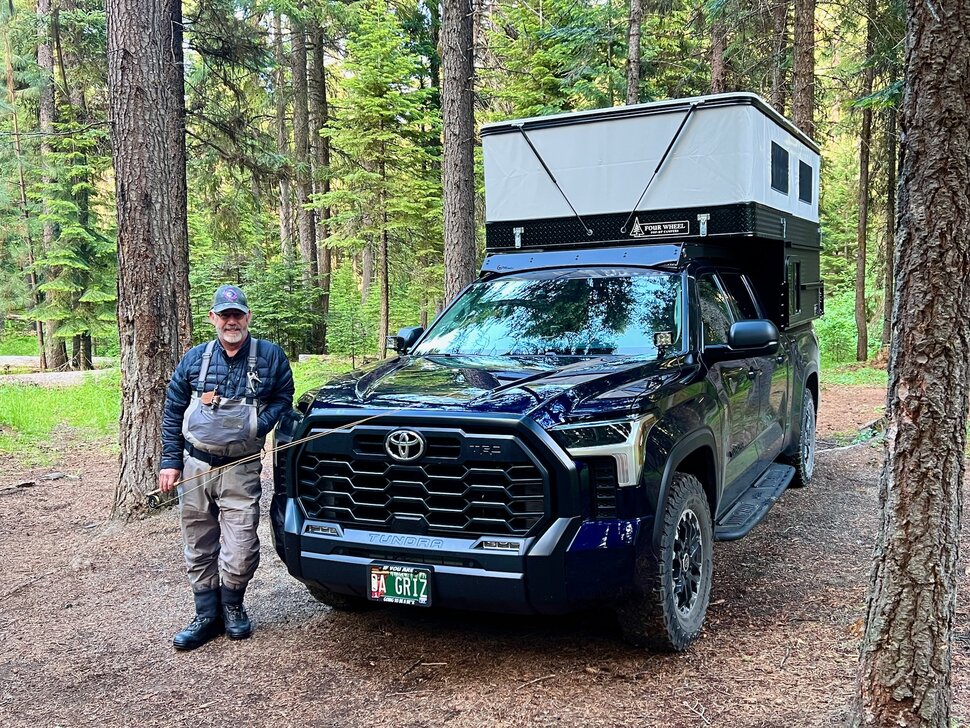 The Fly Fishing Adventure Vehicle, Griz, got a big update yesterday as the friendly folks at Mule Expedition Outfitters installed our new Four Wheel Camper Project M topper. Now the fun starts! Much of the kitchen "build" was salvaged from the 4Runner, but will require some modifications to secure it in the cargo space of the Tundra. From there, finding a home for all the camping and fishing gear without cluttering our new "living space" will be the challenge.
The Project M, by Four Wheel Camper, is a barebones pop-up canopy that, when fully raised, features 6.5' of headroom and a queen-sized bed extending out over the truck's cab. Built in California, our Project M has a robust aluminum frame with a diamond plate aluminum skin for a rugged look and practical upkeep. Other siding options exist, but the black diamond plate was too cool to pass up. Since all new Four Wheel Campers are built to order, we got to choose the options we wanted, keeping an eye on our needs and budget. We opted for dual ceiling fans to keep us cool in the summer and a large passenger side hatch to access our gear from outside the camper. Lighting and gear tracks rounded out the build, allowing us to adapt the Project M to the adventure and, hopefully, make our days afield much more comfortable. Standard features are a small window on the driver's side that doubles as an escape hatch and four screened windows in the "pop-up" portion of the camper. These windows have layers of bug screen, clear plastic, and privacy. We ordered the optional insulation kit that adds a layer of fabric to the pop-up and window to help keep the camper warmer/cooler in our Northwest weather. A smoke/CO2 sensor and fire extinguisher are also standard.
As mentioned, the main kitchen slide from the 4Runner will be adapted to fit in the Tundra near the tailgate so we can still cook outside. Eventually, I plan on adding a 270-degree awning to keep things dry or shaded when cooking. For now, we'll just have to dress for the occasion. Since the camp kitchen has been well tested over the years, I do not plan on making any changes other than to mount the Engel refrigerator on top to maximize floor space in the camper.
Powering all of our camper lights, fans, and refrigerator is a Goal Zero Yeti 1500x. This self-contained powerhouse recharges off the truck battery when driving and has a built-in solar controller that we can plug our 100-watt panel into if we plan on staying in one spot for more than a couple of days. In testing, the Yeti kept the refrigerator chilled for four days without recharging. We may add a 100-watt panel to the roof sometime in the future, but we will see what our power needs are while using it over the next few months.
In preparation for the Project M, I installed BedRug truckbed liner to soften underfoot and add a layer of insulation. I also added a Rock Block at the tailgate to cut down on water and dust. I'm sure mitigating dust will be a constant battle, but we are "camping," so letting a little of the outside in isn't the end of the world.
So now we test Griz on a quick 5-day shake-down trip to Eastern Oregon in search of wild trout. I've added mounts by BulletPoint to hold our NAV/COM GPS and iPad that we used to navigate the backroads and provide a measure of safety when off the grid. Communication far from cell towers keeps us in touch with the folks back home if needed and adds peace of mind.
With our departure date four days away, I'd better get to work! Please let me know if you have any questions about Griz or our Project M. Better yet, stop by the shop and check out the progress! Just make sure Jennifer and I aren't off on an adventure...