Welcome to Royal Treatment Fly Fishing!
Login
Log in if you have an account
Dont have an account? Register
Pack Your Gear Bag
26 Feb 2020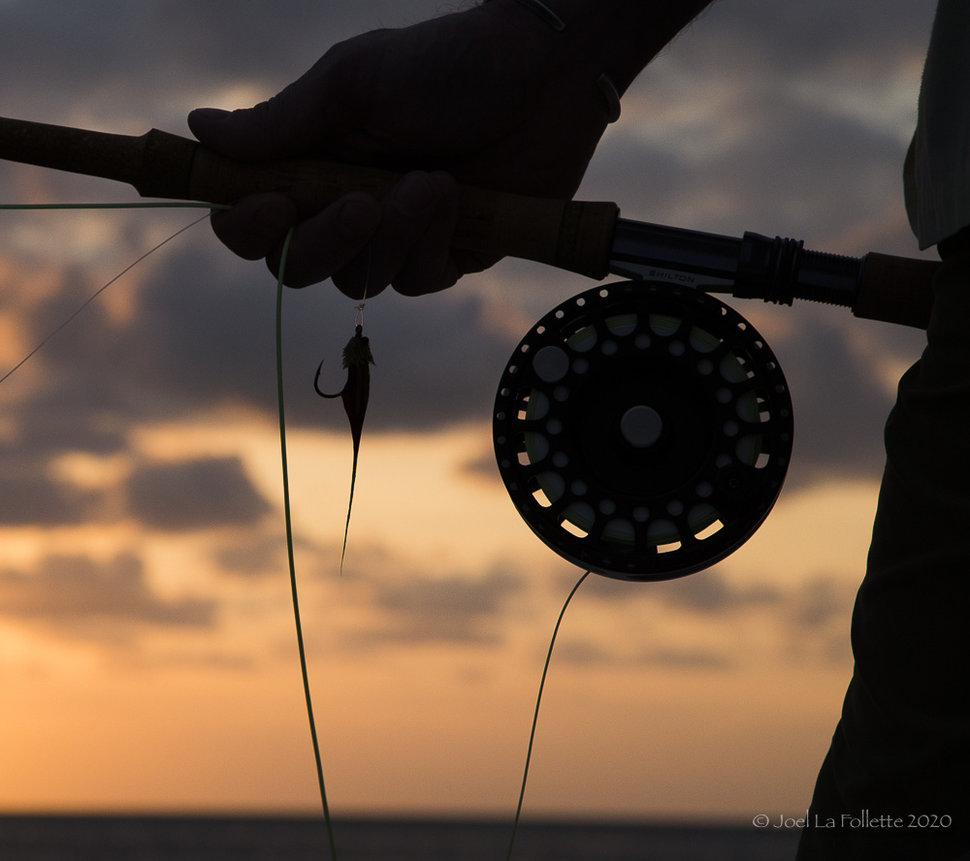 So, the thought of fish tacos on the beach at Waikiki or fresh Bahamian Conch salad drove you to book a trip to the islands and now you're seriously thinking about testing the saltwater game. What do you need? Surprisingly, the tackle requirements for most destinations are fairly simple and you may already have most of it gathering dust in the garage. A few adjustments to your setup and soon you'll be knee-deep in warm water casting to tailing Bonefish.
The cornerstone of any saltwater gear list is a solid 8 wt. rod and reel. You probably have an old Steelhead rod that doesn't see the sun since you picked up a Spey rod. While yours might be 9.5', a 9-foot rod is preferred for its power and lighter weight. This workhorse line weight handles all but the grumpiest of Bonefish when matched to a reel able to handle their freight-train power and Indycar speed. Dial-in 120-150 yards of backing, a fresh Bonefish Line, a small box of flies, a spool of tippet, your favorite boardshorts, old gym shoes, hat, sunglasses and you are golden. Of course, you can take it to the next level...
Once that first "Ghost of the Flats" nearly spools all that lovely new backing off your vintage single-hand Steelhead reel you'll begin to understand the allure of this game fish and start giggling as you plan your next adventure.
The next rod in your saltwater quiver depends on where you have your passport stamped. If you haven't made that decision, but have a birthday coming up, ask for a 10 wt. and a saltwater floating line. Then, peel that Skagit line off your Spey reel and bam, you have a rod that can handle Permit, Snook, Tarpon, Cuda, and most other species you may encounter in the salt anywhere. You could even detour to Baja and chase Roosterfish if you wanted. Closer to home, your new stick is perfect for Salmon in tidewater, but we don't talk about that around here...
With these two rods, you are now equipped to earn your membership into the Brotherhood (and Sisterhood) of the Bonefish. There, that was easy and relatively painless.
Oh sure, if your heart is set on Christmas Island or giant Tarpon in the Keys, you are going to need a 12 wt. with matching reel and a gym membership. Still, 3-rods added to your collection isn't a big price to pay to open up a world of new fly fishing challenges. Unless of course, you think you might like to round out the collection with a 9 wt. for those grumpier Bonefish in Hawaii, the Bahamas, or Los Roques.
Like with all fly fishing passions, you can get by with the basics as you gain knowledge and experience. This primer is a simple breakdown of the path to a fly fishing world far different from what we have here at home. Test the waters the next time your family takes a vacation to warmer climates, or plan a week-long adventure to a tropical paradise.
What's in my gear bag?
~8-9-10-12 wt rods depending on the destination, with matching reels loaded with floating saltwater lines. Saltwater lines have stiffer cores and hold up in warmer conditions. Your Steelhead floating line isn't a good option unless you only need to cast 15 feet.
~Intermediate Sinking lines for the 10 wt. and/or 12 wt.
~12lb. Bonefish leaders and 0x Fluorocarbon tippet
~Misc. leaders and tippet for bigger critters
~Pliers
~Nippers
~Flies
~Sunglasses
~Flats Sneakers
~Sunscreen
~Sungloves
~Hat
~Rain jacket

(Note: a spare 8 wt. rod can save a trip for someone in your group. Travel with me and you're in luck. I've been known to carry a spare or two.)
You will notice the absence of wool layers, waders, wading staff, studded boots, heavy jackets, and fuzzy gloves. You know, all that stuff you're wearing now.