Welcome to Royal Treatment Fly Fishing!
Login
Log in if you have an account
Dont have an account? Register
Nick and the Merman
19 Sep 2019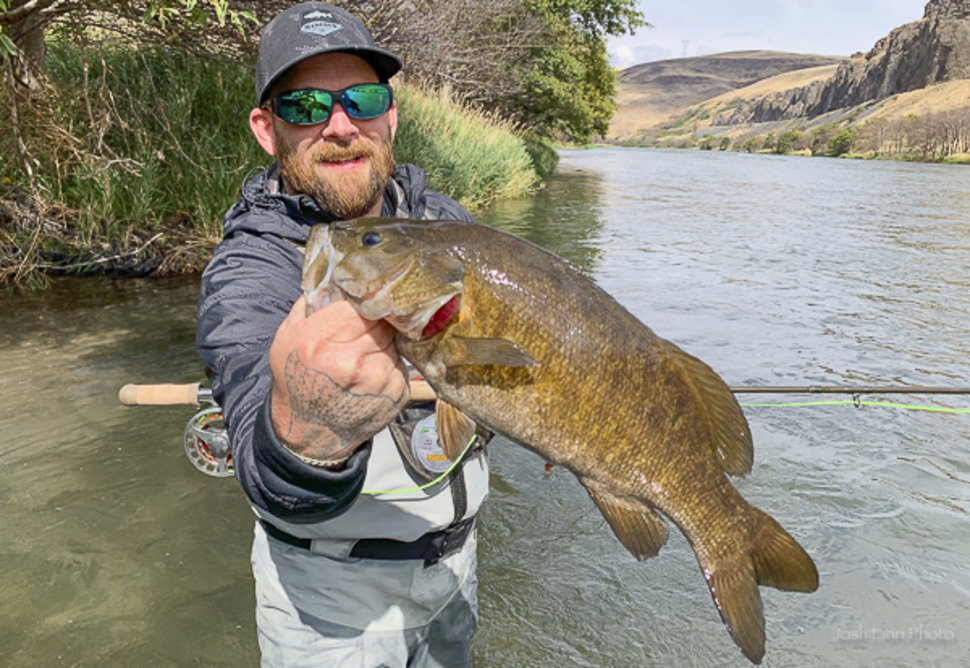 I've been doing enough steelhead trips on the Lower Deschutes lately that it almost feels like I'm guiding. Not to mention that I've taken several anglers that had not caught a steelhead before. I enjoy watching and helping people fish better. I love the experience of the Deschutes. 4:30 wake up call. Break camp. Rowing in the dark. That first cup of coffee while we wait for the sun to come up. The smell of the sagebrush. The wildlife coming to life, the deer across the river in the field the bighorn sheep on the ridge-line. I live for this. 

Steelhead float trips are like chess matches. Everything you do in the is another move on the board. What fly, what run, sink tip or floating line, who's fished what, and where is everybody. I've been playing a lot lately and have been somewhat successful. 

This weekend was Nicks birthday trip. We left the shop right after we closed. We hit the Mack's Canyon boat launch around 7:00 pm. I am constantly trying g to instill in everyone that we need to have a sense of urgency. The boys performed great and were ready to go in no time at all. We pushed away from the boat launch and made it to camp right at dark. This was Kevin and Jeremy's first float in the canyon. It's always fun to have new guys down there. Everyone was excited with anticipation of what the next day was going to bring. 

We woke up early and broke camp. Last week when I made this move the river was blown out. This time it was still a thick green but not as bad. We pushed away from camp. As we floated away I gave nick a couple of thoughts about where I would stop. 

I had a pretty good game plan about where I wanted to fish. Jeremy and I pushed down a couple of miles. We started fishing around Bull Run canyon. Nick and I hopscotched throughout the day and by the time we got to camp, Nick and Kevin had each landed a fish. I had been standing over Jeremy's shoulder the whole day and apparently not doing a good enough job. 

We made camp just in time for the rain to start. Nick and I sent Kevin and Jeremy to go fish the ledges while we lounged under the wing. They got back just before dark. Jeremy was grinning from ear to ear and it was obvious he had landed a fish. He was doubly excited as it was his first steelhead. 

We made it through the night without getting washed away. We were up early again and on the move. I Nick and Kevin at Wood Duck Box and I pushed down to one of my favorite runs. Jeremy was on the board so it was my turn to fish. Over the years I have landed a lot of fish here and felt confident that I would probably get one today. Halfway down the run and I was in the bucket. My fly was halfway into the swing and it happened. A big pull and it was off and running. After a good tug of war and a head high jump, the fish was to hand. We snapped a few pics and sent her on her way. 

I was feeling pretty confident because we had been getting most of our fish in the lower 12 miles. Our next stop was the Water Tower, and it was Jeremy's turn. Jeremy hopped in and got to work in the first casting station. He was getting to the end I told him to reel it up. Right at that moment, a fish grabbed and Jeremy was into his second fish. 

I know that the dam counts in the Columbia are poor, and everyone is complaining about the lack of fish, but there are fish around. You have a much better chance of catching a steelhead if you go out and try. 

If you want to hear about the rest of our trip stop by the shop.