Welcome to Royal Treatment Fly Fishing!
Login
Log in if you have an account
Dont have an account? Register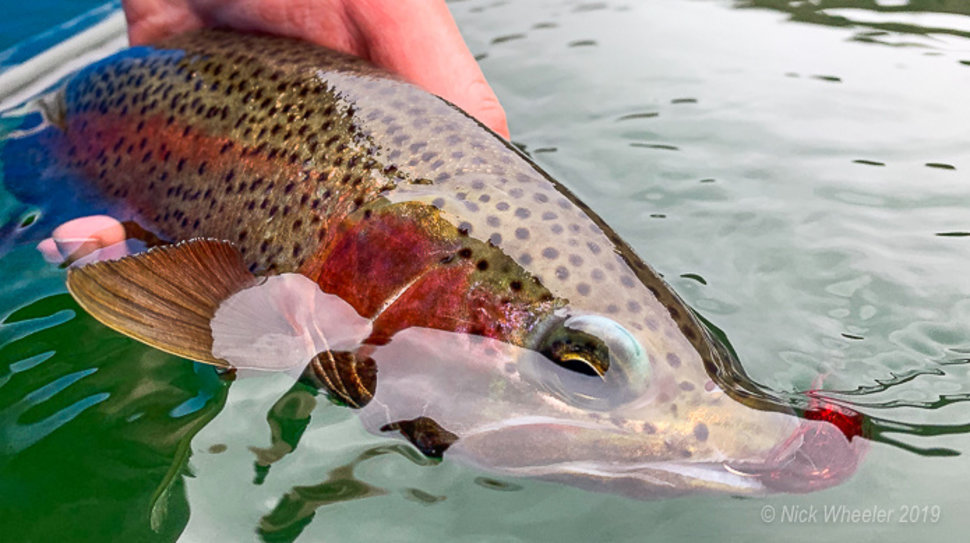 With swollen rivers and muddy streams, our weekend fisheries were few and far between. I made a change from river fishing to check out one of my favorite summer lake spots. Normally I prefer to dry fly fish lakes, but with no hope for a hatch at high altitudes, I made the choice to try something new, the Booby Fly. This fly has two large foam "eyes" that cause it to float but it is fished with a fast sinking lake line which drags the fly under the surface. When you strip the fly in it dips to the bottom, and when you pause it floats toward the surface, giving you the exact opposite action of a weighted streamer. This technique is very popular in Europe and is making traction stateside. 

Unsure how well this new mouse trap will work for me I tried it, and it didn't disappoint. In the first spot we anchored, we had fish all over those boobies. Apparently, those guys across the pond have got it figured out, first Euro Nymphing and now this. Our time on the water may have been short-lived, but between the rain, sleet, and then steady snow we brought quite a few fish to hand. The best combo seemed to be a Ruby Leech trailed by the Booby. I can tell you this, for early season lake fishing, which can frustrate, this seemed to do the trick. So from now on, I'll always have Boobies in my box. 

For those of you looking for a normal fishing report, well, here you go.

The Deschutes and Crooked are still running extremely high, and probably will stay that way for at least another week, but here's hoping. The Metolius River will be your best bet and should stay that way. Our fearless leader went out that way last Monday and found trout eating stonefly nymphs. Speaking of stoneflies patterns, make sure you have some once the Deschutes gets back into its banks. Those critters should get very active in the coming weeks. The Great Hatch is almost upon us, get your salmonfly patterns before it's too late! 

For those of you still chasing steelhead, the Clackamas and Sandy have just come back into shape after all that crazy rain and runoff. We are getting reports of fresh fish being caught on both rivers so get at it while the getting is good.