Welcome to Royal Treatment Fly Fishing!
Login
Log in if you have an account
Dont have an account? Register
Makos on the Fly with Conway Bowman
03 Nov 2020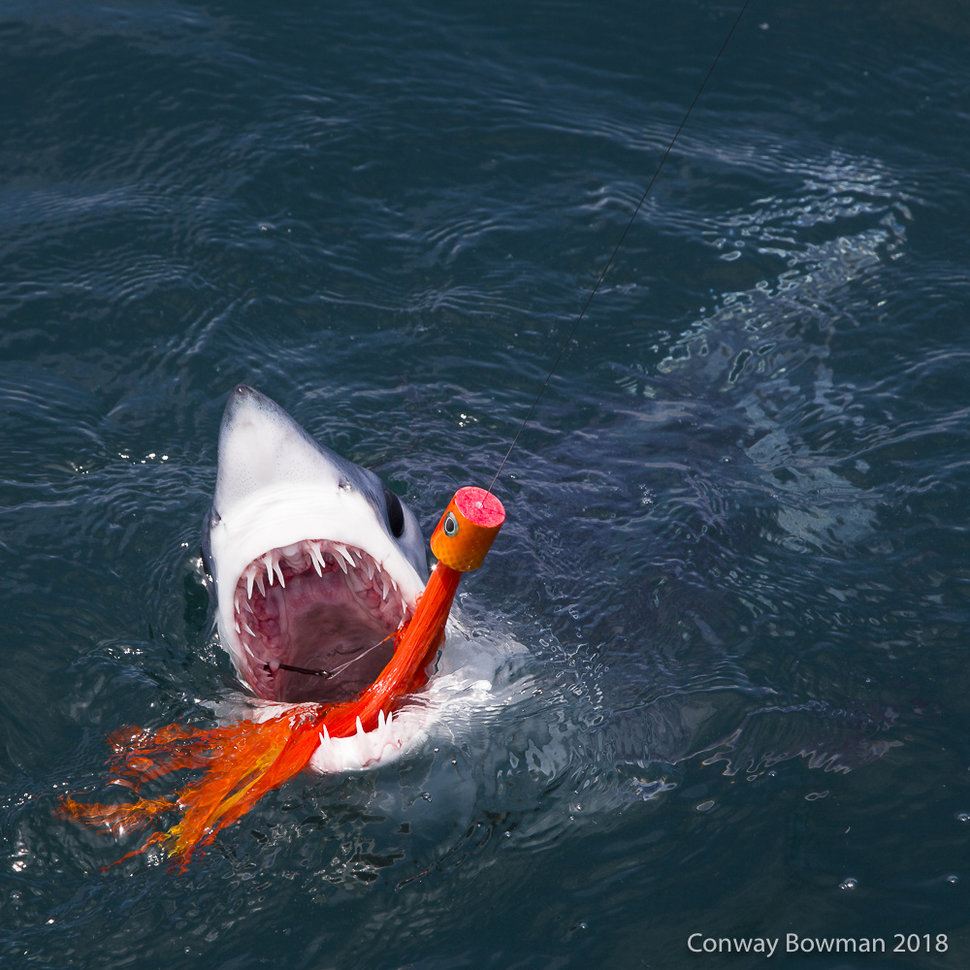 While casting small chickens at toothy predators may not be everyone's game, for those of us who love big fish, launching a "fly" at a hungry Mako Shark is right up there in the top ten on the bucket list.
I dipped my toes in the Mako waters off San Diego's coast with Conway Bowman about 6-years ago and found the experience to be habit-forming. Sight casting to marauding Makos is more of a visual game and far removed from delicate presentations to sipping rainbows. Conway is the recognized expert, and getting the chance to fish with the master was, well, simply incredible.
As mentioned, fly fishing for Makos is not a technical thing; it's more like hunting for something that isn't afraid of anything except maybe a bigger Mako. When a Mako shows up in the "slick," he'll stick around until he grabs your fly, gets a better offer or gets run off my another Mako. If a fish does show, the chance of hooking him is good. The possibility of bringing him to the boat is, well, that depends on you.
The visual aspect for me is second only to a big Mako's raw power once he's attached to the end of your fly line. Blistering speeds and aerial displays highlight most encounters. Watching an 8-foot fish go, 9-feet in the air is not something most anglers have experienced, but something that, deep inside, most would love to see.
Here is the Zoom Rewind from November 7th, 2020. Learn more about Captain Bowman and make plans to sample this fishery by visiting his website listed below the video.
Conway X Bowman is a USCG-licensed captain who pioneered fly fishing for Mako sharks over 27 years ago.  He has fly fished and guided around the globe from the jungles of Thailand to the remote lakes and rivers of Alaska.
Conway is regarded as one of the top fly fishing guides and anglers in the world.  His pioneering of not only Mako sharks on the fly, but also west coast saltwater fly fishing has been featured in many books, and he is the author of "The Orvis Guide to Saltwater Fly fishing: 101 tips for the Absolute Beginner".
Conway resides in the coastal town of Encinitas, CA, with his marine biologist wife, Michelle, and their boys Maximillian and Jackson. To learn more, visit his website.