Welcome to Royal Treatment Fly Fishing!
Login
Log in if you have an account
Dont have an account? Register
Let it Rain, Please
10 Dec 2020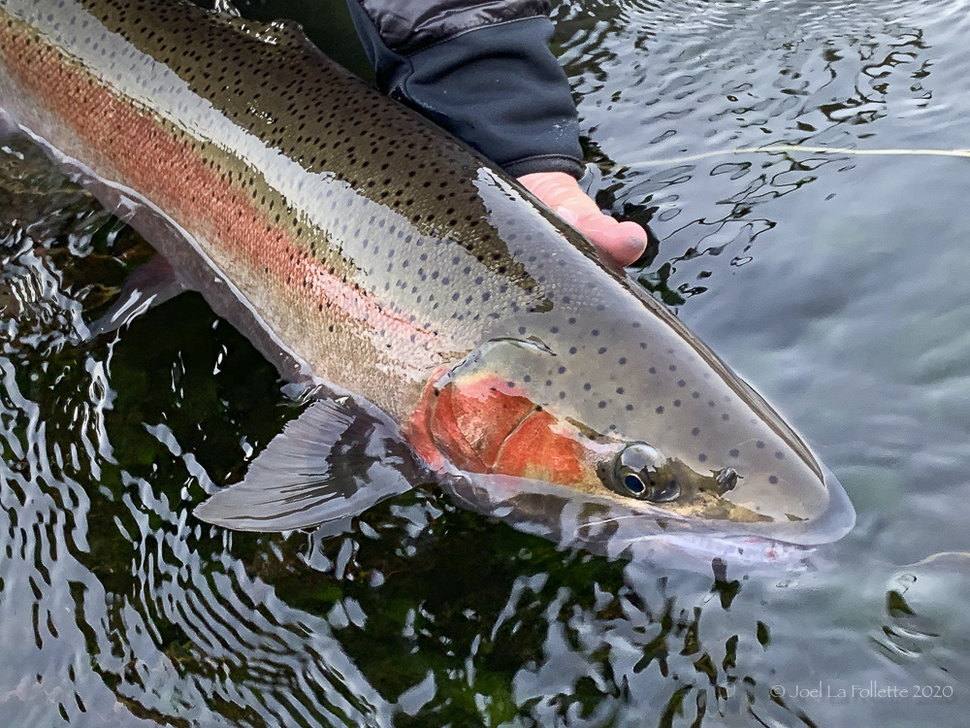 Steelhead anglers are like farmers, always complaining about too much rain or not enough. The weather guessers have teased us with forecasts calling for rain ever since we flipped the calendar page, yet we've only tallied a half-inch or less. Enough to make washing your car fruitless, but not enough to raise the rivers much. There is hope, though. A southerly flow moved in last night, and according to the atmospheric prognosticators, we're looking at rain right through Christmas. Now we look to the sky to see just how much precipitation falls, hoping it doesn't come down in a deluge and rinse away our opportunity to get on with our winter Steelhead chasing.
I'm not saying that we've placed all of our eggs in the winter Steelhead basket; there are still plenty of places to toss a fly if we are of a mind to venture out. We might have to travel a little farther from the warmth of our hearth and home, but there is fishing to be done.
While local rivers would benefit from the aforementioned rain, streams on the east side of the Cascades are still providing sport for those wishing to get in their last casts before year's end. The Metolius is a tad more peaceful now that summer crowds have trundled home, and the Trout remain receptive to both surface and subsurface presentations. Mid-day hatches of BWOs and the famous miscellanies small Mayfly hatch will keep you busy cracking the code if the surface action pulls you from your Euro game. If nothing takes flight, your favorite bottom bouncer with a smaller offering above will likely get the job done. If you lack confidence in the contents of your fly box, pull the Fly Czar aside and ask for help. He's continually adding to our collection of Euro-style nymphs, and frankly, I can't keep up.
Bull Trout are a favorite target this time of year and should be more willing to play now that the Kokanee have passed into memory. Sink tips and big streamers are the game if you've never played before. While micro Speys are an option, I still prefer my 7wt single-hand stick for chasing Bulls.
The Deschutes remains open from Warm Springs down to Maupin for Trout and Steelhead, but only on the river's east side. This section closes at the end of the month, so visit while you can. Steelhead have been encountered throughout the river, with winter tactics being more productive. Trout have been focused on Whitefish spawn, but mid-day BWOs have pulled some to the surface. Cloudy weather over the next few weeks should extend the hatch window and may be more convincing to finicky Resides.
As you can see, there are options if you have your Christmas shopping done, presents hidden in the attic, and the lights strung on the house. So go fishing! Oh, I almost forgot, those little lights aren't twinkling, Clark.