Welcome to Royal Treatment Fly Fishing!
Login
Log in if you have an account
Dont have an account? Register
Josh's Anadro Candy
08 Sep 2022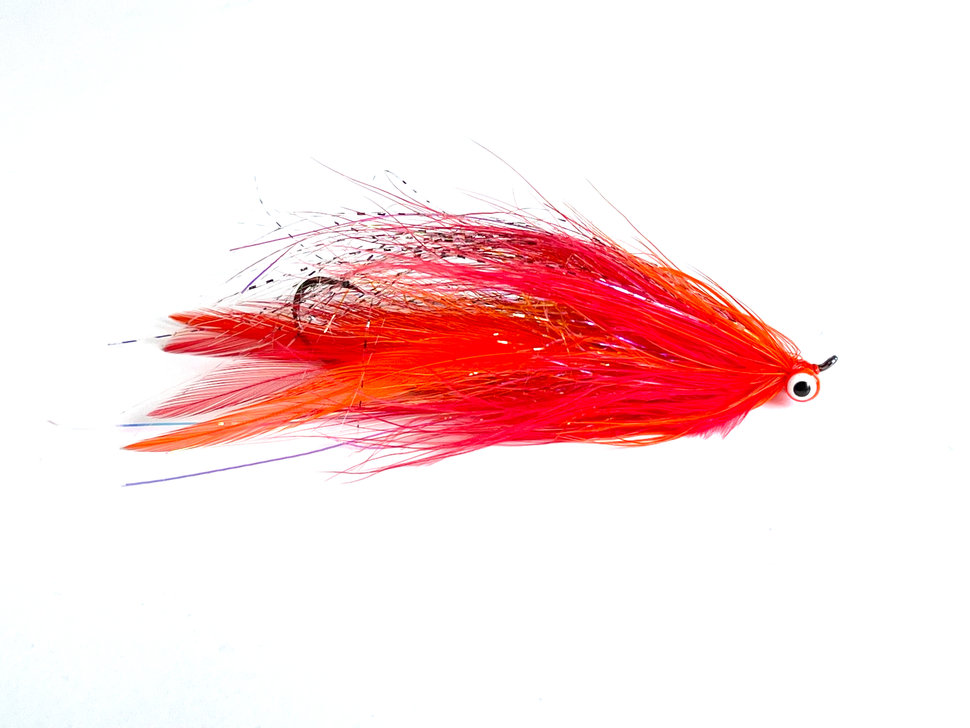 Recently I got asked to go on a trip to Alaska to fish for kings and of course I couldn't say no. I was asked in the middle of my Salmonfly hatch season, and didn't have much time to plan, prepare, or even think about the upcoming trip. But now that my Salmonfly hatch season is over I'm scrambling to get everything ready. One of the most important parts of the trip for me is having a well stocked fly box and I am completely lacking at this point. It has been over 10 years since I have guided up there and just about as long since I've fished up there. I have some old patterns logged away in my memory banks and some ideas for new ones. Now I just need a few days to implement them. I'm guessing in a week I can have a box filled with flies that will fish.
I like my flies tied in a few colors for up there. White and Chartreuse, Red and Orange, Pink and Orange, Blue and Chartreuse, and Black and Blue. I also make sure to have some on tubes and some on shanks with a mix of both lightly and heavily weighted. I typically use a size 1 hook and I bring a lot of them, that way if they get dulled out I can replace them easily.
If you're going to Alaska the time is getting close. If you don't have time to tie flies stop by and check out our selection. I know I'll definitely be taking some.
For me and king fishing I want a semi-large to large fly that is easy to cast, sinks well, has a lot of movement , and a large profile. For steelhead I like flies that are 2.5-3" long and my king flies need to be the next size. 3-4" long. Also in my world I want a fly that has a minimum amount of elements and is quick to tie. So if I can keep it under 20 minutes and closer to 15, I feel like I'm winning.
So when I started putting this fly together I knew I wanted one on a shank. Shank flies are denser and typically sink faster. For this patter I use one that has a return eye so there is a platform to lock down the barbell eyes. I then lock on medium size lead eyes to help is sink, and then coat all the thread wraps with zap-a-gap to make it all stay together.
Next I added a deceiver like back half with bicktail and saddle hackles for length and movement.
For the body I needed something with some bulk to create a profile. I chose polar chenille, it has long fibers, flash, and body. It gives a translucent look for the mid body and helps the hackle to stop from collapsing.
For the collar and extra movement, the obvious choice for me was to us marabou. It comes in tons of colors and has so much life.
Normally at this stage you would add some wings like hackle tips , but I chose to use a hank of predator wrap. The black barring and the many small fibers give it a lot of movement not to mention it's very long so it extends to the end of the body. Maybe like feelers or legs of a squid.
Lastly I add so flash, I like the Krinkle mirror flash because of how well it sparkles and then I finish it off with a few wraps of schlappen.

Recipe
Thread: Red Danville 6/0
Shank: 43mm Aqua Return Eye
Eyes: Medium Orange double Pupil
Tail: Clump of Orange Bucktail
Feelers: 2 Orange and 2 Red Strung Chinese Saddle Hackles
Body: Orange Polar Chenille
Collar: Red Marabou
Wing: Clear Predator Wrap
Flash: 6 Strands Purple Krinkle Mirror Flash
Hackle: Orange Schlappen