Welcome to Royal Treatment Fly Fishing!
Login
Log in if you have an account
Dont have an account? Register
Fly Fishing Adventure Vehicle
24 Jan 2023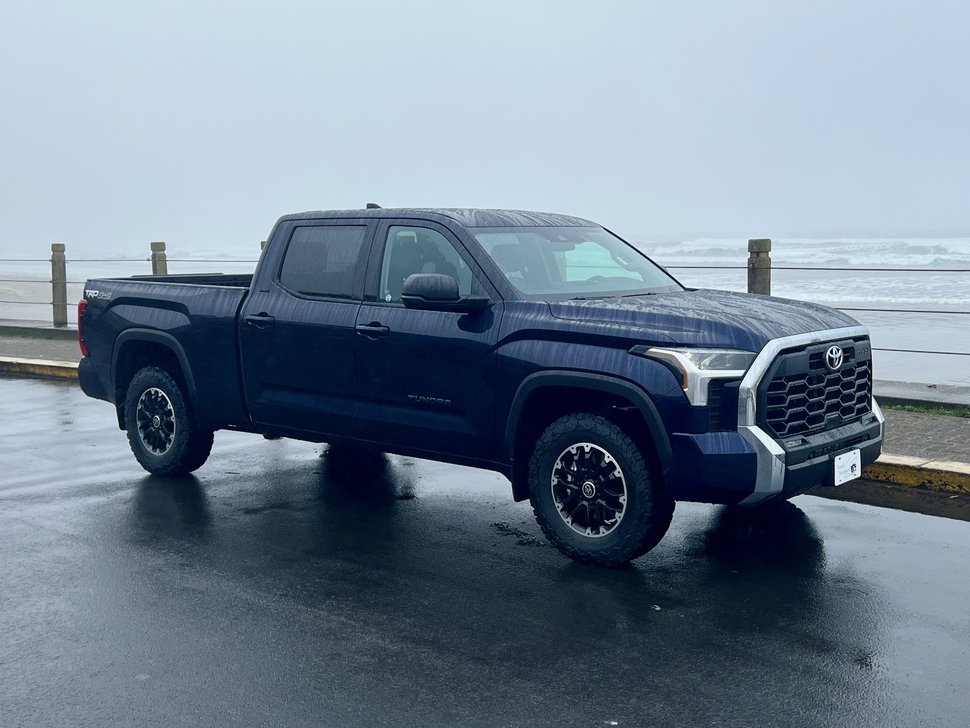 We picked up the new Toyota Tundra last Sunday after searching for the perfect platform to start our build. The GM of Beaverton Toyota, Jake Hachmeister, really pulled off a miracle by grabbing our truck from another dealership in Bellingham. My brother, Brent, a long-time Toyota employee, tracked the Tundra's progress from Texas to the Great Northwest.
Now the fun starts. My first stop was Wanderlust Overland to visit Michael Zeiders. His company has done work for me in the past, and I plan to use his expertise on the heavy lifting of this conversion. While much of the modifications will happen over time, there were a few things that needed to be addressed sooner than later.
Tires. A new set of BF Goodrich KO2s are on the way and will be the first thing we upgrade. I've run BFGs since my racing days, and even when the lower road was claiming tires every mile, I never suffered a failure. I did, however, loan out my second spare on more than one occasion. There are a lot of good tires out there, and everyone has their opinions, but I'm sticking with the BFG KO2s. Check this off the list. The new KO2s are awesome and look great. This tire is rated as a snow tire, so transversing the cascades in winter is not an issue. Also, they just look better. Rain, snow, dirt, and mud are no match for BGF KO2. Best of all, they stand up to the Deschutes road.
Skid plates. Not so much for underside rock damage but to keep the crackheads from stealing the catalytic converters. The Tundra has the motherlode of CATs hanging underneath, and I want to keep them there.
Running boards. It's a big step up into the cab, and doing it in boots and waders can be a challenge. Running boards from N-Fab, coated in Line-X, will make getting in and out of the truck easy and stand up to studded boots. They will also make accessing anything on the roof easier.
Ditch Lights. I like to see deer before they make that stupid move in front of the truck. Ditch lights help light up the night when traveling the backroads. I salvaged my Rigid ditch lights off the 4Runner, and Michael ordered new wiring harnesses. Let there be light!
UPDATE:
Well, I spent too much time looking at options for sleeping/camping accommodations and have made a few adjustments to "Phase 1." 
On the Roof. We'll be adding a roof rack and fairing to direct airflow over the vehicle, as well as additional lighting. Additionally, the roof rack will hold the traction boards I use to level the rig in camp.
Power up. Then, to power the refrigerator and other electrical requirements, I've added a Goal Zero Yeti generator to the kit and will connect it to the truck charging system. The wiring harness will keep the Yeti from drawing power unless the engine is running. I also have a 100-watt solar panel for use in camp. I opted for a folding unit instead of a permanent mount, as you never know where the sun will be in camp. Being able to position the panel sounded like a better option.
Insulate. Once the wiring kit is installed, we're adding a BedRug to soften the truck bed underfoot when we retire for the evening. It will also insulate both temperature and noise.
Oh, one more thing. I don't know when car makers decided plastic chrome was cool, but it isn't. The chrome surround on the grill and on the rear bumpers is far too much and has to go. Look for an improvement in cosmetics in the next report...
So, that's the new Phase One, and it should be completed by the end of March. Stand by for more updates!