Welcome to Royal Treatment Fly Fishing!
Login
Log in if you have an account
Dont have an account? Register
Father - Daughter Float 2022
01 Sep 2022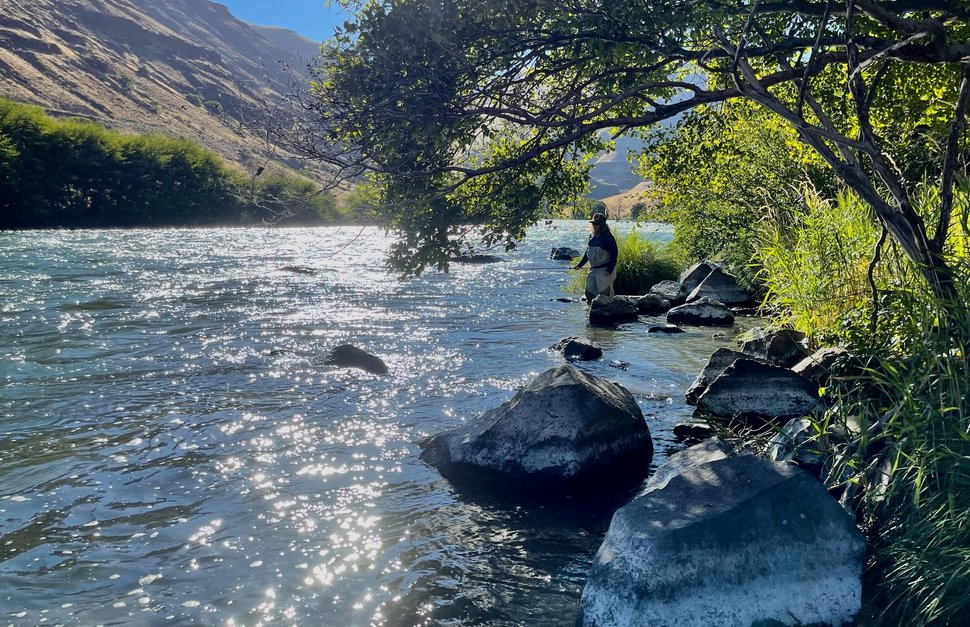 Father/Daughter Float 2022
Without stating the obvious, the Summer Steelhead season of 2021 on the Deschutes was missing something...well, two things...
1. Steelhead and the ability to share some time with them legally
2. Josh and Shandy's 3rd Annual Father/Daughter Steelhead float from point Mack's to the Mouth.
Based on my message trail to Josh, July 24th, 2022, was the day or close to it that ODFW announced that the fish count over Bonneville has met the quota to open Summer Stealheading on the Deschutes. Therefore I had to make it happen and not sit on my procrastination hands getting our boaters passes before they were completely gone. I got the final 4 for the days that we needed.
"Go time. We are floating the lower. Based on my "Josh & Shandy calendar," that would make the 3rd Annual Father/Daughter trip the 27th-29th of August. I have Birthday Vouchers, two of them, and boaters passes for 4. I'll see you at the shop in the afternoon, ready to rock & roll.
This wasn't a question, not an invite...non-negotiable. Maybe a bit assertive. But it worked, and here is my version of this week's fishing report.
Night #1
Josh, Shandy & Small D.O.G. hit the river around 6:30 p.m. to head North in search of our campsite, secured by Jim and Patrick ( #jimbandsfriendpatrick). It's pretty windy...fished one run, and the water clarity was beautiful, perfect air temp and the water was feeling good. 26mph winds were LAME, but if you timed your cast in between gusts, you could at least get your fly line ahead of you and not 100ft behind you.
We arrive at Camp, and it's BLOWING DOGS OFF CHAINSIt! Definitely an increase in gust strength. I had this vision of my BBQ Dinner on the first night being totally dialed in and flawless..enter the wind...no flame would be able to stay lit on the stove to heat the BBQ Tri-top & BBQ Chicken...cold meat it is, good density and won't fly off our plates with the next gust. See, the trick is to put salad/slaw on the bottom, layered with meat. potato salad and a spicy hot pickle. Heavy stuff on top so it won't fly away.
Cots assembled and weighted down, evening cocktails constructed, some catch-up convo as it had been a couple of months since we all last fished together. The alarm is set for 4:30 a.m. with the goal of being wadered up and in the boat at pre-light.
Day #2
In the water at dark thirty. Josh gives me the choice of each of us taking a run on either side of the river or the 2 of us working the same run. I go for option #2. I've got the top of the run, and he has the lower, which he fished some waker fly. Within 10 min I hear his reel, and then him yelling something..lost a fish. Then another spit out the fly.
Then he boils a fish. Josh exits the run and makes his way back to the top while I finally reach his tailout section. I have a really good look at this section of water, looking at the structure and slick water. 3/4's through the run, and I'm starting to question my fly choice, but fortunately, I can hear Josh saying, trust your fly and just huck it out there. And that's when it happened.…the tug...not a single doubt in my mind that this was go time. My nerves were oddly calm. I was fishing my GLoomis 71111 with Battenkill IV, my Achilles heal, my nemesis reel. I haven't landed a fish with this reel..lost about 4 throughout the Fall/Winter of 2022 from dragless reel mistakes and mishaps.
And so we begin, solid fish making my reel scream. Sun is rising, and I turn around to give Josh the 10-4 that I have a fish on. Like, a real fish. Play for play, it really was a most epic morning, like the best ever. The reel skunk was off, and my Father/Daughter trip was already the best; the cup was full.
We spent the rest of the day leap-frogging with Jim and Patrick, run to run with no takers. Each run was fished hard, the water was beautiful, and it was a WINDLESS day, pretty much perfect.
We got to camp around 4, all of us splitting off to fish various runs before dinner. Everything looked like it was going to come together with some fish, but all of us were sent home for dinner empty-handed and a little sleep-deprived.
Jim's turn to cook with Chicken Fajitas as fare for the night. Podcast banter, cocktails constructed and me sneaking away to bed as fast and early as I could because 4:30 a.m. comes real fast.
Day #3
Floating to our first run in the dark and line out pre-dawn. This is a sensory run and definitely not a visual wade. I take the upper again while Josh takes the tailout. No reason we shouldn't get a fish in here. About halfway through my section, I get an absolutely explosive take, screaming reel, and then poof!!! Gone as fast as it took!!!
Electric regardless.
Long run, smash it out, and head downriver. This is the section where there's a good chance the spot you want has already been fished by the jetboats, so it's always à mystery, wherein "Sense of Urgency" is a thing.
We meet up with Jim & Patrick at one of my favorite runs, never fruitful for me, but one of the prettiest and first sun. Josh and I fish the run first, nada. Patrick steps in. Works the water. Nada.
3/4's through our day, and still, nothing for any of us save a couple of trout and a Pike Minnow both boats stop at a "new to Josh" spot that he wants to explore further. I sit this one out for a rest period and hydration. All I hear is a little shouting and loud voices trying to converse downriver. 
Turns out Josh had basically had an out-of-body experience with a steelhead proposing out of the water and SMASHING his fly on the end of a sink tip…. so there's that. I think there were two more that went after his fly in
this really weird water slip on the edge of an eddy created by a branch. This is not normal. You should really hear his version.
The next anticipated run had Jim & Patrick in it...Jim most definitely had a fish on, or a rock..or was it a 16lb+ Wild Fall Chinook? It was the latter, and the fight that we got to witness was EPIC!!! The runs, wedged fish or wrapped line, the yank and then the slack...to the taught line...to the fish in the net after at least 4 or 5 times! It was a wild ride folks!
Our turn next, I took the lower half of Jim's run, and Josh went to the next run down. Wade, float or swim, l'd get to the boat eventually! No love for me in the run. As soon as I reach the boat, a raft floats by me, and then Josh hooks up. It looked like a fun fight down in the heavy riffle tailout. After a few runs, Josh landed a beautiful Steelhead, at least its silhouette was!
No bite down the river to the mouth but damned good times. The banter, the food, the fish, the landscape, the wading... all worth their weight in gold, yet again. Father/Daughter Trip 2022 a success.