Welcome to Royal Treatment Fly Fishing!
Login
Log in if you have an account
Dont have an account? Register
Fall steelhead odyssey
11 Nov 2020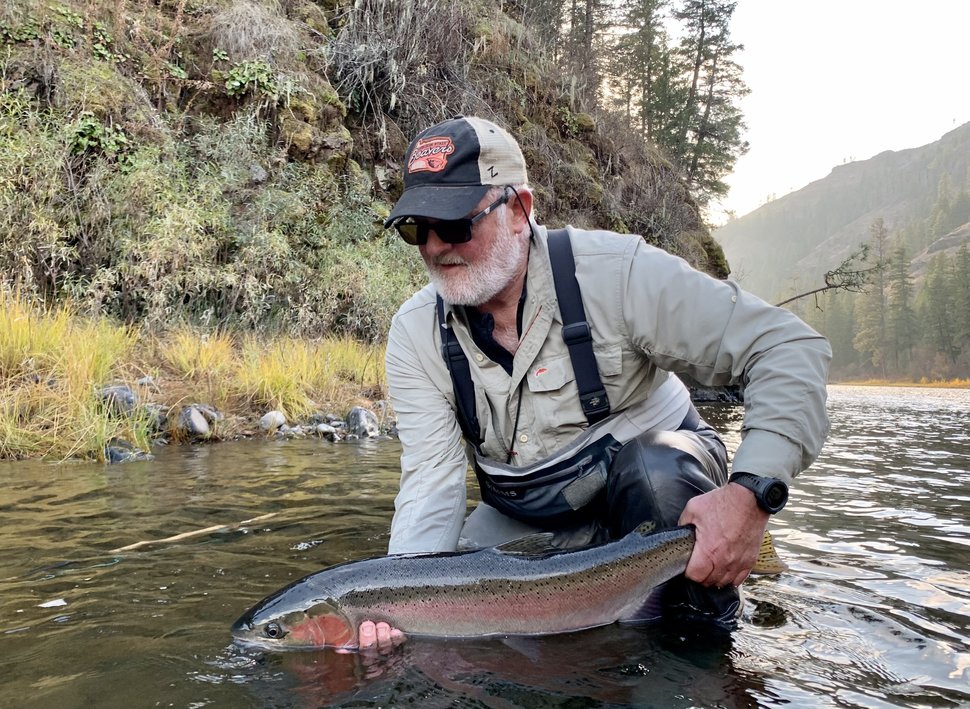 November is one of my favorite times of the year. It signals the end of summer steelheading and the beginning of the winter steelhead season. There will be no more long drives to the east side. November also means vacation for me. Typically, every year I take the first week of November off and go east to some small Steelhead river where I can float for 5 or 6 days without seeing another soul. And like everyone else, I am ready for a vacation. After the months of covid, unimaginable fires, lots of guiding, and insane business levels at the shop, I am ready. Little did I know how ready I would be for this vacation and how unprepared I was.
I guided a four-day trip right before my trip started, and that didn't leave a lot of prep time. I'm sure the two other guys on the trip were like, uh what's going on? Are we still going? Do we have a plan? Well, I almost always have a plan, and I've done enough of these trips that it doesn't take much thought to get prepared. We have a meager camp, no-frills, just the essentials. After all, this is a fishing trip. We keep it simple and try not to break our backs setting up and breaking down an elaborate camp every day.
We had a plan to meet Sunday midday and to caravan out to the river. We got to the boat launch around 8 pm. Set up tents and started a fire. Spirits were high and filled with anticipation for what the next week would bring. Both of the anglers were new to this trip, and I was excited to show them around. Jim band and I have been on quite a few multi-day trips, and we have a great rhythm. Larry was a new addition to the group, but I had fished with him before and knew he would be a great addition to the team. One of the things we talk about a lot is making sure the people on the trips are vetted. There's nothing worse than going on a long trip with someone who can't pull their weight. Your team is only as strong as your weakest person. And there wasn't a weak link on this trip.
We were up early with the excitement of a new adventure. The night was cold, and everything was coated in ice and frost. We got the boats in the water and pushed away from the beach. The first part of the trip is a long float down a tiny river till it joins with the main stem. We started fishing around noon and hit camp around 4:30. With the first day in the books and five days of fishing ahead, we were ready for a campfire and some cocktails to help us relax and get into vacation mode.
Tuesday, we were up early and ready to fish. We scheduled enough days that we would only be making 4 or 5 mile jumps each day, and we would really be able to pick the water clean. Fish are scarce this year, and we needed to turn over every rock in our search for steelhead.
The 3 of us were in two boats, so we could split up and cover a lot of water. We left Jim in the first run and went around the corner. When Jim had caught up to us, he had an enormous grin on his face, and he had, in fact, landed a steelhead. It had been a few years since I had been on this stretch of river, so things were a little hazy for me. I'm sure Larry was mildly annoyed every time we came around a corner, and I would be like, "oh this is one of the best runs" or "this is my favorite run." There were a lot of bests and a lot of favorites. Most of those statements were backed up with memories of steelhead past and great adventures I'd had with other great friends.
As Tuesday turned to Friday, we had all caught fish, and no one had died. Due to past experiences, I'm sure there was a little apprehension from both Larry and Jim about spots I would try to put them in. We were all in vacation mode, and sad the trip was winding down. I was a little astonished as to the number of fish we had caught, considering the low numbers and even worse reports.
Our last night in camp, we sat in the rain under the little wing planning next year's trip. These guys were vetted and will always have an invitation to go on vacation with me.
You might have noticed this river has gone unnamed as everyone was sworn to secrecy.