Welcome to Royal Treatment Fly Fishing!
Login
Log in if you have an account
Dont have an account? Register
Early Season Deschutes Steelhead with Nick and Josh
15 Jul 2020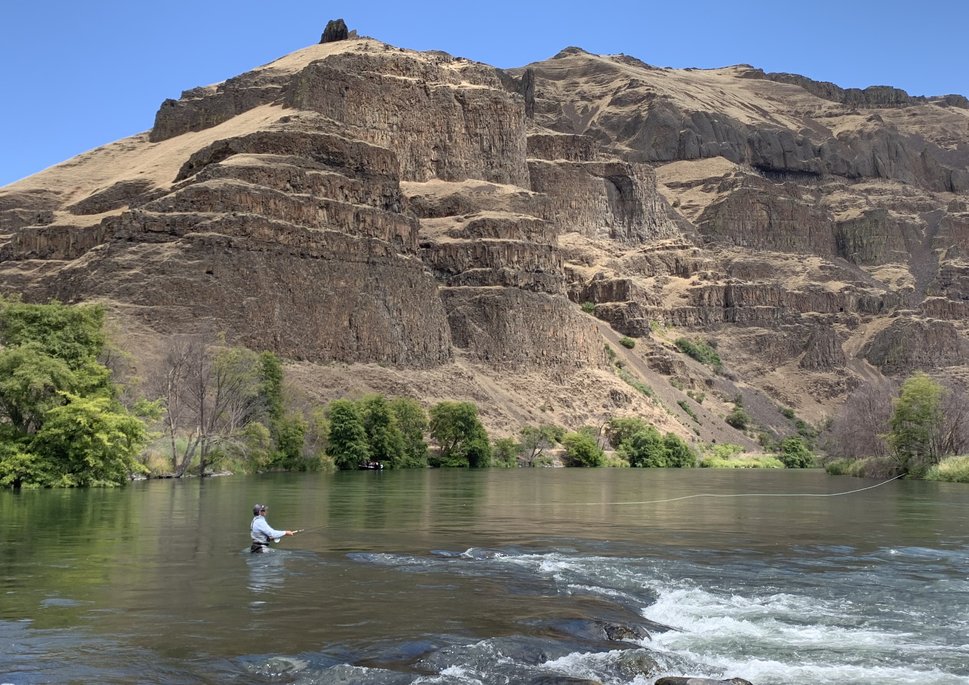 As summer rounds the corner to fall, and the days start getting shorter, our thoughts and attention turn towards summer steelhead. Every day we are checking fish passage counts on the Columbia looking for that big uptick. 100, 200, 500, 1000 fish a day going over the Dalles Dam. As those numbers grow so does our urge to swing a fly for an elusive steelhead. This early in the season there aren't a lot of fish around but if you are lucky to find one you are rewarded with a fiery aggressive bar of silver. These fish are bright, shiny, and full of energy, quite often making big runs and lots of jumps.


This week Nick and I made our annual early-season trek out to the Deschutes and fished with one of our favorite guides on the Lower Deschutes River, Sam Sickles. Sam is a jet boat guide that runs up from the mouth of the Deschutes daily. This guy is out there putting in the time, he's got a good program and is fishy.


We had an early roll call so Nick and I met up at 3:00 so we could be at Heritage landing by 4:30. I know that I didn't sleep well the night before because my excitement level was so high and I'm sure Nick had the same problem.


We motored away from the boat launch at 5:00 to cover as much water as possible. We were going to be searching for a needle in a haystack in a sea of haystacks.


The day was overcast and with the promise of fishing a floating line excitement was high. We made our first few stops with no action to speak of then we got to Kloan. I have caught many fish in this section of the river so the tension was building. We fished through a pile of runs with no success. Sam and I were walking out of a run talking about the merits of camping in this section of the river and I see Sam jump and shuffle as I have never seen before. Right at that moment, I see why. He has just stepped on one of the bigger rattlesnakes I have ever seen in the Deschutes. He literally stepped right on it. The snake was easily as scared and confused as he was. The snake, fortunately, missed his target and never bit him. Talk about a quick way to get your heartbeat up...


We continued upriver and the wind was starting to pick up, the forecast was for gusts up to 30mph.


We pull into one of my favorite runs. A long bomb run that has produced many fish for me over the years. I take the bottom and Nick goes to the top. Sam and I are reminiscing about fish we have caught here and where they hold. My casting is a little rusty since I haven't been Spey casting since before the time of COVID. I'm getting into a good groove sending them a long way. I'm getting into the zone and I know it's about to happen. Nick is getting to a good spot too and I can't help but chuckle to myself about another time on another day with different people and the other great memories that I have had.


Steelhead fishing with a spry rod is not about catching a lot of fish. We are there for a lot of reason the biggest one is to make memories and great stories. If you want to hear the rest of this story and if we caught any fish or to hear about the other stories from that run stop by the shop and I guarantee you'll get a chuckle too. If nicks around ask him to play the video for you. And if you're looking for a report telling you that there are a lot of fish around this isn't it. What I'd like is for you to come and give me a fishing report and maybe a great story. Get out there and make your own fishing report!