Welcome to Royal Treatment Fly Fishing!
Login
Log in if you have an account
Dont have an account? Register
Dressing for Success
12 Oct 2020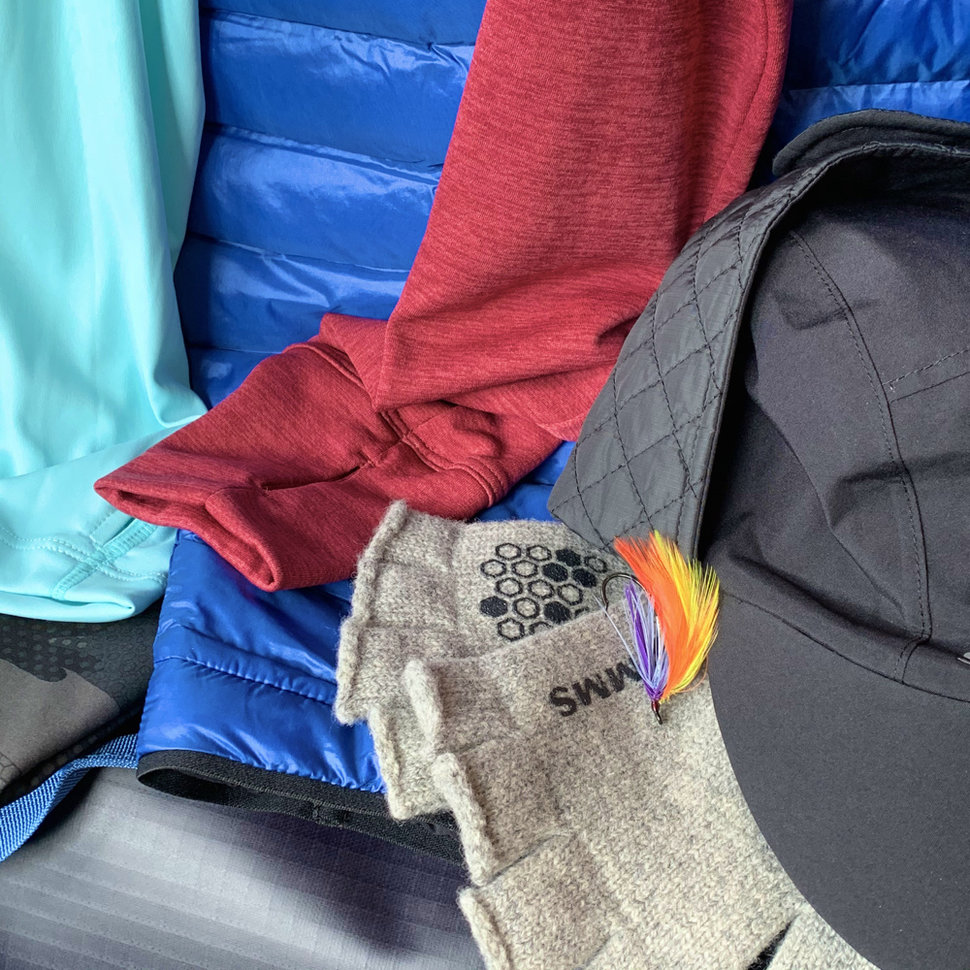 We're into layering season, and with each passing year, our options get better. Once the domain of cotton and wool, space-age fabrics now fill our gear bag, keeping us dry, warm, and happy so we can forget the forecast.
Most of us, born under the gray skies of the Great Northwest, understand the importance of peelable layers to manage our comfort level as conditions change. The day may start below the freezing mark, but the morning sun gets steamy under a cloudless sky. Being able to adjust our fashion ensemble to match the changing conditions allows us to focus on fishing.
While there will always be room in your kit for that favorite wool base-layer, repurposing summer sun shirts under a cozy mid-layer adds protection for when you stop for lunch under the mid-day sun, plus they are comfortable. The same Solar-flex shirts that have become popular on Bonefish flats are now right at home under a midweight fleece providing a breathable layer that is soft against your skin. A mid-weight layer (we love the Simms Fleece Midlayer) that zips up to cover your neck keeps that chilly upriver wind at bay and allows for cooling ventilation with just a quick un-zip. Cover that with the ExStream Bicomp Hoody or your favorite puffy coat, and Jack Frost doesn't stand a chance. One advantage of the ExStream Bicomp is its design minimizes bulk under the waders, while still providing insulation up top. It's become a staff favorite.
If clouds darken the sky and rain is in the forecast, don't forget your breathable rain shell. While Gore-Tex is the Royal Treatment crew's choice, other fabrics on the market are breathable, just not as breathable. All work best if the layer beneath helps move moisture out and away from your skin. A word to the wise, leave your cotton t-shirts at home or only bust them out at the end of the day for marshmallow time around the fire.
Below the waterline is where the big chill starts, and dressing for success is critical when talking under-wader wear. Wool socks and sock liners still rule the roost, pulling chilling moisture away from your feet, helping you avoid frozen toes. Adding a light wicking layer with a wading pant provides options as water temperatures drop. Under waders is no place for your skinny jeans. Cotton holds moisture and can lead to a bad case of hypothermia if you take a dunk. Fleece and wool will keep you warm, even when wet. Staying dry will keep you warmer.
Adding a toasty hat, gloves, and wool neck-gator top off the best-dressed angler when the leaves of fall let go and start floating downstream. That trendy trucker hat needs to take a day off or add a beanie to keep your head warm. While it may not work for everyone, keeping my head toasty keeps my hands and feet warm when ice forms in the guides. 
As mentioned, staying dry is the key to staying warm. Wading belts and staffs help prevent a winter dip that could prove serious. Having a dry bag filled with a change of clothes can save a fishing trip and maybe your life.