This is quite possibly the most popular and proven steelhead fly we stock
I know this fly has been featured before but we just can't get over how popular and effective this fly is. If you like IPA's this is Pliny the Elder, or if you're a bourbon drinker this is Pappy Van Winkle. We can barely keep this fly in stock and we have to keep them locked behind the counter for those that ask. If I put them out in the bin one person would buy them all and sell them on the black market. We would have to have a three fly minimum... That is literally how popular this fly is!
When you need a steelhead pattern to get deep quickly this fly provides. On its first creation this pattern was a secret weapon for a few of Rob's clients catching many steelhead the first couple of days it was introduced. Now in Rob's main roster this fly keeps providing anglers the success it started with. This fly can be used year round, but excels when used in deeper slots.
If  you would like to buy some online here is the link, but inventory is limited and sold on a first come first served basis
Crandall's Provider Steelhead Fly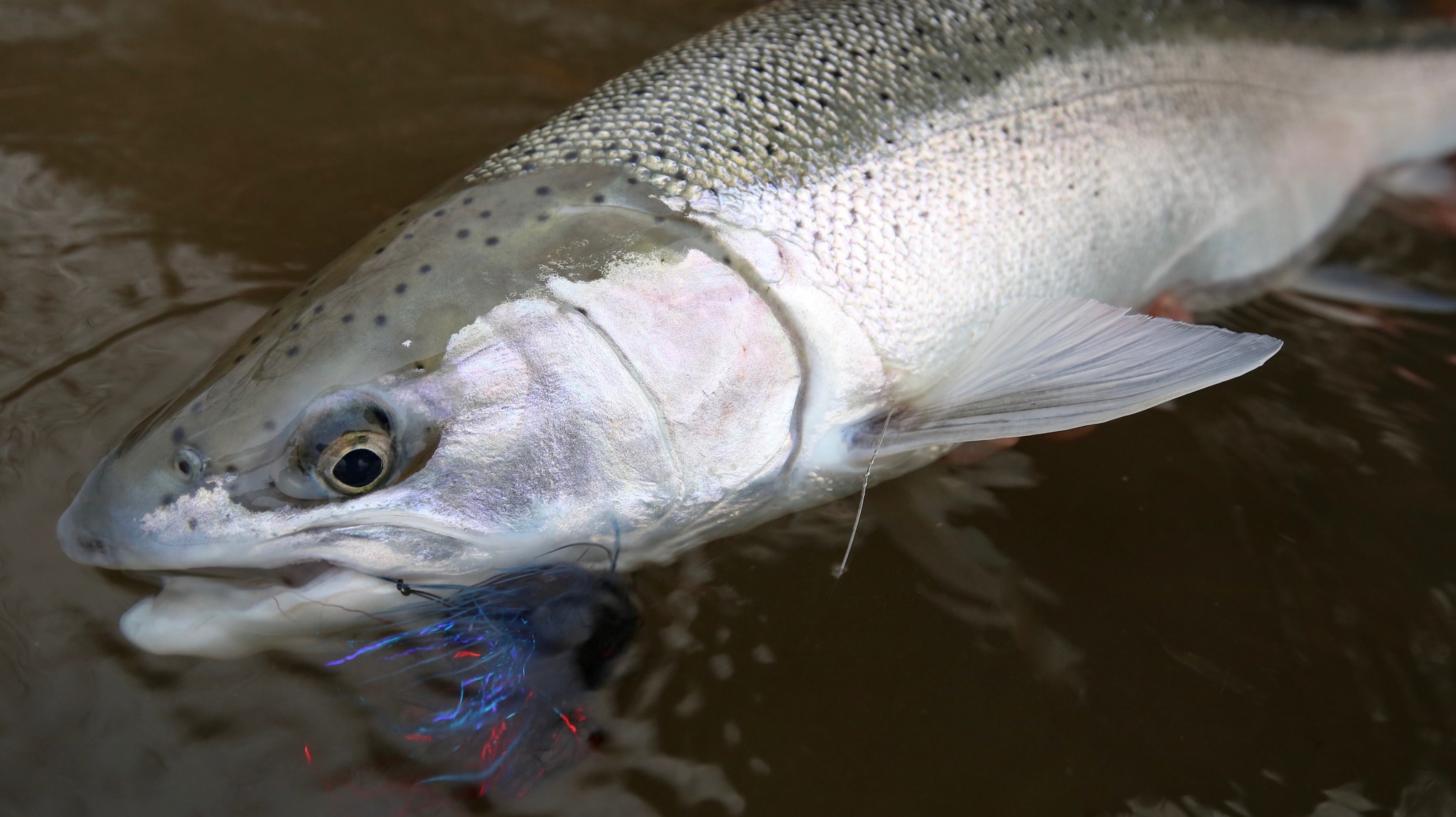 I asked Rob to write up a little info for me and this is what he had to say:
Crandall's Provider: 
I started using blue flies on the Deschutes 25 years ago when I found a fly box full of black and blue fly patterns.  I never found the owner of those flies but I found plenty of steelhead that wanted to eat them.  That got me started using blue for steelhead.  This adaption of the ostrich herl and the intruder style fly which Monte Ward and Rob Russell taught me 20 some years ago are origins of how this fly started to take shape.  I had several variations of this fly before it became the PROVIDER. 
The early version had more flash and was used on the Deschutes mid-day with surprising results.  I then adapted it to smaller coastal rivers in the winter and one of my clients Jeff Evershed landed an incredible wild steelhead with it that cartwheeled all over the run.  It was a breathtaking fish.  Jeff nearly lost that fly on several branches that day and hooked but lost one more fish on it.  The next day Nick from Royal Treatment Fly shop fished with me and I tied on the same fly.  After numerous rescues from different branches Nick ended up having a banner day hooking  four steelhead on that same fly.  
At that point I felt we finally had the combination of colors size and flash just right.  Since that time this fly has been an incredible producer and some years my very best pattern producing so many steelhead!  Now that Aqua Flies is producing this pattern I get notes from all over the west coast and BC from anglers that have had great results with the Provider.  
Wishing you the very best of luck on the water,
Rob Crandall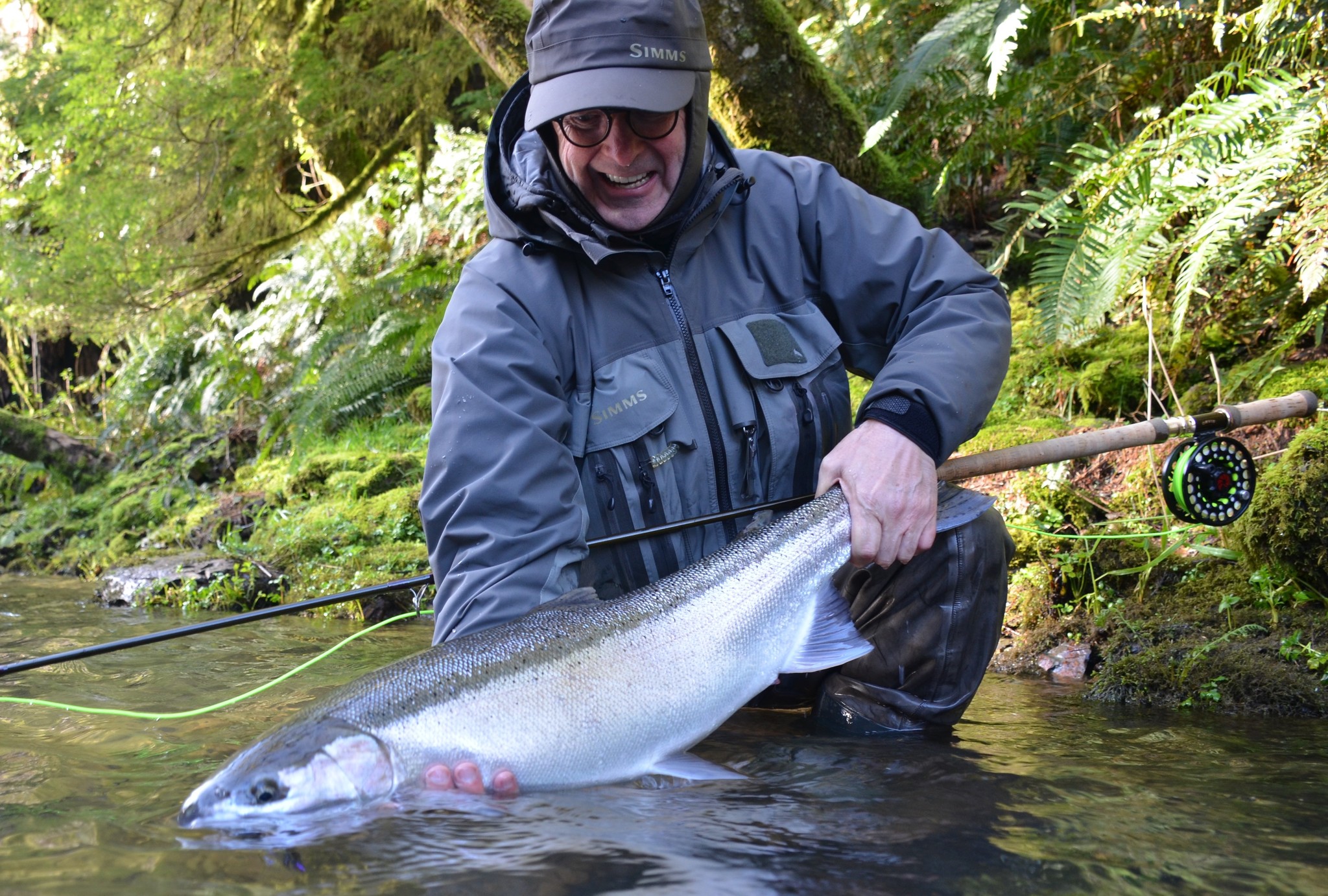 ---
Recipe
Crandall's Provider Materials
Shank: Aqua Flies Return Eye Shank 33mm
Wire: Senyo's Intruder Wire
Hook: #2 Aquatalon hook
Eyes: Medium Painted Lead Eyes, White
Butt: Blue Ice Dub
Rear Hackle: Blue Guinea
Rear Wing: Blue Ostrich Hurl
Body: Medium Krystal Hackle Black
Front Hackle: Red Guinea
Front Wing: Black Ostrich and Blue Barred Ostrich
Flash: Flashabou, Opal, Purple, and Blue

Start by attaching the intruder wire and lead eyes to the shank.
At the butt of the fly make a dubbing ball out of the Ice Dub which will help flare the Guinea hackle.
Place a stack (15-20 pieces) of blue ostrich along the top of the shank slightly flared across the Guinea.
Attach Krystal Hackle and wrap up the body of the fly for about 1/2 inch.
Put a few turns of red guinea in front of the Krystal Hackle.
Place a stack (10ish pieces) of black ostrich on top of shank followed by another stack of blue barred ostrich (10ish pieces)
Attach a few pieces of each color of flash to the top of the wing.
Whip finish, glue and it's ready to fish.