Welcome to Royal Treatment Fly Fishing!
Login
Log in if you have an account
Dont have an account? Register
Casting For Recovery ~ A Servant's Heart
18 May 2022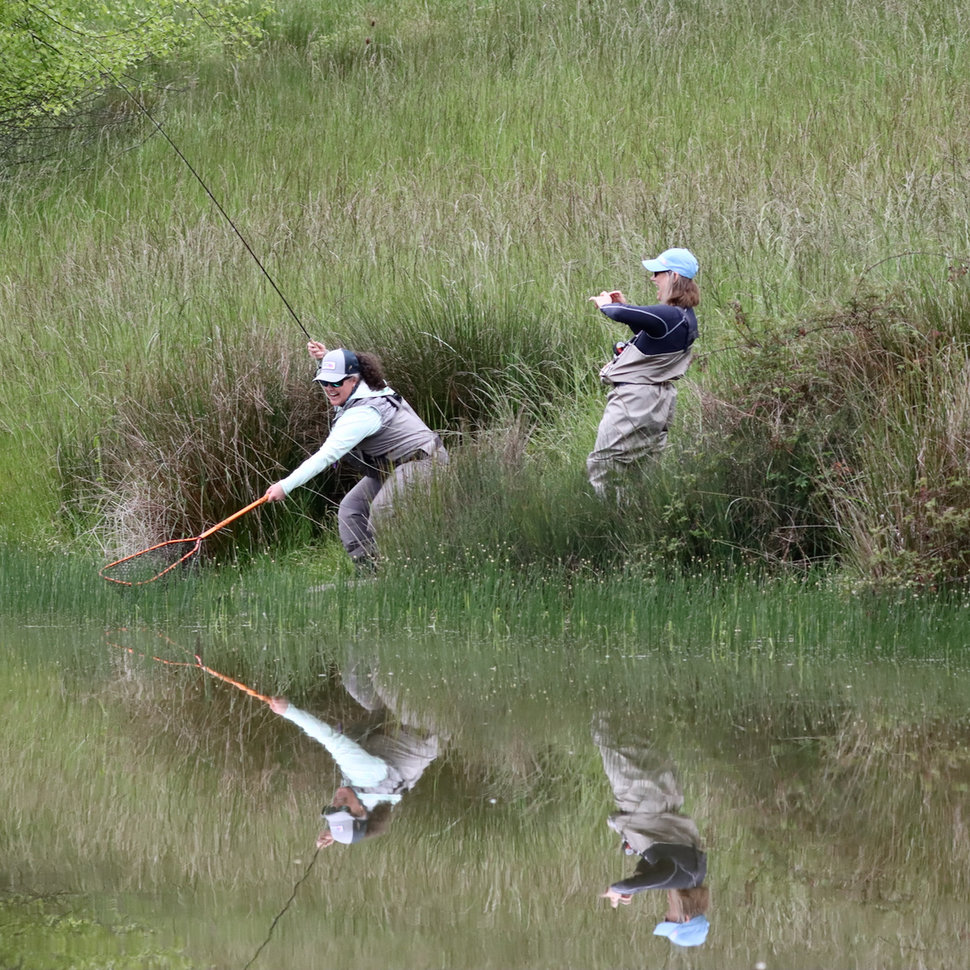 Each of us knows full well that cancer is a debilitating, life-changing, and oftentimes life-stealing disease that more likely than not, has hit you close to home. Maybe cancer has been an ordeal that you've struggled with personally or watched a loved one endure, even to the very end. I can relate to the pains and I empathize with you. Either way, cancer has the ability to radically change our lives by building and breaking our hearts. Now that Covid mandates have lessened, I had the privilege to volunteer at an amazing Casting for Recovery event that I will never forget.
This past Sunday, Joel and I had the opportunity to visit an incredible group of women on their own journey with breast cancer as we joined up with a team from Casting for Recovery ~ Southern Oregon in Elkton, Oregon at the beautiful Big K Ranch. We came to fill the need for a "river helper". While this trip makes Joel's 19th year of service, this was my first and I was very excited to learn more about so many of the heartfelt stories I'd heard.
Each river helper is individually paired with a retreat participant who was prepared to take on the ranch waters for the first time. After breakfast, we all helped new anglers gear up in loaner waders and boots. The morning was with brimming enthusiasm as each angler was outfitted with fly rods in hand newly acquired knowledge from the weekend's worth of study of basic knots, entomology, and the mechanics of presenting a fly. All 14 women, 14 river helpers, and CFR Staff made the trek down the road to the big pond; surrounded by nothing but green hills, lowing cattle, and the simple joy to hit the pause button on life that is so often found at the water's edge.
The CFR Mission Statement reads: To enhance the lives of women with breast cancer by connecting them to each other and Nature through the therapeutic sport of flyfishing.
And folks, let me say just how well the Casting for Recovery Staff exceeds this goal! Our Anglers knew how to tie on their flies and add Tippet! They understood the difference between presenting dry flies, and wet flies and even knew the terminology for terrestrials. The pond echoed with laughter this cool morning when more "salad" and reeds came to play than the warm water fish, but oh yes, we landed fish as well! And in true fly fishing form, each participant began to see the many parallels of life found from time spent on the water.  
Due to respecting each one of these inspiring participants, the most special moments of the day I will not share in this brief write-up, but I HOPE I have encouraged you to reach out and make a connection in one way or another with Casting for Recovery.
If you are interested in getting more involved or know of an individual who might benefit from a CFR retreat, please don't hesitate to ask questions or allow us to help direct you.