Welcome to Royal Treatment Fly Fishing!
Login
Log in if you have an account
Dont have an account? Register
Blue Skies and Muddy Waters
06 Jan 2021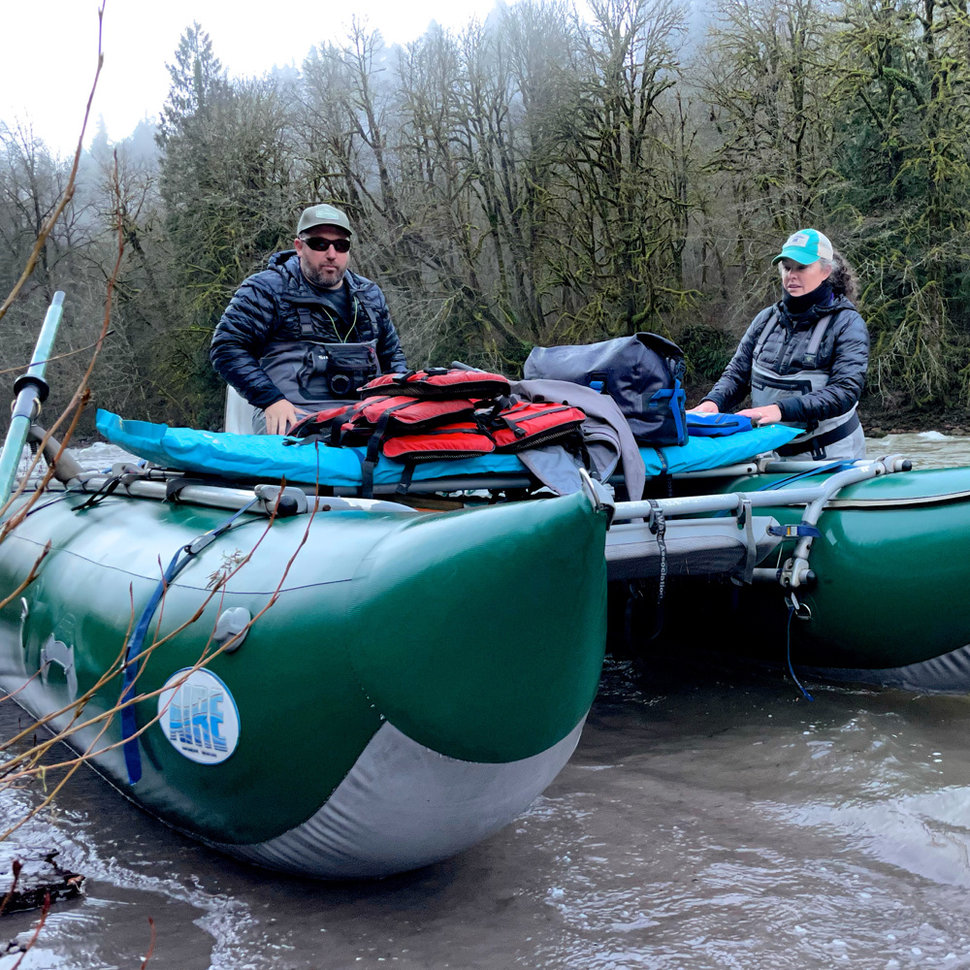 In case you missed it, the New Year whizzed by like a rocket leaving us all a bit dazed & confused with copious amounts of tedious inventory numbers still dancing in our heads. If I never have to count another stack of Veevus tying thread or variegated Sili Legs for another 358 more days, my prayers just might be answered. Additionally, the day's poor food choices that tasted oh-so-good did quite the contrary to set the stage for optimal, raw, leafy green, and limited ingredient January 1 resolutions. Sensing the wear on our spirits, like only a good fly shop manager could, our Fly Czar, Josh Linn, invited Joel and me to float the Sandy River on Sunday if there was a window available; as soon as we gleefully accepted his generous offer, the skies seemed to up their flow of steady, winter rain.
The myriad of rivers in the PNW are relatively new to this Southern Oregon gal, and I was excited to fish the Sandy along with side two individuals with a lifetime of experience who hold her history and sublime beauty so close to heart. Text messages were exchanged with each passing hour as we all kept a watchful eye on the ever-climbing CFS rates. Sunday, 4:22 am rolled around, and Josh diligently texted, "it's climbing but let's give it a go." We are all seasoned anglers and up for a challenge in a little high water. The full moon was bright, and we are all optimistic as any die-hard, winter Steelheader!
Pulling into Dodge Park at dark and loading up the AIRE pontoon boat gave me the post-coffee jitters of excitement like only new waters can do. Granted, fishing the Rogue at 3:45 am mimics a similar feeling, yet this morning was different. Maybe it was the sights I was hoping to see and the waterfalls that awaited us, or perhaps, it was the whisper of fresh Blueberry and Carrot cake muffins I was waiting to unwrap like a kid on Christmas Morning? Either way, we were layered up, bright-eyed and bushy-tailed, looking forward to whatever the day had in store. The sky brightened in our first run, and we couldn't help but notice the color of the high water resembling more of old cement mix than anything. "Ya'll have 10' of T-11 and 3' of 12lb Maxima, right??". "Yep!" we replied. "I don't care what fly you use, as long as it's black and blue!" Josh declared, a phrase we all have heard before and are faithful to abide by this time of year for a good reason. Our arsenal of 6 and 7 wt rods bounced their way downstream alongside us as we looked for various runs that were reasonable in flow and safe enough to withstand- literally.
How we managed to complete the entire float and not need our rain jackets for anything other than an external wind layer, I will never know, but I'm certainly not complaining. We all covered the water with high hopes, a few extra tuffs of blue Marabou…, and gratitude for a rain-free day. I enjoyed learning about the past's lava flows, how different sections of water got their names, and how sequential floods have played a significant part in shaping the Sandy River as we now see her today. Josh was indeed an excellent docent and expert guide. I enjoyed asking both guys about their favorite memories of the Sandy River. I relished in the conversations shared of an ever-changing river system, clave days, friendships made along the way, and hopes for future adventures.
Plato was quoted that we can "discover more about a person in an hour of play than in a year of conversation." Listening and learning is a lifelong skill I relish. On a day where my casting was *hit, as my injured wrist took the limelight, I found myself at peace in the calm of being together on the water, doing what we all love so dearly- fishing and sharing with friends.