Welcome to Royal Treatment Fly Fishing!
Login
Log in if you have an account
Dont have an account? Register
An Up and Down Salmonfly Hatch
24 May 2023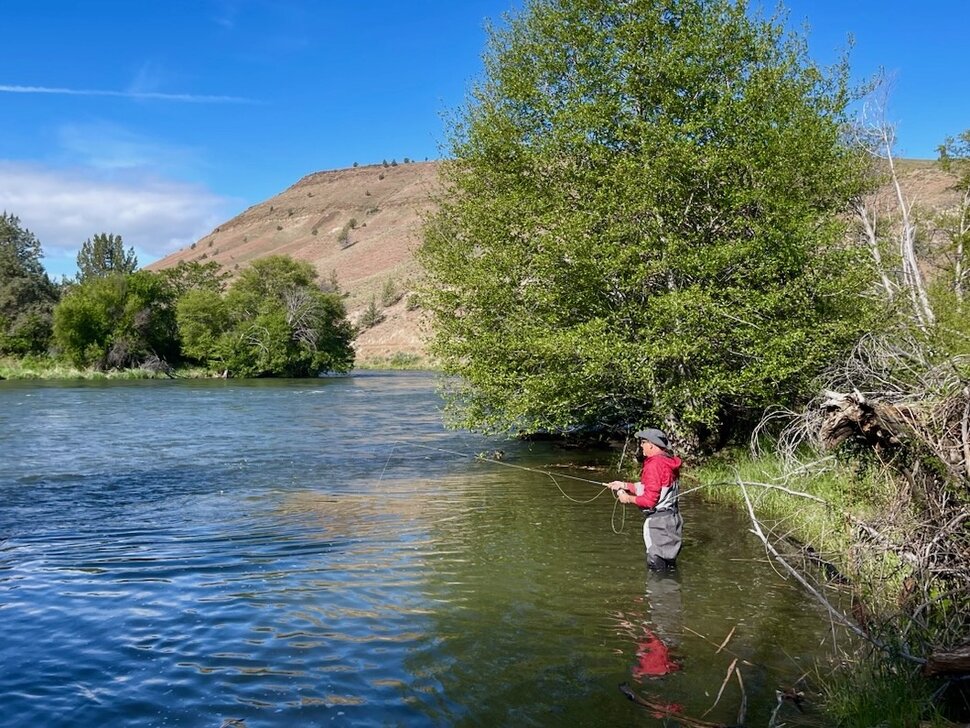 The Deschutes River is teasing us again this week, dropping below 4700 CFS on the Madras gauge and painting an optimistic picture for the weekend. To say that the first few weeks of the Salmonfly hatch have been volatile is an understatement. The snow melt was impressive, but add a few epic thunderstorms into the mix, and you have a rough start to our summer season. Those brave souls who ventured over during the storms will probably remember the weather far longer than any fish they caught.
The latest news from the Fly Czar had the river clearing from Warm Springs to Maupin, with Warm Spring River adding much of the "color." While weekenders found "chocolate brown" greeting them at the boat launches, visibility slowly improved as the week progressed, and that trend continues. Salmonflies and Goldenstones are crawling on the bushes up and down the river, taking flight in the warmer parts of the day. MFFRs, Chubby Chernobyls, Fluttering Stones, and (insert your favorite pattern here) are the weapon of choice, so park your Euro rod and pick up the floatant. Overcast days may bring flights of Green Drakes, so be prepared for that hatch through the first weeks in June.
Locally, summer Steelhead and spring Chinook are making their way up the Clackamas. Cooler weather has kept the rubber boat hatch to a minimum, and that may hold through the Memorial Weekend with temps forecast to only be in the mid-70s. Far too chilly for your string bikini. Check the water temps and choose your tackle accordingly. Most anglers are still leaning on Skagit with sink-tips, especially if they hope to bank a Springer.
Trout anglers wishing to stay closer to home will find that our local waters and coastal streams opened last weekend, giving small stream aficionados a chance to get their boots wet. However, those waters may be larger than usual, so watch your wading. Don't overthink it; attractor dry flies, favorite nymphs, or a Hopper/Dropper combo will get it done.
Area lakes also opened last week, and most of the snow is melting. Check local sources before committing to a destination if you are in doubt. Our lake Guru, Randy Stetzer, can help you get dialed in on the stillwater scene. He loves to talk about lakes.
And lastly, the Willamette River is starting to see Shad returning in fishable numbers. I'm still determining the situation with the I-205 bridge construction and river traffic, but I've heard there are a few new buoys and speed zones to watch for; hopefully, we'll have an answer next time.