Welcome to Royal Treatment Fly Fishing!
Login
Log in if you have an account
Dont have an account? Register
Alaska Bound!
10 Jun 2022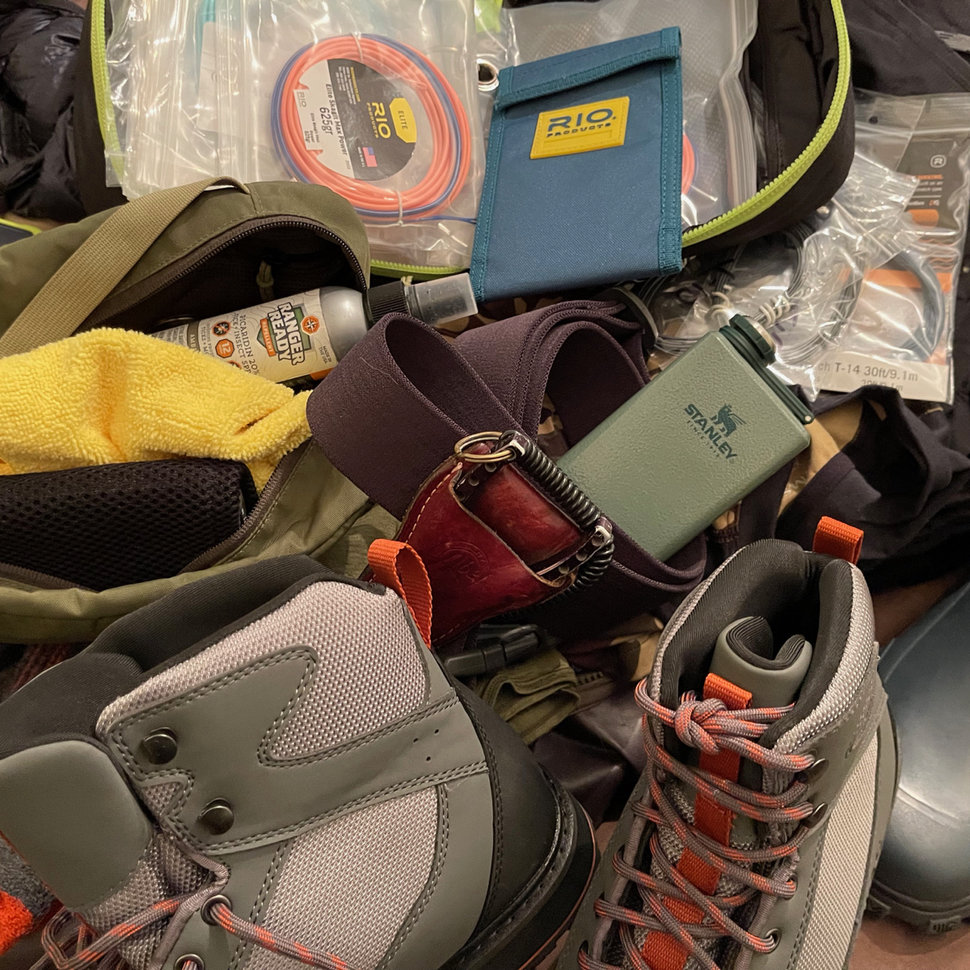 It's been a long time since I've guided or been on a fishing trip to Alaska. From 2004-2009 I guided up their specifically for kings. And even though I haven't been on a fishing trip there recently I have been on quite a few Spey rod trips. All over BC, Sweden, and Russia.
The packing is basically the same for all of them even though the tackle might change. Most of those locations are relatively wet and cold, so having multiple sets of layers are must. Don't forget a rain coat and quite possibly a second one.
After my first trip to AK I started making packing lists and I probably have my fist one saved somewhere. After each trip somewhere I would refine my list adding and subtracting items.
After my first season in AK I added things like a closed end ratchet wrench for working on my outboard, Aqua seal and a patch kit for waders and other emergencies, and rain pants for working outside and cleaning fish.
You can't always plan for the weather but you can be pretty close with all the weather forecasts available now. I always take to much clothing. I want to be warm, dry, and comfortable. Typically when you are in a wet fishing location your sleeves tend to get wet so having a second set of top layers is crucial, that way they can dry out each day. When I was last in Sweden I packed for the typical weather which is cold and wet so I didn't really pack and warm weather clothes. Well that trip was hot and warm and we cold have basically fished in t-shirts for the most part.
It's always easy to add stuff to your pack list but refining and removing things is the hardest. I'm a tackle junkie, I take a backup of everything. Extra reel, shooting lines, lots and lots of sink tips, and plenty of extra shooting heads. Things get broken and it's better to be safe than sorry.
This trip I am trying something a little different. I started making my pile of stuff for the trip. Base layers, socks, jackets, puffy coats, shooting g heads, sink tips, tackle repair kit, if it was on my list it went into the pile. But this time I started packing and refining what I was taking.
I packed everything into one duffel bag and I was basically weighing the merit and value of each item. "Do I need all of these base layer bottoms? Is it really going to be that cold?" "Do I need the tackle repair kit?" "Do I need so many sink tips and shooting heads?" "Do I need a second rain coat?" "How many puffy coats do I need?" "I don't need that many pairs of socks" soon my pile was smaller than ever, and I am wondering if I packed poorly or not.
Now to be fair the guy that I am fishing with is George Cook, he's quite possibly the most knowledgeable and accomplished King Fisherman in the world. He's "THE KING of Kings". Not to mention he's also the  Sage, RIO, and Redington rep, so he will be bringing all the rods and lines.
So here's my basic pack list for most Anadromous fishing trips.
Clothes
5- pairs fishing socks

4- pairs underwear

2- base layer top and bottom

1- fleece pant

2- puffy coats

1- vest

1- rain pant

Camp shoe

4- shirts

Buff- cold weather/ bug stopper

Travel clothes for trip home
Personal Items
Camp cup

Aero Press/coffee

Liquor

Cigars

Charging cables and wall plug

Portable battery pack

Pocket knife
Personal Dop Kit
Baby wipes

Ball powder

Toothbrush and toothpaste

Advil

Bug spray

Lotion

Contacts

Sunglasses

Soap/shampoo

Small Towel

Trash bag for wet and dirty clothes
Fishing tackle
Fishing license

Waders/boots rubber sole

2-rain coats

Wading belt

Pliers

Nippers

Hook file

Hooks Size 1 and 1/0 hooks

Leader/tippet

Sink tips

Shooting heads

Spare shooting line

Lots of flies
Emergency kit
Wader patch kit

Leatherman

Zip ties

Electrical tape

Snake guides

Shrink tubing

Braided loops

Thread/needle

Nail knot tool

Scissors