Welcome to Royal Treatment Fly Fishing!
Login
Log in if you have an account
Dont have an account? Register
Putting on the Ritz
22 Mar 2022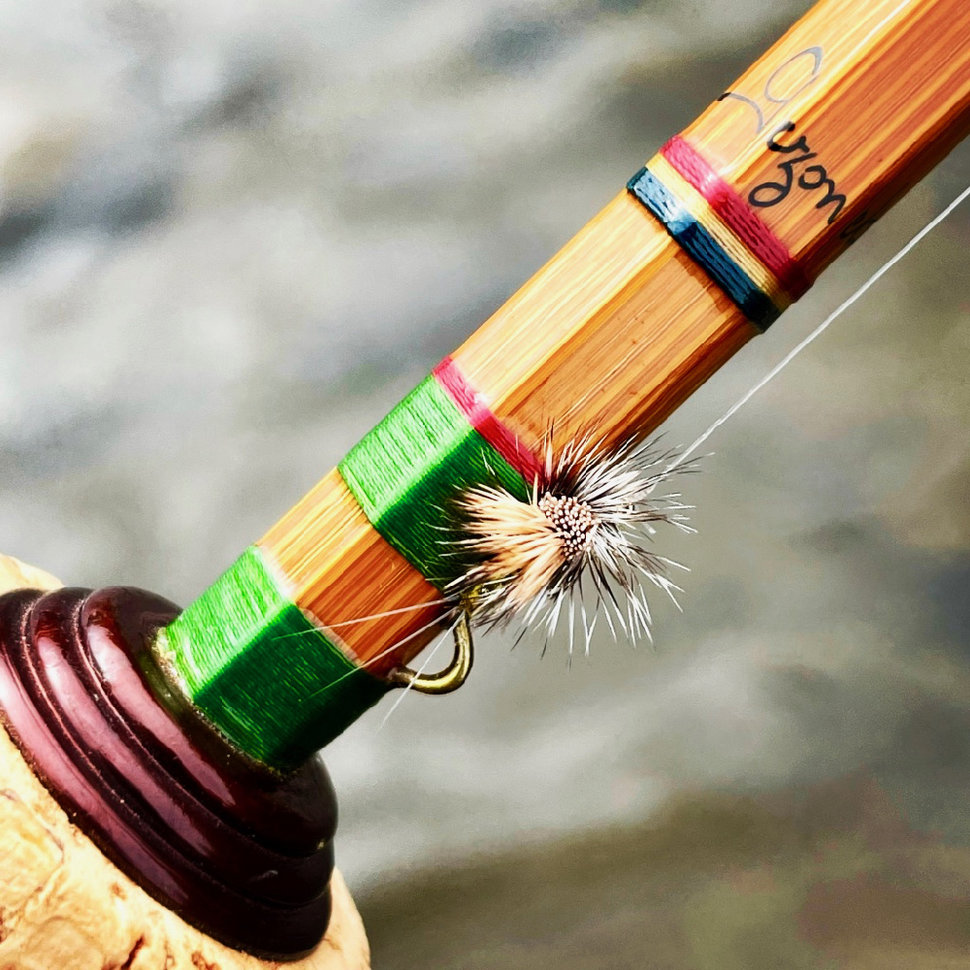 Tucked away in the basement rafters for as long as I can remember, the green aluminum tube held a treasure of bamboo and silk. In time, the house and remaining tackle became my charge, and while I knew about the rod, I had little interest in risking it on the water. So it was carefully stored away, with only an occasional unmasking to view the emerald wraps and flowing script.
Recently, it has become the habit of Randy, Josh, and I to share bits of history and favorite old rods or reels. On one occasion, I strung up the vintage Pezon, with everyone agreeing it was a fine casting rod featuring a very "modern" action. My interest was peaked, and I dug into my library to discover more about the history of this French maker.
I uncovered the story of a young man from a wealthy family with a passion for making a better casting fly rod. Whose concepts and influence are found in fly rods produced today, even though his contributions remain unheard of by most.
In 1917, a young Charles Ritz came to New York to look after his family's interests in a hotel bearing his name. Employed as the night manager, the young Frenchman had plenty of daylight hours to explore the city and spent his days wandering into the shops and cafes. One favorite establishment was the famous Abercrombie and Fitch, purveyors of fine tackle and shooting sport accouterments. Mr. Ritz was enchanted by the angling gear, even though he himself was not an angler. Soon, after making friends with the staff, he started to develop an interest in fly fishing but his hundred dollars a month salary precluded him from becoming a customer. So instead, he sought out used tackle in the second-hand and pawnshops found in the city. Once acquired, he would retreat to the office that he shared with the day manager to repair and refinish his finds, much to the chagrin of his coworker. During this time, he met Jim Payne, a noted rod builder, and began to understand taper design. He spent his off-hours rebuilding or modifying rods and eventually building and selling rods to customers of the hotel. He even developed his own idea on how the cork handle should be shaped, finetuning his design in the locksmith shop in the hotel's basement.
By now, Charles had become an enthusiastic fly angler and tested out his rod designs on various species in the company of other affluent anglers. Upon his return to Paris in 1927, he was encouraged to contact the managers of Pezon et Michel, a notable rod maker of the day. Hired as a consultant, he soon brought many of his ideas to life while helping to modernize the manufacturing process.
While split-cane bamboo rods were nothing new, taper designs brought to life under the watchful eye of Ritz and company were ahead of their day and a departure from the tapers popular in England and the US. The Pezon et Michel Parabolic Supreme Normal and Competition became popular worldwide and are still sought after today. Other models too found favor, and while not as highly collectible as some more famous makers, you seldom hear an owner speak ill of his Pezon. Of interest to me were the Super Parabolic rods, featuring a butt section shorter than the accompanying tips. 
Pezon et Michel not only produced quality rods for anglers around the world but during the embargo with China in the late 40s and early 50s, Pezon supplied many US rod builders with processed bamboo strips. My friend Glenn Brackett of Sweetgrass Rods related that "during the Chinese bamboo embargo back in the '50s, we got bamboo strips for Winston from Pezon legally, but the Customs people had their handcuffs out and were ready to cart us off to the hoosgow!" Thankfully, Glenn remained a free man, continuing to craft fly rods for Winston, and now Sweetgrass, in Montana.
In digging into this history, I concluded that one particular model was just what I was looking for to add to my collection of vintage bamboo. Never shying away from a challenge, I searched online auctions and tackle dealers until one day, there it was. A beautiful Ritz Super Parabolic, Super Marvel type Hans, complete with 2-tips, long bamboo ferrule plug, original satin rod sleeve, and tube, all in mint condition. The only problem was the seller, an Italian gentleman in Milan, wanted far too much for this treasure.
I contacted him with a fair price, but in broken English, he kindly refused my offer. Weeks turned into a month, and I continued to think about the rod. One day I noticed the same rod posted on a popular European auction site. I made an offer, but again I was refused. The auction ended, and the rod remained unsold. The following day, an email pinged my inbox, notifying me of a counteroffer. The rod was available, and the seller wanted to sell it. The back and forth went on for several days, but a deal was struck, and the rod was mine. I had to wait until the Italian Post, US Customs, and the USPS got it all together and delivered it to me a little over a month later.
Thankfully, the rod arrived intact, but I was still nervous. I had never bought a rod without casting it first. Would it be what I wanted or something else added to the dusty collection of fly tackle.
I strung up the rod and headed to the parking lot with a measure of apprehension and excitement.
Some fly rods require adjustments to master, while others are more familiar from the beginning. But then, there are fly rods that feel like an old friend or an extension of your hand from the very first cast. This little rod was indeed a Marvel and was carefully strung up the next day on the Deschutes River, a small BWO adorning the tippet, an exercise that will occur with frequency in the coming months. While this wisp of bamboo took root in angling's past, it still has much to share. Now, if only it could talk about how it ended up, unused, in Italy, 50-odd years after being built in France. No matter. For now, it has a history to make right here in Oregon.
Disclaimer: As with most things historical, facts regarding dates and recollections become fuzzy with time. This tale is based solely on the recollections of others and the written words of the subject, whose passing in 1976 eliminates the possibility of personal verification.  
To learn more about Charles Ritz and Pezon et Michel, pick up a copy of "A Fly Fisher's Life" by Charles Ritz. With a foreword by Ernest Hemmingway and an introduction by Arnold Gingrich, you know it's going to be a good read!