Welcome to Royal Treatment Fly Fishing!
Login
Log in if you have an account
Dont have an account? Register
Tiny Tying Contest
21 Mar 2023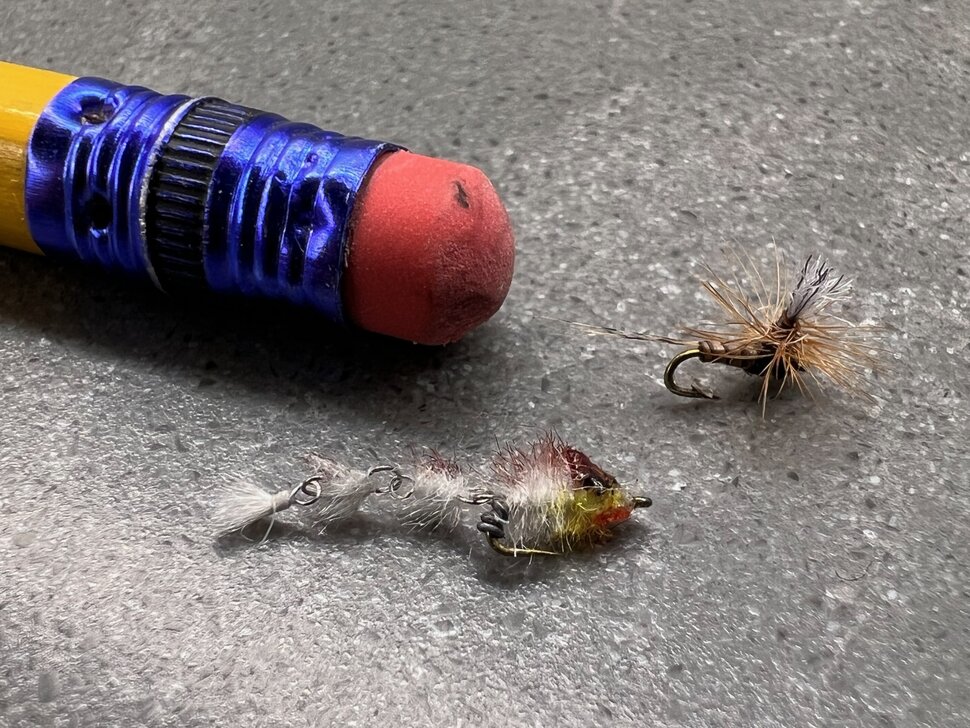 Update!!!!
We had an incredible turnout for our Tiny Tying Contest, and the participants exceeded our expectations with their entries. While many played it safe with midge or mayfly emergers, some tyers raised the bar and thought outside the box when attacking the size 26 hook.
Our judges for this contest were industry reps, Eric Neufeld and Garry Sandstrom, and both had a hard time picking favorites. Through a process of elimination, three winners were chosen and the winner was proclaimed. Stan Beebe took the first-place trophy with his articulated Game Changer, while Bill Breshear's Quill Body Parachute took second. Third place went to Bob Monteith, but Bob snuck off with his flies before I could photograph them. Bob, bring them back!
Tyer's who made the final cut for honorable mentions are, in no particular order:
Tom La Grow
Jim Ferguson
Mitch Moyer
Rick Pay
Jeff Holamon
Eric Bean
We are working on a display for all flies entered in the contest and hope to have them ready for public viewing soon. Stand by!
Thanks to everyone who took the time and effort to enter, and we'll be announcing our next contest very soon!
When the guide says, "tie on something small," now small is small?
If you believe in 7x tippet and Mayfly hatches that the human eye can't see? Then we have a contest for you! Announcing Royal Treatment's Tiny Tying Contest! 
Test your skills against some of the best local tyers, including our staff of old guys with fat fingers and youngsters with sharp eyes. Yes, the Fly Czar, the Legend, the "New Guy," Reel Hussy, and the Boss are all eligible to participate; they just can't win the swag! 
First Place Prize~Simms Dry Creek Z Sling Pack (229.95 value)
Second Place Prize~ Simms Freestone Sling Pack (149.95 value)
Third Place Prize~Super Flo- 2.0 Power Taper Fly Line WF5 (129.95 value)
Plus, more goodies!
Like all contests, there are rules. So, here ya go!
Royal Treatment's Tiny Tying Contest
Flies must be tied on the hooks provided by Royal Treatment  (Tiemco 101 size 26. Yes, size 26) 
Limited to two entries per person.
Tye any fly you wish, but you must use our hook.
Your flies need to be turned in by April 29th by noon.
Judging will take place at 1:00 pm on the 29th.
Judge Eric Neufeld of Raging River Sales.
To enter, just stop in the shop, pick up your hooks, and register!