Welcome to Royal Treatment Fly Fishing!
Login
Log in if you have an account
Dont have an account? Register
Royal Treatment Trout Camp 2020
24 Jan 2020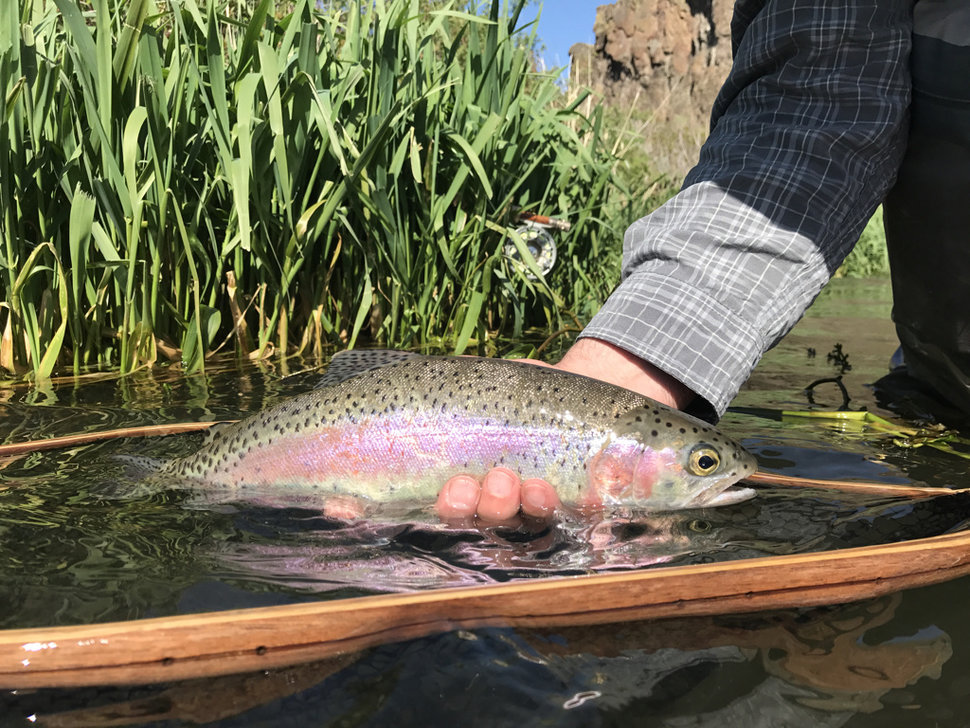 Want to experience the best trout fishing Oregon has to offer? How about world class-wild-Rainbow Trout fishing in 2000' deep canyons with super fun big whitewater with a special offer that makes this the most slam dunk fishing trip of the year! Joel and Jennifer La Follette are hosting a couples/or really close friends 3-day drift trip this summer launching on July 16th.  
Experience the canyon with the professional staff of Water Time Outfitters on their Summer Trout Special. Our signature camps are second to none; experience the wildlife, white water and fly fishing on Oregon's best River- truly a bucket list trip! This trip is our regular rate of $1450 for three days AND comes with a $200 credit towards your new EURO-Nymph rod (or whatever fishing gear you need) at Royal Treatment Fly shop!
In case you didn't know, the Deschutes River is a gem among NW rivers and a mecca for trout anglers; this summer, caddis hatches - met by wild rainbow trout and the scenic canyon setting combine to provide you a must experience river trip. With the full beauty of the deep canyon and surrounding wildlife, it's easy to see why the river has been declared a National Scenic Waterway. This world-class fishery is only available to guides like WTO with exclusive BLM permits. Join us for a drift boat float trip searching out the riffles, sudsy eddies and foamy pockets for the amazing Deschutes River rainbows.
The Fishing:
Trout on the Deschutes average a strong 14" with some fish up to 20" these fish are solid and strong fighters that in my opinion would whip any Montana trout. The oxygenated waters of the Deschutes average a steady 6 mph, combined with a heady diet of protein these feisty fish put up a good battle. July-October you can expect good to excellent hatches of caddis. These fluttering moth-like insects are a staple on the daily diet for these fish this time of year. We fish dries in pockets, riffles, and eddies to rising fish often spotting big bruisers and fishing to specific fish. When the dry fly action is not on - working subsurface with nymphs is a deadly combination.  
The NEW Twist: 
You may have heard about a new strategy that is simply killing it in the right water is Euro-Nymphing. This technique brought to us by the Europeans and World Tournament fly anglers has been refined and tuned for our NW fisheries. Euro-nymphing at times is literally amazing on the Deschutes! Come and learn this new strategy you can employ on your favorite river. PLUS-our guides have been finding some BIG rainbows with streamer fishing strategies. If you'd like to learn the EURO-NYMPH, STREAMER Strategies or just fish dries this trip is a blast!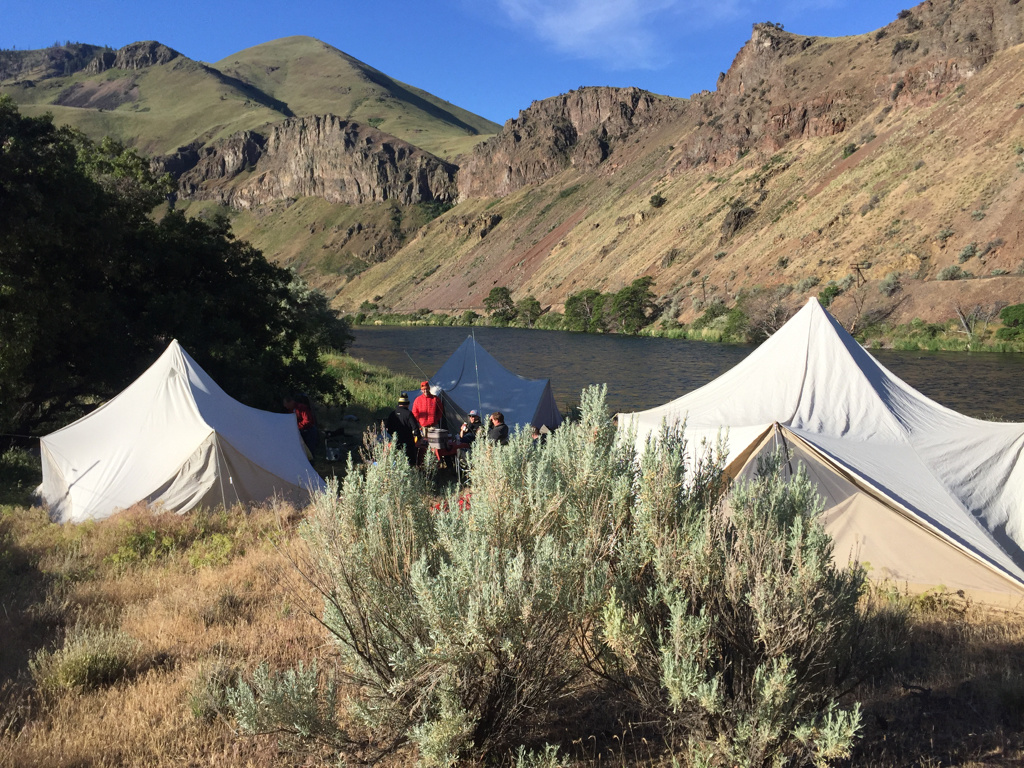 The Camp: 
You might call it Glamping but we call it home. Our camps on the Deschutes are simply home away from home and we strive to make you as comfortable as possible. Our tents are canvas tents 14'x 14' with plenty of room to stand up and walk around. We provide the most comfortable cots available and cushy sleeping pads. Our camp staff goes ahead and sets up the camp so you simply fish and relax.  
Logistics: 
We meet you in the town of Maupin, OR and drive upriver in our vehicles to the Trout Creek put in. This gives us access to a 32-mile float that is the best trout water on the river. In addition, the big whitewater here limits traffic from other anglers. We float three days and get you back to your vehicle mid-afternoon the last day in Maupin.  
Open Dates:  
Prime Time Summer Trout Trips are in July-Sept. Each trip we can take up to 6 anglers and 8 can easily be accommodated.  
July 16-18 Royal Treatment Fly Shop Couples Trip
Other open dates:
July 23-25
July 30-Aug 1
Aug 13-15
Summer Trout Trip Special Price:  
This three-day trout trip adventure includes: all meals starting with lunch day 1 thru lunch last day, boaters pass, pick up and drop off in Maupin, three days guided fishing and drift boating the Deschutes River, flies and fly gear as needed for only: $1450 per person - This price includes $200 gift card you can use towards new Euro Rod or any fly gear you might need at Royal Treatment Fly Fishing. 
Sign up now- email me at:  [email protected]
50% Deposit is required to reserve your spot-spots are first come first served. Deposits become non-refundable with-in 60 days of your trip date.