Welcome to Royal Treatment Fly Fishing!
Login
Log in if you have an account
Dont have an account? Register
Royal Treatment Steelhead Camp 2020
21 Jan 2020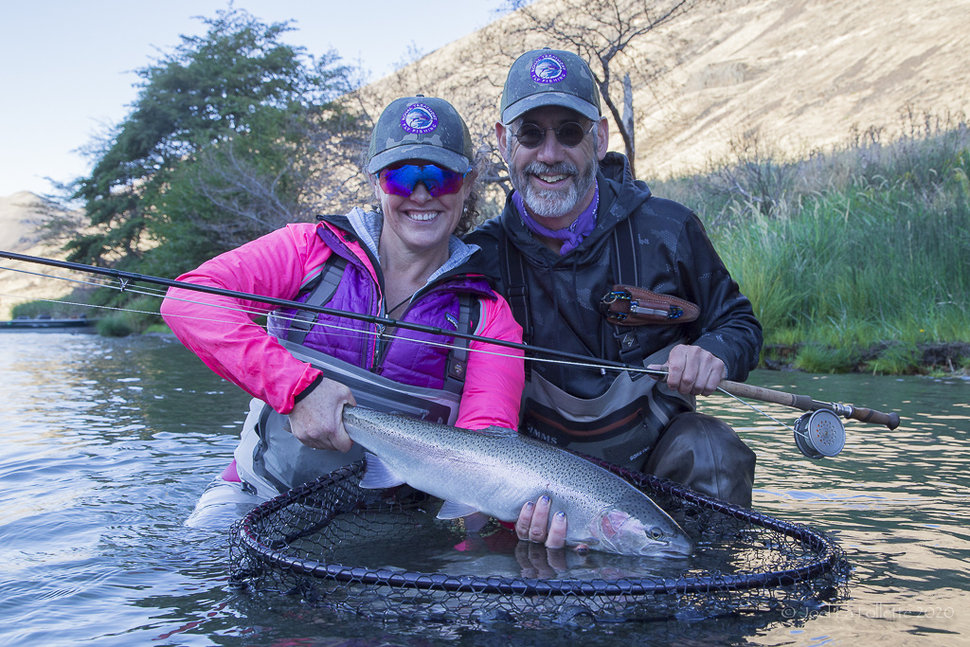 Steelhead Camp 2019 is in the books and what a wonderful time it was. Beautiful weather, tasty food, grabby fish and a great group of people made for a memorable four days on the river. Jennifer and I had so much fun we've decided to up the game this year with a very special adventure. Working with Rob Crandall and the Water Time Outfitters crew we are planning to host back-to-back trips in 2020, starting on September 14th and running through the 20th. With only a few spots available, it's not too early to put it on your calendar. Join us September 14th-17th, or 17th-20th for the Steelhead Camp trip of a lifetime. You may want to stay for the whole week!

Hosted by Joel and Jennifer La Follette, your four days of chasing Steelhead via Jet Boat on the Lower Deschutes River will be memorable even if the fish are fussy. We'll meet up at Mack's Canyon on Monday, September 14th, in the afternoon and Jet Boat down to camp to get ready for the evening fishing. When the sun goes to bed we'll feast on a gourmet meal prepared by our guest chef. A good night's sleep with the river singing in your dreams will prepare you for the next morning's early wake-up call. We'll greet the sunrise with fresh coffee and flies swinging in a perfect Steelhead run. For the next three days, you'll rise early and head out to the most productive parts of the river. Breakfast will be served on the water so you won't miss any of the action. When the sun hits the water you can head back to camp for a nice lunch and maybe even a nap. Then you'll repeat the drill in the evening and swing flies until dinner calls you back to camp. On your last day in camp, we'll hit the water early and fish until lunch. Sadly, after feasting riverside we'll grab your gear and get you back to Mack's Canyon to start the trek home with a tackle bag full of memories while we welcome those joining us for round 2.

The second part of the week mirrors the same schedule until we break camp and head home on the 20th... making plans for 2021.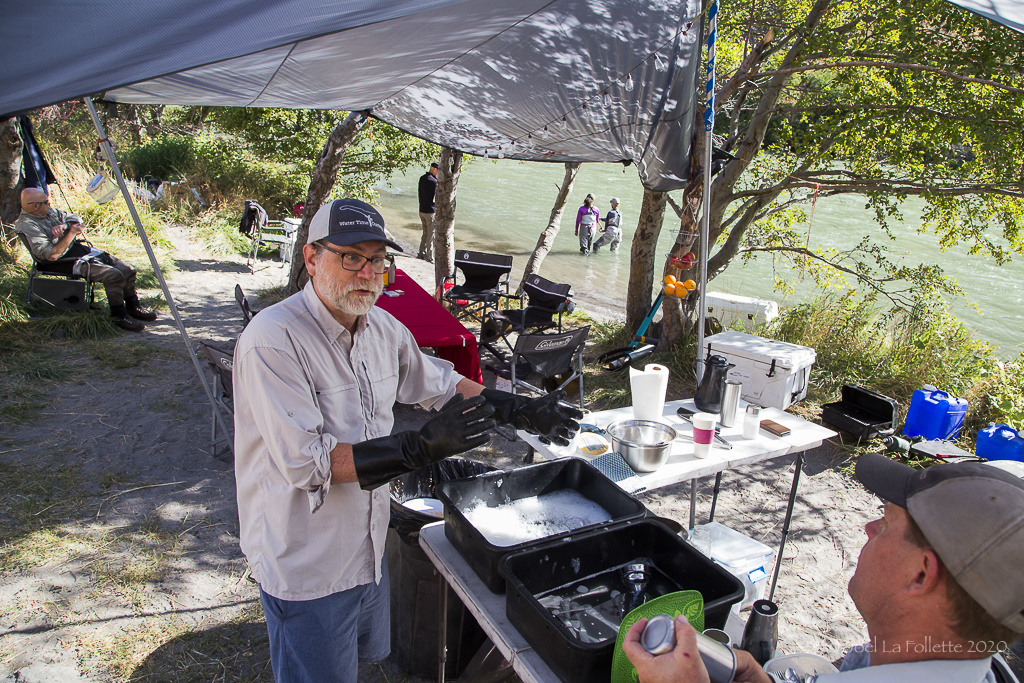 As a special treat, Taco Tuesday and Fajita Friday will be hosted by Jennifer and Joel, with free margaritas, tasty south of the border treats and a very special evening of entertainment. 
The Water Time Outfitters crew run a very comfortable tent camp with solar lights and all the comforts of home. Couples will have special accommodations making this a wonderful romantic riverside get-a-way. Meals are delicious, the company is awesome and the memories will last a lifetime. Guests will be shuttled to some of the best Steelhead runs on the lower Deschutes in well-equipped Jet Boats with 4-anglers per boat/guide. Jennifer and Joel will fish sessions with all guests during their stay.
In 2020, we are offering two trips during the same week. Pick one or stay for both!
Sept 14 - Arrival group 1 SOLD OUT

Sept 14-17 Fishing Group 1 SOLD OUT

Sept 17 - Group 1 departs 1pm Mack's Canyon
Sept 17- Arrival Group 2- 1pm Mack's Canyon
Sept 17-20 - Fishing Group 2
Sept 20 - Group 2 departs 1pm Mack's Canyon
The cost includes all meals, boater's pass, guided fishing and lodging on the river. Need a Spey casting tune-up? No worries! Your hosts will be glad to help you untangle that D loop...
All this for $1750.00 per person. Limit 6 anglers per trip.
Please note that this trip is offered with special pricing, with each guess receiving a $100 Gift Card from Royal Treatment to help get your gear in order before the trip. An additional evening and morning of fishing, plus additional meals are included.
To sign up email Joel and Jennifer here.