Welcome to Royal Treatment Fly Fishing!
Login
Log in if you have an account
Dont have an account? Register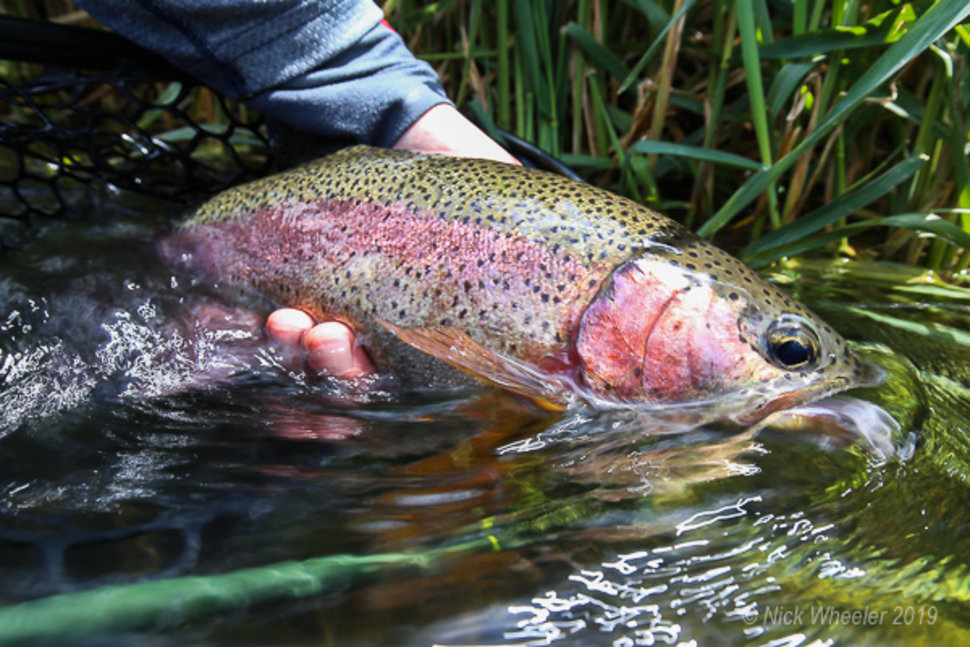 Approximately two years ago, Josh Linn pricked my interest with his scrumptious little details regarding a fish trip that he went on for the salmon fly hatch. The entire experience sounded amazing; ever since, I wanted to get in on the action, so this spring we started planning for what would become yet another Royal Treatment Excellent Adventure, and, yes, I'm thinking to trademark "RTEA" to best categorize all epic adventures. 

The idea started with a lightning blitzkrieg attack from Trout Creek down to the town of Maupin starting after work on Memorial Day weekend. Oh yes, 32 miles of river in two days, so lots of rowing and quick Viking raids on fish. I have never floated or rowed through Whitehorse Rapids, so this cameo voyage was feeling pretty exciting, especially since everyone told me how difficult and terrifying that rapid could truly be. All and all, I was just curious if these 100 fish days Josh had discussed were really true.

On the day of the trip, Josh, and our two companions, Jeremy, Jim, and myself left the shop with boats and gear in tow as we headed off to the famed Deschutes. We arrived at the boat launch about 7:30pm and pushed off to make camp a short distance down stream. After camp was set up, out came the whiskey flask as we made haste on a crackling fire as to roast the weenies. In the morning, camp was quickly packed up with much anticipation we were nearing the fish pillaging. 

With risk of ridicule and shame, only dry fly fishing was allowed. There might have been multiple rods rigged up in each boat but all had big Salmon fly patterns securely in place. Within the first few hours we had 10 fish to hand then 20, and then 25! It was easy to see the big, juicy bugs lingering in the nearby bushes, but none of them were landing on the water… yet... the fish were looking up and hungry for a Vegas style buffet. Even if you don't see bugs being eaten on the water you need to force feed these fish- place a dry fly on the water right now and they'll eat it. I honestly can't tell you how many fish we landed and/or brought to the surface, but between all 4 of us, the day count was well over a 100. Apparently Josh was telling the truth. Kudos, Buddy.

Whitehorse Rapids ended up being awesome, and extremely fun in a raft; like a kid at an amusement park, wished I could have run it again and again. After soaking my passenger many times, I aimed for every wave I could scout out just because I could; the unnamed passenger became much smarter and put on his rain coat to avoid much of the splash. Let's call him, "Kill Joy". 

The first day came to a end and we had to find a camp. Again, being Memorial Day Weekend all camps were full, but luckily, we ran into Sam Sickles and he let us crash his site. We were grateful for the hospitality- not sure how he felt about all our shenanigans, but I ended up making him my famous s'mores which hopefully made up for it, or at least helped us level up a bit more, Regardless, Thanks, Sam. 

The second day, the "fun with fishes" continued. The sun had come out in full force and it was getting hot. This was the first day we could really see the bugs flying around and landing on the water like free meal time tickets at a Grateful Dead concert. Josh immediately put the hurt on the fish and truly, he is a well-oiled machine. No joke, there was one spot where he went 25 casts and had 20 fish to hand. Sick. I wouldn't have believed it either but I was 60 feet above him watching it all go down. Another epic day on the water where we threw all dry flies, all the day long. Again, I couldn't tell you how many fish we landed total, well more than enough. The day equated to some of the very best dry fly fishing I have ever seen. The trip ended without a hitch, and I don't think it could have been any better. I'm already scheduling out the float for next year.

If you haven't just read that novel of a fishing report and just skipped to the end. 
Fish the Deschutes now- the bulk of the hatch is now at Warm Springs. Use dries, dries, and more dries. Big Salmon fly patterns worked the best for us, but if you looking around there were also Yellow Sallies, PMD's, Caddis Flies and Green Drakes. The main hatch probably has about another week so don't blink, go now. NOW. And bring your own S'Mores. 

Other fisheries to consider are American Shad, which are starting to return in larger numbers. Trout fishing in local lakes has also has picked up recently and don't forget about coastal cutthroat opportunities, which opened up last week. Too many places to be with too little time, so pick your favorite and go have fun.