Welcome to Royal Treatment Fly Fishing!
Login
Log in if you have an account
Dont have an account? Register
Fishing Report 3/21/19
19 Mar 2019
This winter has been annoying. It's felt like there was a vortex around the Portland metro area that has kept the rivers at super low flows. There has been tons of rain and snow to the north and south and east but nothing here. I'm know I preach to the choir, but things are changing.
It's officially Spring and this year we will have something we haven't had in what seems like forever, SPRING RUN OFF. Yeah that's right. I'll hold on while you go check the river gauges, all the rivers are on the rise and it's not raining. I'm not a clairvoyant or a psychic, well maybe I am, because I will make a prediction. I predict that If you are a steelheader your luck is about to change and if you are going trout fishing on the Deschutes you better have squirmy worms!
Rivers like the Clack, Sandy, Wilson, and Trask will get a fresh push of fish. These fish should be the wild side yet fish we all dream about. Go now before it's too late. We've been waiting for water all winter and it's finally happening. 
If you're like me steelheading has felt futile. I'm not giving up on steelhead, but I know enough to see this is one of the worst seasons I can remember in my 20-years of winter steelheading. So I have been taking trips trout fishing. This year I have fished more snow days than I can remember, and the trout fishing has been great.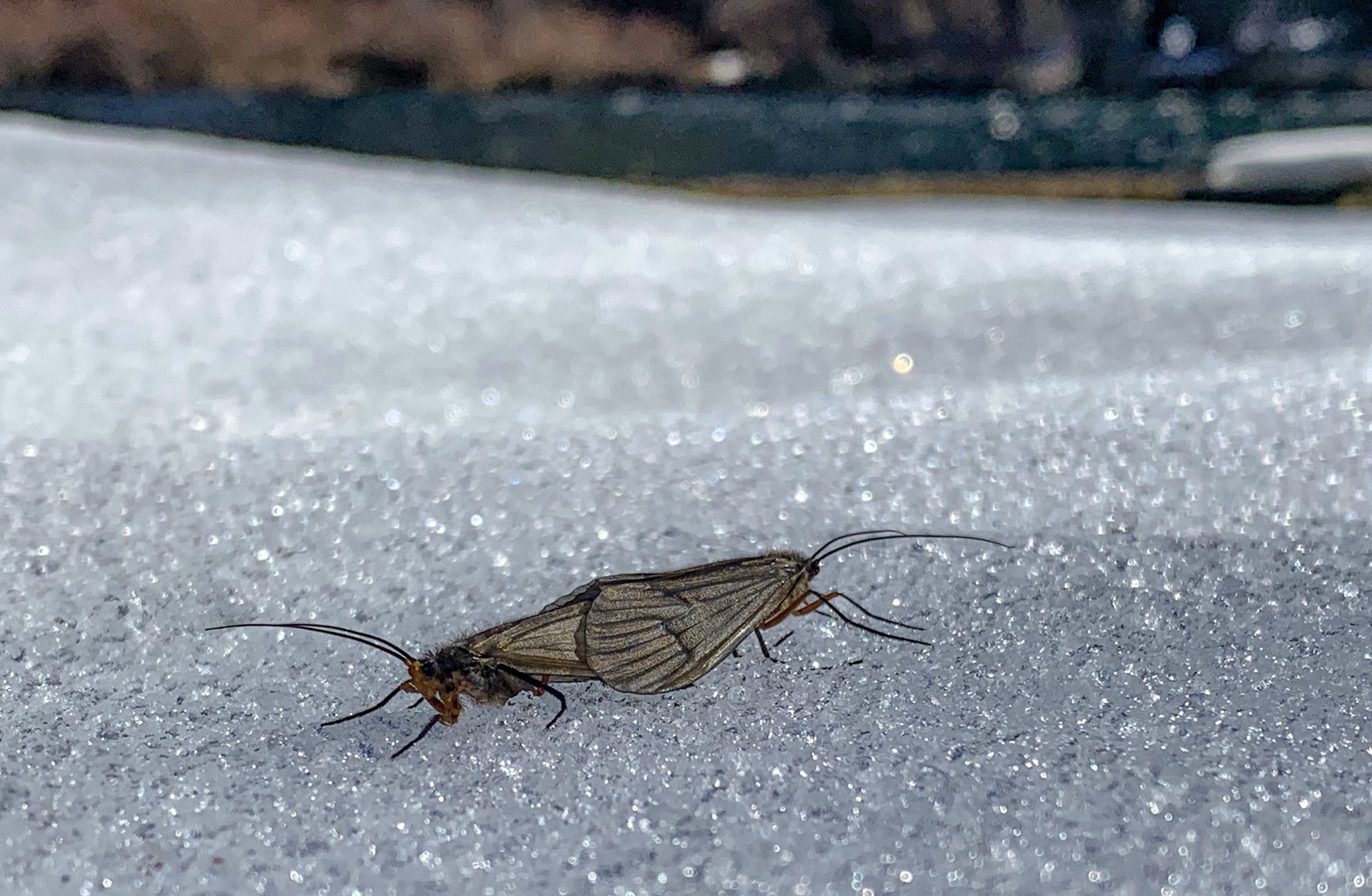 This last Monday Nick and I made the trek out to the Metolius to meet friends and explore. We knew there was a good mount of snow (rumors of 30") on the ground and the forecast was for sunny warm weather. We met up around 10:00 AM and headed downriver. Nick and I have a few spots we like to fish together, so we already had devised a plan without even saying a word. That plan entailed a 5 mile round-trip hike in the snow...... 
After about a mile of hiking, we stopped at our first spot. We had high hopes as this spot produces pretty well in the summer. We fished it for about 30 minutes with nothing. We headed back downriver and spotted a few bull trout. The first one we spotted must have been 30 plus inches long. As we were staring at it planning, five or six more bull trout materialized. 
Nick stepped above with his streamer rod and worked down to it. I could see fly and was guiding him to the fish. He made several attempts and different presentations but nothing. When Nick finished I had to try it. I didn't have a streamer rod with me, but I didn't need to beat a dead horse. I only brought one rod with me this time, the new Echo Shadow X nymph rod. I re-rigged and put on two heavy tungsten bead jimmy legs. Those should get down deep and are a good-sized snack. Casting this rig took a little getting used too. On the fifth or sixth cast I saw the line stop. I set the hook. Fish on! It took about a second for me to realize this is not a bull trout, but what looks like a good-sized rainbow. I fight the fish for about 10 seconds and three or four bull trout are on my fish. They are circling and swiping at it like sharks. Now I can see I have a white fish that's about 12" long. The bull trout are easily three times its size. I look back at Nick in disbelief and awe of what's happening in the water. We land the whitefish and return it to the shark tank. We make a bunch more casts with nothing and move on. At this point our hopes were sky high. 
One of my favorite runs was about another mile down the trail. Trudging through the snow here was a little more difficult as people hadn't really beat down a trail. We got to our spot and pulled up a seat at the big ponderosa that stands guard over the run. We both needed a break and some lunch. It was about 1:00 and fishing should get good. We had been seeing bugs flying all day, but no rises. Big and small Caddis, BWO's, and a few March Browns appeared.
Nick and I broke up the run and fished after about an hour they blanked us. That feeling of elation had subsided, and we now felt dejected. In the past we have caught a lot of fish here. What was the problem? Us or the fish? 
We were hitting the end of the road and our last run was down around the corner. This is one of Nicks favorite little spots, and he has claimed many redsides and bull trout from it. I step in first up above and Nick steps in down below. We are bogus working our way up. We both make several casts with no fish. Both of us are feeling failure creeping in, and then it happened.  Finally, I get a fish!  And then another fish and another fish, like three fish in five casts. Nick still hasn't touched one, I'm sure he's feeling a little despair set in. I point out the area where I've been getting fish and tell him to move up here. He's inching his way closer. He hooks up and then I hook up, DOUBLE! I hook into a huge one and lost it while getting it on the reel. I step out to let Nick work through the part I haven't fished yet.

Nick hooked another fish, and I stepped down to where he got out. I continue my attack on the fish and quit counting when I hit double digits. I landed a couple nice fish and lost a couple. I felt like everything was clicking. 
Similar to steelhead fishing, had we let ourselves get discouraged by tough fishing, and not stuck it out, we would have missed out on some of the best fishing on the Metolius I've ever had. A big part of fishing is definitely persevere.